InterVarsity Regains Access to Cal State Campuses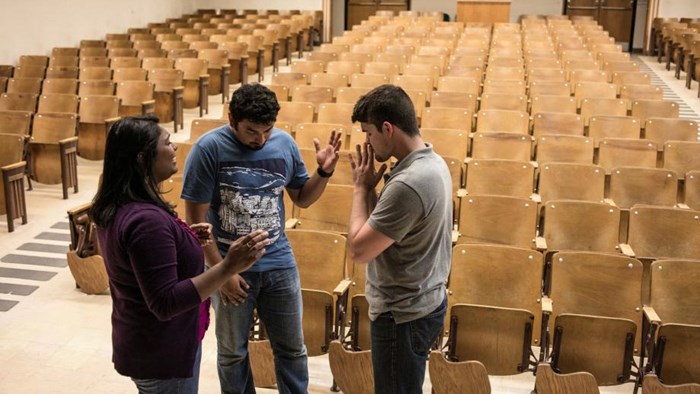 Image: InterVarsity Christian Fellowship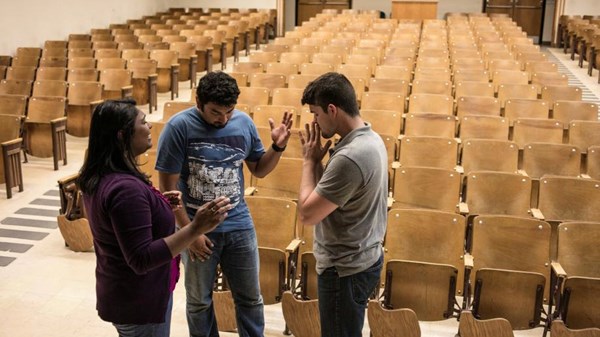 InterVarsity Regains Access to Cal State Campuses
Update (June 22): InterVarsity has given CT more details about its reinstatement at 19 California campuses.
"Cal State has not changed the language of their 'all comers' policy," said Greg Jao, vice president of campus engagement. "They have clarified that the policy only requires that (a) we allow all students to become members, which we have always done, and (b) we allow all students to apply for leadership positions.
"We have been assured that we can have a rigorous selection process which reflects InterVarsity's mission and message as a Christian ministry," he told CT. "We're confident in our ability to choose leaders who reflect our mission and message."
InterVarsity has also posted an audio interview with Jao on the resolution.
-----
After being booted for requiring student leaders to be Christians, America's largest campus ministry has regained its place at the nation's largest public university system.
CT previously examined whether InterVarsity Christian Fellowship's derecognition from California State University (CSU) over its "discriminatory" faith statement was the tipping point for campus ministry nationwide.
InterVarsity has experienced tensions over its religious requirements at more than 40 college campuses in recent years, including most notably Vanderbilt University and Tufts University. Meanwhile, a surprising number of evangelicals disagree with faith requirements at public universities, though they also don't want groups like InterVarsity punished.
In a press release today announcing victory in its biggest campus access challenge to date, InterVarsity noted that its 23 chapters on 19 CSU campuses will "once again be recognized student groups."
"Following substantive and cordial ongoing conversations, CSU clarified the intent and reach of Executive Order 1068," said InterVarsity president Jim Lundgren in the release. "We are confident we can choose leaders who are qualified to lead InterVarsity's witnessing communities throughout the Cal State system." He continued:
InterVarsity's Christian faith compels us to welcome all people. We support CSU in its commitment to serve the diversity of students on its campuses. In fact, InterVarsity communities are some of the most diverse groups on Cal State's campuses. At the same time, we maintain our commitment to provide campus communities that are clearly Christian, where all students can experience and learn more about Christian community, theology, and practice. We're grateful for this development and are looking forward to continued ministry on CSU campuses.
Despite the good news, InterVarsity—which has 985 chapters on 649 campuses—noted that it "continues to face challenges" to campus access at other schools in California, as well as New York, Massachusetts, Tennessee, Maine, Iowa, and Florida.
"In a time where much of the public discourse is polarized, InterVarsity and CSU remained engaged, honest, and respectful throughout the negotiations," Lundgren said in the release. "While we are grateful to have resolved the issue with CSU, InterVarsity continues to believe that all-comers policies will result in the exclusion, rather than inclusion, of diverse students from campus."
Even before the Christian Legal Society (CLS) narrowly lost its 2010 Supreme Court case protesting the Hastings School of Law's "all comers" policy, universities were struggling to find a balance between religious freedom and antidiscrimination. (The 5-4 decision affirmed Hastings's policy that all student groups open all leadership positions to all students, regardless of whether the students agree with the group's statement of faith.)
As far back as 1997, Grinnell College in Iowa banned InterVarsity because of its unwillingness to select a noncelibate gay leader. Later, several schools including Tufts University, Rutgers University, and the University of North Carolina (UNC) also derecognized InterVarsity because requiring leaders to be Christians violated the schools' anti-discrimination codes. UNC reversed its decision just weeks later; Rutgers settled out of court; and Tufts reinstated InterVarsity but later reversed it. InterVarsity recently lost campus access at SUNY Buffalo and Bowdoin College as well.
But since Hastings, what was an occasional occurrence is starting to look like a trend, said Greg Jao, now InterVarsity's vice president of campus engagement.
Just under half (44%) of evangelicals told LifeWay Research recently that student groups at public schools should not be allowed to require their leaders to hold specific beliefs. Only a third (36%) of evangelicals said the same of groups at private schools.
CT closely tracks Christian student groups and how they fare on campus, including InterVarsity's key victory at Tufts, Alec Hill's response to the Supreme Court's Hastings decision and its aftermath, and the 15 Christian student groups that left Vanderbilt rather than open up leadership roles to non-Christians.
Ed Stetzer's reflections on Cal State's decision was one of The Exchange's Top 10 posts of 2014. Tish Harrison Warren reflected from her InterVarsity experience at Vanderbilt, one of the highest-profile disputes over campus access yet, on being the "wrong kind of Christian."
CT's previous coverage of InterVarsity includes its reinvention of campus ministry after being booted from many California colleges, as well as why it fights for campus access and its plans for a diverse staff.
InterVarsity recently won a sex discrimination case which offered good news for parachurch ministries. It also recently appointed an interim leader after president Alec Hill resigned early due to cancer.

06/19/2015