South Korea
Billy Graham's 1973 crusade in Seoul, South Korea propelled the fast-industrializing nation into an era of explosive evangelical growth. Since then, the peninsular democracy, once a Buddhist stronghold, has become a hub for evangelicalism and the world's second-largest missionary-sending nation. Still, the nation exists along the most heavily fortified border in the world, exposed to the nuclear brandishing of its northern neighbor and the pull of a profoundly atheistic working class, but it remains a stabilizing force in the region and a powerful launching point for the gospel in Asia. It is now the second only to the U.S. in sending missionaries abroad.
Featured Articles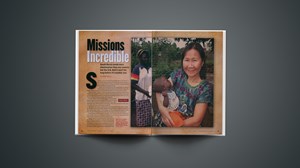 Missions Incredible
South Korea sends more missionaries than any country but the U.S. And it won't be long before it's number one.
What Makes the Korean Church Grow?
The simple secrets of its remarkable expansion.
Epochal Event: What God Did in Korea
Billy Graham's 1973 Seoul Crusade drew the largest Christian gathering at the time.
loading more