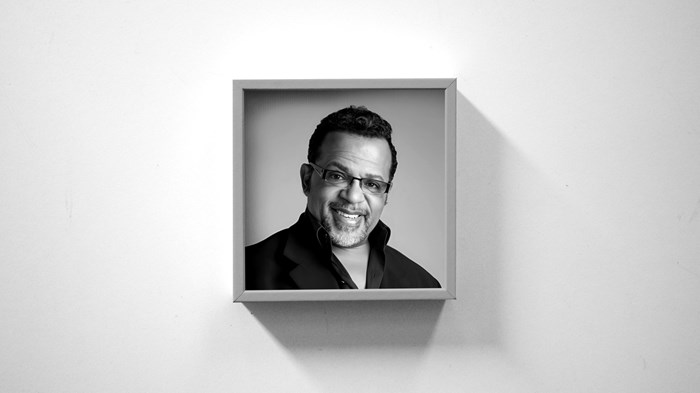 Image: Courtesy of Carlton Pearson / edits by Rick Szuecs
When Carlton Pearson was a teenager, he cast out a demon in church. He was the son and grandson of Church of God in Christ (COGIC) ministers and knew what to do. He looked at the girl in front of him—his girlfriend at the time—and started rebuking the Devil in her and claiming the power of the blood of Jesus.
"The blood, the blood, the blood, the blood—come out!" he said. "You lying wonder, in the name of Jesus, I command you to cease and desist. Loose her."
She seemed, to Pearson and the Black Pentecostals around him, to be loosed. She screamed and fell on the ground possessed, and then there was a release, like something let go. The church gathered around the girl, rejoicing, and they praised Pearson for his spiritual gifting and the way he had used it with such authority.
When Pearson was in his late 40s, he tried to cast hell out of church. That time, it didn't go so well. He lost nearly everything he had and became a pariah among Pentecostals. He watched his megachurch collapse almost overnight, lost his relationship with his mentor, lost his respected status, lost his community, and ended up almost completely alone.
Whether there was peace or not—whether he was loosed from something—was, in the end, a matter of debate.
Pearson died Sunday, November 19 at the age of 70.
It was "a strange thing to go from a very popular, sort-of loved person that everybody seems to like, and everybody wants you, and then overnight, your name is a scandal," he told the popular public radio show This American Life in 2005.
Yet he insisted he had made the right choice.
"I can handle my stuff, okay?" he said. "I know what God spoke to me. So I'm cool."
Pearson was born in San Diego on March 19, 1953, the fifth of Adam Louis Pearson and Lillie Ruth Johnson Pearson's seven kids. It was a religious family, with Pentecostal preachers going back generations. Pearson's great grandfather on his mother's side, Lon Evans, was an early Pentecostal preacher in Texas. His father's father, Elector Pearson, founded St. Luke Church of God in Christ in San Diego, the second COGIC congregation in the city. The third was founded by Pearson's uncle. His father was a pastor, too, serving St. John Church of God in Christ in La Jolla, California.
The women in the family could not get ordained, but many of them were ministers as well. His father's mother was a traveling revivalist who would go out for weeks at a time. A great-aunt was known as a great preacher. His mother could "sing like Ella Fitzgerald or somebody" and directed a choir.
The family was, as Pearson would later recall, "Tongue talkin', pew jumpin', holiness, hellfire and brimstone."
They also lived with a lot of fear.
"They were suppressed racially, educationally," Pearson said, "and they were afraid of God, afraid of the white man, afraid of the Devil, afraid of the other members of the church."
Most of that didn't feel safe to talk about. But they could discuss demons. The power of Satan loomed large in their conversations, their services, and their daily lives.
"The Devil was as present and as large as God," Pearson later said. "He had most of the people. He was ultimately going to get most of the people."
Even those ensconced in the Spirit-filled church, who devoted their lives to ministry, could not be sure they were safe. When he was a young man, Pearson watched both his father's parents backslide. His grandfather committed adultery. His grandmother spent the end of her life drinking, smoking, and gambling.
When they died, the church, Pearson's parents, and Pearson were convinced they had gone to hell. The Devil had won. Pearson said he remembered his grandmother preaching so powerfully and praying so fiercely that she seemed to levitate off the ground, and yet Satan triumphed in the end.
Pearson left Southern California at 18 and went to Oral Roberts University (ORU) in Tulsa. At college, he joined the World Action Singers, the popular musical group led by Oral Robert's son Richard. He traveled with the group, appeared on television, and developed a close relationship with Oral Roberts himself. The Pentecostal evangelist and faith healer took Pearson under his wing, even referring to the young man as his "Black son."
Roberts became his mentor, and Pearson joined Oral Roberts Evangelistic Association as an associate evangelist. Then, in 1977, he formed his own ministry, which he called Higher Dimensions, Inc. He was ordained by COGIC and, in '81, started his own church in Tulsa, which he named Higher Dimensions Evangelistic Center. It quickly grew to a megachurch.
"I used to worry that it would ever be filled," he would later recall. "We could seat about 1,200, and it was full. Then we put the balconies in, another 800 seats. We're running about 2,200 per service, 5,000 on a Sunday. … One day, it dawned on me. And I said, 'I guess this is the way it's going to be. We are there.'"
As the church grew, Pearson rose in national prominence as well. He preached alongside the most famous Pentecostals in the country, hosted a show with good ratings on Trinity Broadcasting Network, took a seat on the board of ORU, established an annual conference he called Azusa, after the birthplace of Pentecostalism, and became a mentor and patron to up-and-coming preachers including T. D. Jakes.
The conference grew into an interdenominational network of churches. Pearson was consecrated a bishop in 1997.
And in the middle of all this, he decided he didn't believe in hell.
As he recounted later, he was watching a program on the history of the Rwandan genocide, how Hutu militias raped and killed thousands upon thousands of Tutsi people. Pearson was holding his daughter on his lap and started to talk to God.
I don't know how you're gonna call yourself a loving God and allow those people to suffer so much and then just suck them into hell, he said in his mind.
And then in his mind, he heard God speak back.
Is that what you think we're doing?
God … I can't save the whole world.
Precisely. That's what we did.
It came as a revelation. From that moment, he believed that God had saved everyone through the work of Christ on the cross and it didn't matter if they accepted him as their Savior, professed faith, or believed. It didn't matter if they were Christians. There was, he thought, no hell.
"God is not angry with humanity," Pearson said. "He sees them all through the blood."
He went on to preach this in church in a series on evangelism and then to speak about it publicly in 2000. He does not seem to have been aware of the historic Christian controversies over the issue or have read any Christian universalists. Pearson had his revelation and then figured out the theology on his own.
When someone asked him if he really believed Adolf Hitler was in heaven, he decided he did. Even Satan could be forgiven, Pearson said.
The reaction from other leading Pentecostals and charismatics was swift and sharp.
"He's crazy," said Clifford L. Frazier, bishop and pastor of The City of Life Christian Church in St. Louis.
T. D. Jakes said Pearson was still his friend but his theology was "wrong, false, and misleading."
Ted Haggard, who was then pastor of New Life Church in Colorado Springs, said, "He's made a horrible mistake, a grievous mistake."
Oral Roberts tried to dissuade Pearson privately and then wrote him a stern warning.
"This doctrine is as dangerous as any I've come in contact with in 66 years of ministry," he said. "Give it up, I pray, I beseech, I plead."
Pearson wouldn't give it up, though, and soon saw attendance at Higher Dimensions evaporate. Thousands stopped coming. Some immediately left when they heard he abandoned the doctrine of hell. Others listened to his arguments and were appalled at how he seemed to disregard the Bible.
"I can't remember the particular Scripture, but I remember the Scripture said 'faith in Christ,'" one told This American Life. "And he looked at the congregation. And he said, 'That does not mean faith in Christ.' It was written in ink in black and white. And he looks us in the eye and says that's not what it means. I felt insulted by that."
When people pushed Pearson on his views about the authority of Scripture, he was dismissive. At one point he said the Bible was "a graven image."
The Joint College of African-American Pentecostal Bishops declared Pearson a heretic in 2004. The church lost its building to foreclosure in 2006.
Pearson received some national attention when his story was told by This American Life and turned into a Netflix film called Come Sunday in 2018. Pearson was played by Chitwetel Ejiofor. The film also starred Danny Glover, Lakeith Stanfield, Condola Rashad, Jason Segel, and Martin Sheen as Oral Roberts. Reviews were generally positive, with The Hollywood Reporter calling it "a mesmerizing contemplation of the clash between rigid dogma and considered reinterpretation" that "comes down on the side of mind-opening inclusion."
Pearson struggled to find a home in liberal religious communities. He tried to minister under the auspices of the Episcopal Church and the United Church of Christ before taking a New Thought congregation in Chicago. He launched a capital campaign and a TV program for Christ Universal Temple, but found himself at odds with a congregation that wanted someone trained in their metaphysical mind-cure theology.
He left in 2011, returned to Oklahoma, and became an affiliate minister at a Unitarian Universalist congregation in Tulsa, where he continued to preach and teach for the rest of his life.
Pearson told a historian a few years before his death that he hoped he'd be remembered as someone who "had questions" and was willing to rethink things, which he argued was the true meaning of repentance. He expected, though, that most would think of him as a heretic.
"I'm the heretic," he said, "and I enjoy that, wear that like a badge these days. … It's like a tattoo that I can't wash off."
Person is survived by his ex-wife Gina Pearson and their two children, Julian D'Metrius and Majestè Amour Pearson.