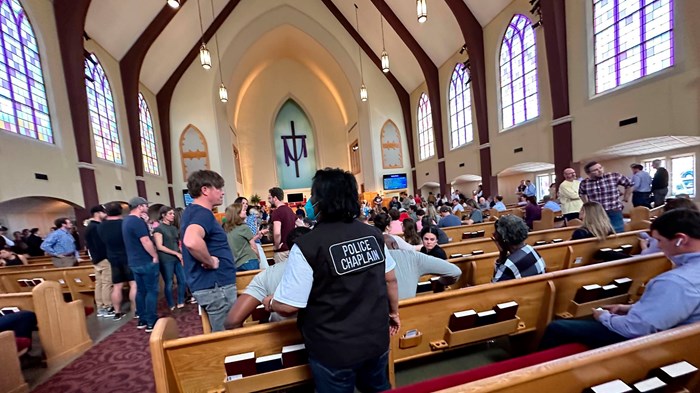 Image: George Uribe / AP
Parents were invited into the chapel at The Covenant School in Nashville on Monday morning, as they are every school-day morning. They sang and prayed with the roughly 200 elementary students and 40 or 50 staff at the Presbyterian Church in America school and listened as pastor Matthew Sullivan "raises it to another level," as one student put it, with his kid-friendly Bible lesson.
A few hours later, though, parents crowded into the sanctuary of Woodmont Baptist Church, two miles down the road, waiting to hear the worst. In the interval, the private Christian school became the site of the 130th mass shooting of 2023, which left three children and three staff members dead.
"I know this is probably the worst day of everyone's lives," a police officer told the crowd. "I can't tell you how sympathetic we are."
The three students killed were each 9 years old. Police identified them as Evelyn Dieckhaus, William Kinney, and Hallie Scruggs, the daughter of Covenant Presbyterian Church senior pastor Chad Scruggs. The adult victims were head of school Katherine Koonce, 60; substitute teacher Cynthia Peak, 61; and custodian Mike Hill, 61.
In a statement Monday night, The Covenant School said its community is "in shock coming out of the terror that shattered our school and church" and asked for privacy as the investigation into the attack continues.
Metro Nashville Police Department spokesman Don Aaron said that a 28-year-old former student shot out some glass doors and entered through the side of the building carrying two assault rifles and a handgun. Police were called at 10:13 a.m. They arrived less than 15 minutes later and followed the sounds of gunfire to the second floor of the private Christian elementary school. They shot and killed the suspect, whom they later identified as a transgender person.
Five of the victims were transported to Monroe Carell Jr. Children's Hospital, about four miles away, but were pronounced dead on arrival.
"The children … started their morning in their cute little uniforms," Rachel Dibble, who was at the Baptist church with the waiting families, told the Associated Press. "They probably had some Froot Loops, and now their whole lives changed today."
At Woodmont Baptist, not long after they heard the sirens whir by, pastors and staff read reports of a shooting at Covenant. When they saw on Twitter that their church was named as the reunification site, they didn't question it—they just put on their nametags, met police in the parking lot, and prepared to open their doors to buses of surviving children and parents desperate to see their kids safe and sound, senior pastor Nathan Parker told CT.
The children gathered in the fellowship hall, where the student minister handed out coloring sheets and began processing the shooting with them. Parents waited in the sanctuary through the slow reunification process, not yet knowing the extent of the attack.
"As pastors, we are supposed to have the words. Today was one of those days that words didn't come easy. If they came, they came from the Spirit," Parker said.
He prayed for peace, asking God for the safety of each child whose parents anxiously sat in his pews—or cried on the floor. The grief and trauma of what happened a couple miles away filled the church building, a palpable heaviness and sense of loss.
Between first responders and volunteers, hundreds came to help. They ministered to the waiting families, dropped off food, and helped clean up. Their hearts had broken for other school shootings reported on the news, and this time the tragedy struck right at home in Nashville—their neighbors, their community, their brothers and sisters in Christ.
"We're about to enter Holy Week, and it's going to be a different kind of Holy Week for sure," said Parker, thinking to what he'll preach on Sunday—Palm Sunday—in the room where parents feared their kids were gone, where teachers learned that their students and colleagues were killed. "The message of the hope of the Resurrection—I don't know if it's ever been more needed or more welcome."
It wasn't until the end of the day that Parker learned that the facilities manager at Covenant—known for singing the Lord's Prayer at graduation—was the one who named the Baptist church as the place to send the buses of students; he'd driven by the Southern Baptist congregation for 18 years on his way to work at the school and said he knew it was a good church. Parker was honored.
Nashville is an evangelical hub in a state where over half the population is evangelical (twice the national average). In the hours after the shooting, leaders and ministries offered prayers; churches and schools scheduled vigils.
Nearby Belmont University in Nashville held a service of lament and offered prayers to "every member of our Belmont community who is connected to the school and its home church, Covenant Presbyterian." A half dozen faculty members at Covenant are listed as Belmont alumni.
A statement from R. Neil Spence of the Nashville Presbytery of the PCA called for lament "in the face of unbearable grief and trial." He said, "Words fail us in speaking of this tragedy even to one another, but our prayers will not fail us in lifting our pleas to God for mercy and the grace that is needed. God Himself will help us to pray in our weakness."
According to the Gun Violence Archive, there have been an average of about 1.5 mass shootings per day so far in 2023. The 129th happened earlier on Monday outside a bar in Wisconsin, wounding five adults. The Nashville shooting is the deadliest attack on a school since 21 students were killed in Uvalde, Texas, last May.
"This is the ultimate crime," Nashville district attorney Glenn Funk told reporters, "when school children and caregivers are the victims of senseless gun violence."
Covenant Presbyterian Church, located in Nashville's affluent Green Hills neighborhood, added the school in 2001. Its student body is "intentionally small" and spans prekindergarten through sixth grade. Koonce described the mission of the school as upholding timeless truths and helping the children become who God wanted them to be.
She said at Covenant, students "are able to see and be anchored in the truth of God's word with respect to who they are. It's these timeless truths that allow them to engage in life more fully and be successful wherever they go."
Covenant's motto is "Shepherding hearts. Empowering Minds. Celebrating Childhood." Last Thanksgiving, Koonce told the students she was thankful "because I know that you're getting to be a child and you're not having to grow up too fast."
The school's most recent Instagram story shows a sanctuary full of small children swaying and singing, "Let the love of God surround you / everywhere, everywhere / you may go."
This is a developing story and will be updated.