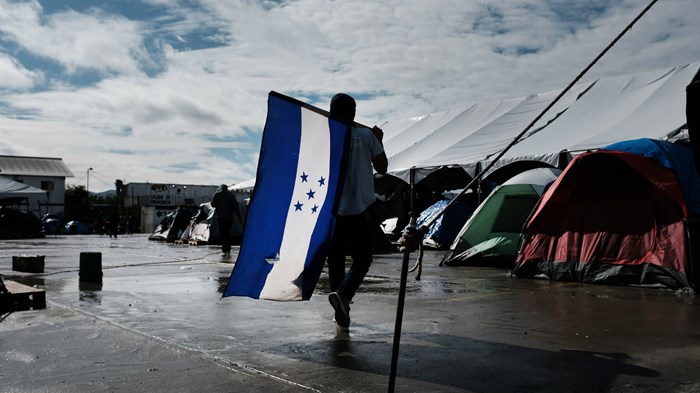 Image: Spencer Platt / Getty Images
Honduran youth pastor Douglas Oviedo won his asylum hearing last week. After fleeing violent gangs in Central America, trekking north to the US, and then being returned to Tijuana for seven months, he has won the right to stay in the country. He is safe—at least while the US government decides whether or not to appeal the court's decision.
The 35-year-old first arrived in California with the heavily publicized migrant caravan in November 2018. He was returned to Tijuana in January along with thousands of other asylum-seekers, as part of the Trump administration's "Remain in Mexico" program, which keeps asylum seekers out of the US while their cases are being heard.
Oviedo won his case after he proved the threats he faces in Honduras constitute grounds for asylum under US law. He posted on Facebook today thanking God for remaining by his side throughout the process and sharing pictures from California.
He is one of only a few Central Americans to receive asylum since the Trump administration started tightening restrictions. The administration changed the rules in June 2018, telling immigration courts that gang violence are domestic abuse are not legitimate grounds for an asylum claim. This reversed a long-standing precedent and precluded many Central American claims. This summer the administration also said persecution based on family ties is not a valid grounds for asylum.
Oviedo's persecution was gang-related, but he was able to show that the gangs were targeting him for his religious activity and political positions. Religious and political persecution are grounds for asylum, but are harder to prove than threats of gang violence, which are ubiquitous in Honduras.
According to reports from the San Diego Union-Tribune, Oviedo told the judge he was "blacklisted" by the gangs because of his efforts to offer youth an alternative to gang membership.
Many Central Americans refugees have fled to the US with their children in recent years because the children have been recruited by the gangs, or groomed as gang "girlfriends." The increase in families apprehended at the border has stressed the US Customs and Border Patrol processing facilities and ICE detention facilities. The system continues to be overwhelmed and the humanitarian crisis is ongoing.
Trump's "Remain in Mexico" policy was intended to ease the backlog at the border. However, advocates report that those now stranded in Tijuana and Ciudad Juarez face greater extortion and violence as Mexican gangs and cartels target the vulnerable populations.
In August, a Presbyterian minister was reportedly kidnapped by a cartel while attempting to protect migrants. Aaron Méndez Ruíz runs Casa del Migrantes in Nuevo Laredo, just south of the Rio Grande. He has now been missing for more than a month, and officials suspect he was kidnapped for interfering with gang activity.
Oviedo, during his time in Tijuana, also started advocating for asylum seekers, NBC News reported. He participated in shelter construction projects and arts advocacy initiatives to call attention to their situation.
Now, Oviedo is determined to help others find legal representation, as that is one of the most decisive factors in whether asylum seekers win or lose their cases.
"I will do everything I can, work day and night to find them lawyers to give them legal representation," Oviedo told NBC News, "That's what hurts me so much. I won and I am here but I was privileged to have a lawyer in court that was with me."
The government has one month to appeal the ruling. If the ruling stands, Oviedo may be able to bring his wife and three young children to the US.