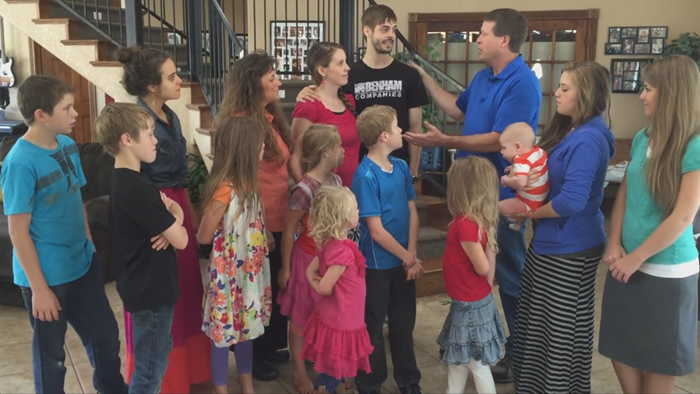 Image: Duggar Family / YouTube
Nearly two months after Josh Duggar admitted that he "forcibly fondled" several of his younger sisters, TLC has canceled19 Kids and Counting, the Duggar family's long-running television show.
TLC also announced a new partnership with sex abuse prevention group Darkness to Light and anti-sexual violence organization RAINN to "raise awareness and educate parents and families about the issue."
"Child sexual abuse is not an isolated issue; it affects many children and families around the world," the network said in a statement. "TLC has been especially concerned for the victims in this situation, including the Duggar family, and it is our hope that this effort will help those in need learn where to turn for information and help.
The network also plans to create a documentary about abuse.
In a statement posted on their website, Jim Bob and Michelle Duggar thanked the film crew who'd worked on the show, which first aired in 2008.
"With God's grace and help Josh, our daughters and our entire family overcame a terrible situation, found healing and a way forward. We are so pleased with the wonderful adults they have all become," said parents Jim Bob and Michelle Duggar in a statement. "It is our prayer that the painful situation our family went through many years ago can point people toward faith in God and help others who also have lived through similar dark situations to find help, hope and healing, as well."
The Duggars said that their Christian faith remains a central part of their family's life:
We have committed to Him that in all things—difficulties or success, good times or bad—we will purpose to bring Him honor by staying true to our faith and our family.
In May, Josh, 27, apologized for acting "inexcusably" after the tabloid InTouchrevealed that he fondled four of his sisters and one non-sibling, all minors, when he was 15. In the wake of this news, Josh resigned from his job as executive director of FRC Action, an affiliate of the Washington, D.C.–based Family Research Council.
The abuse happened five years before the family debuted their reality show. Two of the victims, 24-year-old Jill and 22-year-old Jessa, will appear on TLC's sex abuse documentary.
Josh confessed to the Arkansas State Police and the whole family received help from professional counselors, Jim Bob and Michelle said in their first interview after the story broke. Josh returned from a Christian counseling program "completely changed," they said.
The Duggar parents also accused the tabloid of punishing their conservative Christian family, while purporting to defend the victims. (TLC stopped airing 19 Kids following the news.)
Earlier this year, Her.meneutics editor Kate Shellnutt explained the complicated appeal of the 19 Kids.
"Reality TV thrives on formulas. That's why they're so easy to watch in rapid succession. With the same setup each week, their predictable soundtrack, scripted dialogue, and cast interviews carry viewers through the show with little attention or emotional investment," she wrote. "But not all issues can be fake-resolved over the course of an episode or season, especially not involving conditions as difficult as abuse, mental illness, and addiction. In this case, I believe it would be unfair and potentially hurtful for TLC to even try."