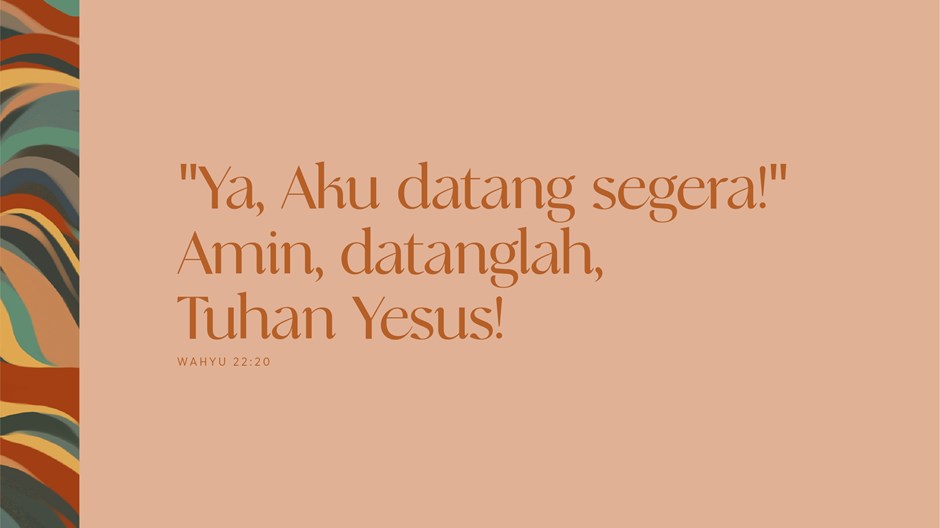 Untuk mengunduh kumpulan renungan "Berita Injil di Masa Adven," klik di sini.
Baca Wahyu 22:12–20
Alkitab diakhiri dengan doa: "Datanglah, Tuhan Yesus." Ini adalah sebuah doa yang digemakan di berbagai himne Adven kita, seperti misalnya "O Datanglah Imanuel" (KPPK 86) dan "Kau yang Lama Dinantikan" (KJ 76).
Orang-orang Kristen telah memanjatkan doa tersebut sejak awal kekristenan; ini adalah doa Kristen tertua yang kita ketahui (tidak termasuk Doa Bapa Kami). Kita mengetahui hal ini karena Paulus pernah mengutip doa tersebut dalam versi bahasa Aram asli, Maranata, artinya "Datanglah Tuhan kami!" (1Kor. 16:22). Bagi Paulus yang mengharapkan pembacanya yang berbahasa Yunani di Korintus dapat mengenali frasa bahasa Aram ini, maka pasti kata tersebut memiliki arti yang penting dalam ibadah Kristen mula-mula.
Dalam Wahyu 22:20, ini merupakan respons terhadap janji kedatangan Yesus. Dalam ayat 12 dan 20, Yesus sendiri yang mengatakan "Aku datang segera." Janji ini terus diulangi di sepanjang kitab Wahyu (lih. 2:5, 16; 3:11; 16:15; 22:7, 12, 20), yang menjanjikan adanya penghakiman bagi sebagian orang dan berkat bagi yang lainnya, sampai pada akhirnya janji tersebut memancing sebuah jawaban: "Datanglah!"
Kita membaca jawaban tersebut pertama kali di ayat 17. Ini merupakan doa "Roh dan pengantin perempuan." Istilah "Roh" ini berarti Roh Kuduslah yang berbicara melalui para nabi Kristen dalam ibadah. Sementara "pengantin perempuan" adalah gereja yang menggabungkan diri dalam doa bersama Roh ini.
Kita dapat membayangkan sang pengantin perempuan sedang menanti kedatangan pengantin pria. Pengantin perempuan itu bersolek dan siap untuk menyambut pengantin pria (lih. 19:7-8). Sang pengantin perempuan bukanlah gambaran gereja seperti sekarang ini, melainkan gereja yang seharusnya, yang terus menantikan dan siap sedia menyambut kedatangan Tuhan. Ia adalah gambaran gereja yang berdoa "Datanglah, Tuhan Yesus."
Kita harus membayangkan kitab Wahyu yang dibacakan dengan suara nyaring dalam suatu ibadah. Ketika sang pembaca membacakan kalimat selanjutnya, "Barangsiapa yang mendengarnya, hendaklah ia berkata: 'Marilah!'" (22:17), maka seluruh jemaat kemudian bersatu dalam doa tersebut, menyerukan, "Datanglah, Tuhan Yesus!" Doa mereka yang sepenuh hati mengidentifikasikan mereka sebagai pengantin perempuan dari Anak Domba Allah.
Tetapi dalam bagian kedua ayat 17, penggunaan kata "marilah" berubah. Kini giliran para pendengar, "barangsiapa yang haus," yang diundang untuk "datang" dan menerima "air kehidupan" dari Allah. Air kehidupan ini termasuk bagian dari ciptaan baru (21:6) dan Yerusalem Baru (22:1). Tetapi air itu juga telah tersedia pada saat ini bagi mereka yang menantikan kedatangan Yesus.
Ini seakan-akan Ia telah lebih dahulu mendatangi kita, mendahului kedatangan final-Nya, dan memberi kita cicipan dari ciptaan baru itu. Karena itulah artinya keselamatan. Kita menantikan Dia karena kita telah terlebih dahulu berjumpa dengan-Nya.
Richard Bauckham adalah seorang profesor emeritus Studi Perjanjian Baru di Universitas St. Andrew, Skotlandia, dan penulis banyak buku, di antaranya Theology of the Book of Revelation.
Diterjemahkan oleh: Joseph Lebani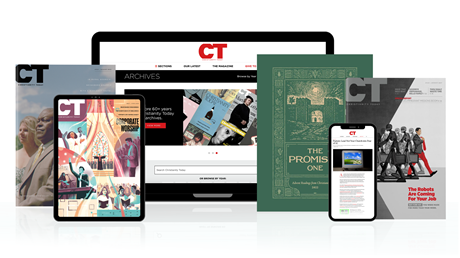 Annual & Monthly subscriptions available.
Print & Digital Issues of CT magazine
Complete access to every article on ChristianityToday.com
Unlimited access to 65+ years of CT's online archives
Member-only special issues
Subscribe
Datanglah, Tuhan Yesus!
Datanglah, Tuhan Yesus!