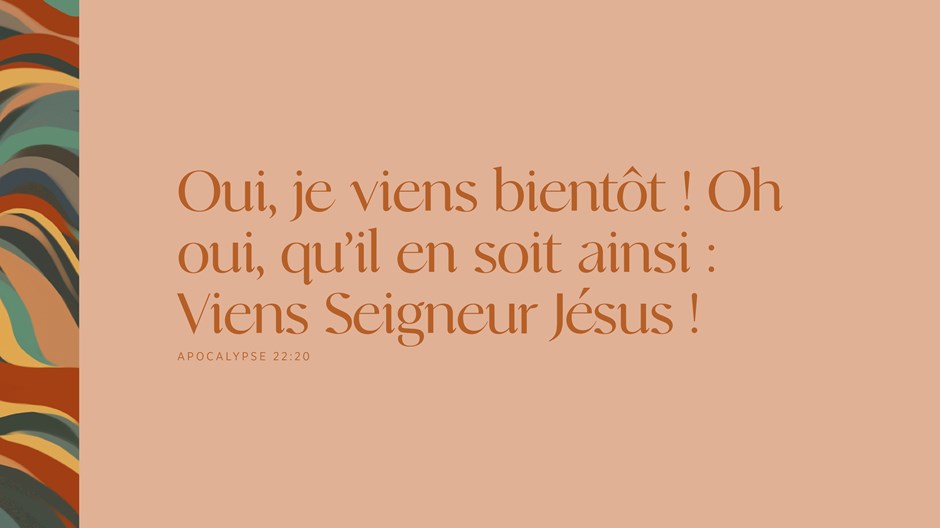 Image: Nicole Xu
Lecture dans Apocalypse 22.12-20.
La Bible se termine par cette prière : « Viens, Seigneur Jésus ». Nous en trouvons l'écho dans certains hymnes de l'Avent, tels que « O viens bientôt Emmanuel ».
Les chrétiens l'ont prié dès les premiers jours ; à l'exception du Notre Père, c'est la prière chrétienne la plus ancienne que nous connaissions. Nous le savons parce que Paul la cite dans sa version originale en araméen, « Maranatha », qui signifie « Notre Seigneur, viens ! » (1 Corinthiens 16.22). Pour que Paul s'attende à ce que ses lecteurs de langue grecque à Corinthe reconnaissent cette expression araméenne, elle devait occuper une place essentielle dans le culte des premiers chrétiens.
Dans Apocalypse 22.20, il s'agit d'une réponse à la promesse que Jésus a faite de venir. Au verset 12 et à nouveau au verset 20, Jésus lui-même dit : « Je viens bientôt ». Cette promesse revient tout au long du livre de l'Apocalypse (voir 2.5, 16 ; 3.11 ; 16.15 ; 22.7, 12, 20), annonçant le jugement pour certains et la bénédiction pour d'autres, jusqu'à ce qu'elle suscite enfin une réponse : « Viens ! »
Nous entendons d'abord cette réponse au verset 17. C'est la prière de « l'Esprit et de l'épouse ». Par « l'Esprit », on entend probablement l'Esprit saint qui parle à travers les prophètes chrétiens dans l'adoration. L'épouse, c'est l'Église qui se joint à cette prière de l'Esprit.
Imaginez la mariée attendant l'arrivée de l'époux. Elle est parée et prête pour lui (voir 19.7-8). L'épouse n'est pas l'Église telle qu'elle nous apparaît, mais l'Église telle qu'elle devrait être, dans l'attente et préparée pour la venue du Seigneur. Elle est l'Église qui prie : « Viens, Seigneur Jésus ! ».
Imaginons une lecture à haute voix du livre de l'Apocalypse lors d'un culte. Lorsque le lecteur lirait « Que tous ceux qui entendent disent : "Viens !" », toute l'assemblée se joindrait à la prière en répondant : « Viens, Seigneur Jésus ! ». Cette prière sincère nous identifie comme l'épouse de l'Agneau.
Mais dans la seconde moitié du verset 17, l'utilisation du mot « venir » change. Désormais, ce sont les auditeurs, « tous ceux qui ont soif », qui sont invités à « venir » et recevoir de Dieu « l'eau de la vie ». L'eau de la vie appartient à la nouvelle création (21.6) et à la Nouvelle Jérusalem (22.1). Mais elle est déjà disponible dans le présent pour ceux qui attendent la venue de Jésus.
C'est comme s'il venait déjà à nous, avant sa venue définitive, et nous donnait un avant-goût de la nouvelle création. Et c'est cela, le salut. Nous l'attendons car nous l'avons déjà rencontré.
RICHARD BAUCKHAM est professeur émérite d'études du Nouveau Testament à l'Université de Saint Andrews, en Ecosse, et auteur de nombreux livres, notamment La théologie de l'Apocalypse.
Traduit par Valérie Dörrzapf
Révisé par Léo Lehmann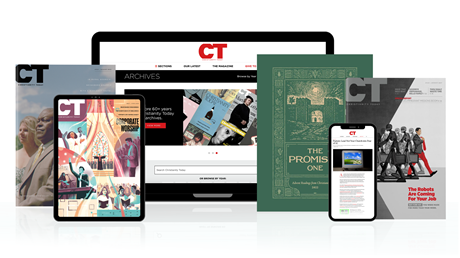 Annual & Monthly subscriptions available.
Print & Digital Issues of CT magazine
Complete access to every article on ChristianityToday.com
Unlimited access to 65+ years of CT's online archives
Member-only special issues
Subscribe
Viens, Seigneur Jésus !
Viens, Seigneur Jésus !