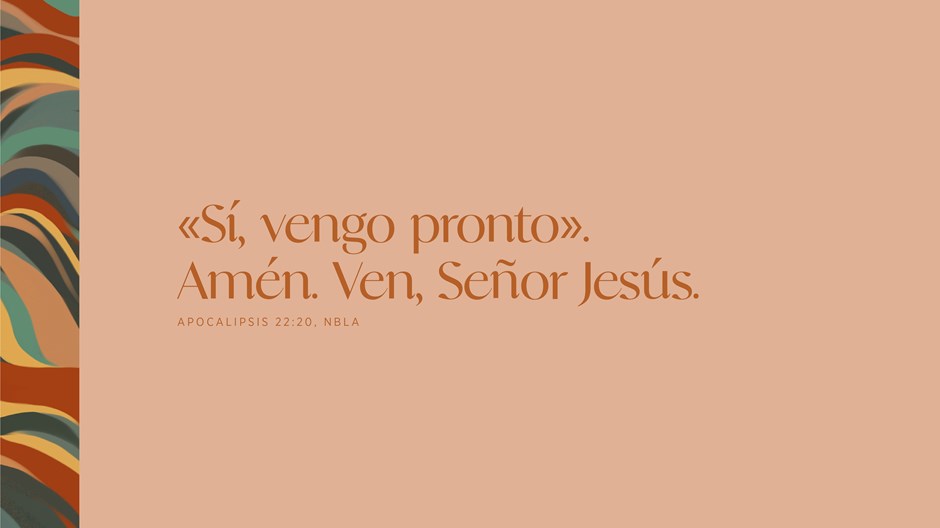 Para descargar nuestro devocional «El Evangelio de Adviento» completo, ingrese en este enlace.
Lea Apocalipsis 22:12-20
La Biblia termina con la oración: «Ven, Señor Jesús». Es una oración que se repite en muchos de nuestros himnos de Adviento, como «Oh ven, oh ven, Emmanuel» y «Ven, Jesús muy esperado».
Los cristianos han elevado esta oración desde los primeros tiempos; es la oración cristiana más antigua que conocemos (sin contar el Padre nuestro). Sabemos esto porque Pablo cita la versión original en arameo, Maranata, que significa «¡Señor nuestro, ven!» (1 Corintios 16:22). Para que Pablo esperara que sus lectores de habla griega en Corinto reconocieran esta frase en arameo, debe haber tenido un lugar clave en la adoración cristiana primitiva.
En Apocalipsis 22:20, es una respuesta a la promesa de Jesús de que vendrá. En el versículo 12, y luego otra vez en el versículo 20, Jesús mismo dice: «Vengo pronto». Esta promesa recorre todo el libro de Apocalipsis (véase 2:5, 16; 3:11; 16:15; 22:7,12,20), prometiendo juicio para unos y bendición para otros, hasta que por fin evoca una respuesta: «¡Ven!».
Oímos esa respuesta por primera vez en el versículo 17. Es la oración del «Espíritu y de la novia». Por «el Espíritu», probablemente se quiere decir que es el Espíritu que habla a través de los profetas cristianos en la adoración. La novia es la Iglesia que se une a esta oración del Espíritu.
Podemos imaginarnos a la novia esperando la llegada del Esposo. Está adornada y preparada para él (véase 19:7-8). La novia no es la Iglesia como tal, sino la Iglesia como debe ser, expectante y preparada para la venida del Señor. Es la Iglesia que ora: «¡Ven, Señor Jesús!».
Debemos imaginarnos el Libro de Apocalipsis siendo leído en voz alta en el tiempo de adoración cristiana. Cuando el lector lee la siguiente frase: «Y el que oye diga: "Ven"» (22:17, NBLA), toda la congregación se uniría a la oración, gritando: «¡Ven, Señor Jesús!». Su sincera oración los identifica como la esposa del Cordero.
Pero en la segunda mitad del versículo 17, el uso de la palabra «ven» cambia. Ahora son los oyentes, «todo el que tiene sed», los que son invitados a venir y recibir de Dios «el agua de la vida». El agua de vida pertenece a la nueva creación (21:6) y a la Nueva Jerusalén (22:1). Pero está disponible ahora mismo en el presente para los que esperan la venida de Jesús.
Es como si ya viniera a nosotros, adelantándose a su venida final, y nos diera un anticipo de la nueva creación. Porque eso es la salvación. Lo esperamos porque ya lo hemos conocido.
Richard Bauckham es profesor emérito de estudios del Nuevo Testamento en la Universidad de St. Andrews, Escocia, y autor de numerosos libros, entre ellos The Theology of the Book of Revelation.
Traducción por Sofía Castillo.
Edición en español por Livia Giselle Seidel.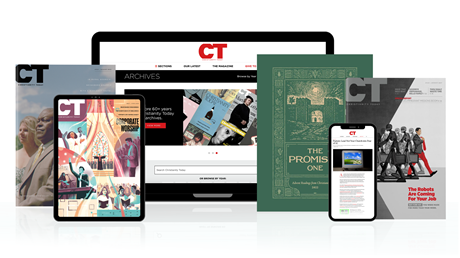 Annual & Monthly subscriptions available.
Print & Digital Issues of CT magazine
Complete access to every article on ChristianityToday.com
Unlimited access to 65+ years of CT's online archives
Member-only special issues
Subscribe
¡Ven, Señor Jesús!
¡Ven, Señor Jesús!