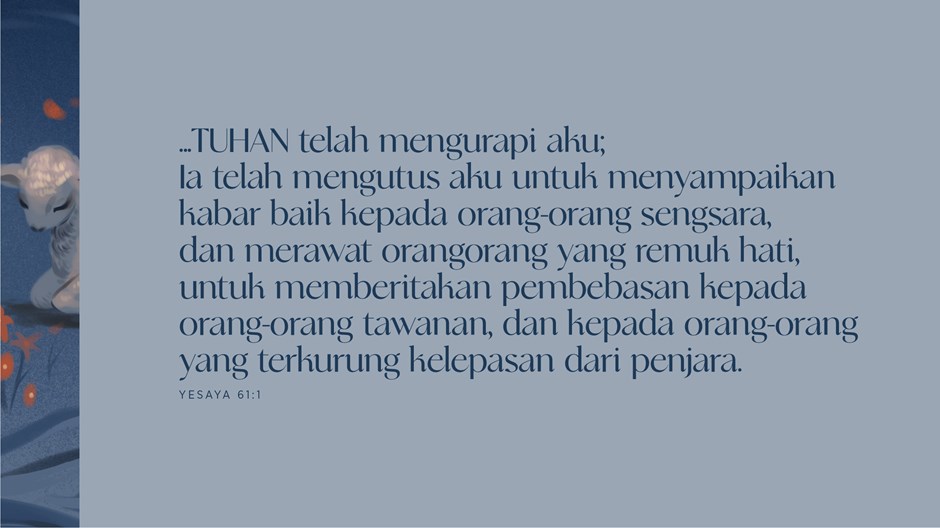 Untuk mengunduh kumpulan renungan "Berita Injil di Masa Adven," klik di sini.
Baca Yesaya 61:1-4, 8-11
Berbagai perdebatan sering muncul tentang misi gereja. Apakah kita seharusnya menginjili atau memperjuangkan keadilan? Perlukah orang Kristen memprioritaskan pengampunan dosa atau merawat orang sakit? Perdebatan-perdebatan ini memiliki akar yang mendalam pada perpecahan masa lalu tentang teologi dan misi. Secara umum, satu kelompok sangat gigih memperjuangkan tentang memberi makan orang yang kelaparan, namun tidak peduli pada persoalan kelahiran Yesus dari perawan Maria. Kelompok yang lain malah sebaliknya.
Kelompok yang satu memberi diri mereka untuk memperbaiki dunia, dan yang lain memilih mengutamakan janji surgawi di akhirat.
Kedua belah pihak yang berpecah ini telah ditegur oleh Yesus. Ketika Ia pergi ke sinagoga dan membaca Yesaya 61, Ia mengumumkan misi-Nya. Roh Tuhan telah mengurapi-Nya untuk menyampaikan "kabar baik kepada orang-orang miskin;...memberitakan pembebasan kepada orang-orang tawanan, dan penglihatan bagi orang-orang buta, untuk membebaskan orang-orang yang tertindas, untuk memberitakan tahun rahmat Tuhan telah datang'" (Luk. 4:18–19). Yesus menunjukkan bagaimana kerajaan Allah itu membawa pengampunan dan pembebasan, penyembuhan dan pengharapan—semua tanda dari pembaruan ciptaan yang akan datang.
Yesaya sendiri memandang ke depan, kepada hari ketika Allah menjadikan langit baru dan bumi baru di mana "seluruh umat manusia" akan datang dan menyembah (Yes. 66:22-23).
Meski Yesaya dan umat Israel yang bersamanya membayangkan hal itu terjadi dalam satu peristiwa, namun Allah di dalam Kristus—Pribadi yang Diurapi!—sedang memulai sebuah pemerintahan yang puncaknya kelak akan terjadi pada waktu penciptaan dunia kembali.
Dan Ia akan memulai dengan kita—melalui hubungan antara Allah dengan manusia yang merupakan inti dari penciptaan. Ia akan bekerja melalui orang-orang yang dibenarkan untuk membawa keadilan. Orang-orang yang "ditetapkan benar" bergabung bersama Tuhan dalam karya-Nya untuk menata dunia dengan benar.
Namun dalam menyampaikan penggenapan dari nubuat Yesaya, Yesus juga menunjuk kepada diri-Nya sendiri sebagai pembawa kerajaan tersebut. Ini bukan sekadar proyek perbaikan sosial. Perombakan total dari dunia dan sistemnya akan dimulai dari benih yang jatuh ke tanah dan mati (Yoh. 12:24). Hanya Mesias saja yang meresmikan kerajaan itu.
Misi sang Mesias, Pribadi yang Diurapi Roh, dilanjutkan oleh umat-Nya, umat yang diurapi-Nya. Lukas menyejajarkan kisah ini dalam kitabnya yang kedua ketika berbicara tentang Roh yang mengurapi para pengikut Yesus di ruang atas. Dalam arti yang sebenarnya, misi gereja sesungguhnya bukanlah misi gereja semata, melainkan misi sang Mesias. Yesuslah yang memulainya; Yesus, yang oleh Roh telah memampukan kita untuk berpartisipasi di dalam misi tersebut; dan Yesus yang akan datang kembali dalam kemuliaan untuk membawa pemerintahan-Nya sampai pada puncaknya.
Glenn Packiam adalah seorang pendeta senior di New Life Church, Colorado Springs. Buku-buku dia di antaranya Worship and the World to Come dan The Resilient Pastor (Februari 2022).
Diterjemahkan oleh: Budi Martono Winata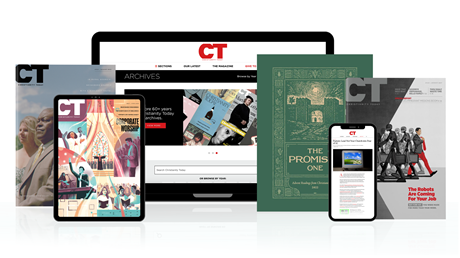 Subscribe to Christianity Today and get access to this article plus 65+ years of archives.
Home delivery of CT magazine
Complete access to articles on ChristianityToday.com
Over 120 years of magazine archives plus full access to all of CT's online archives
Subscribe Now
Misi Sang Mesias
Misi Sang Mesias