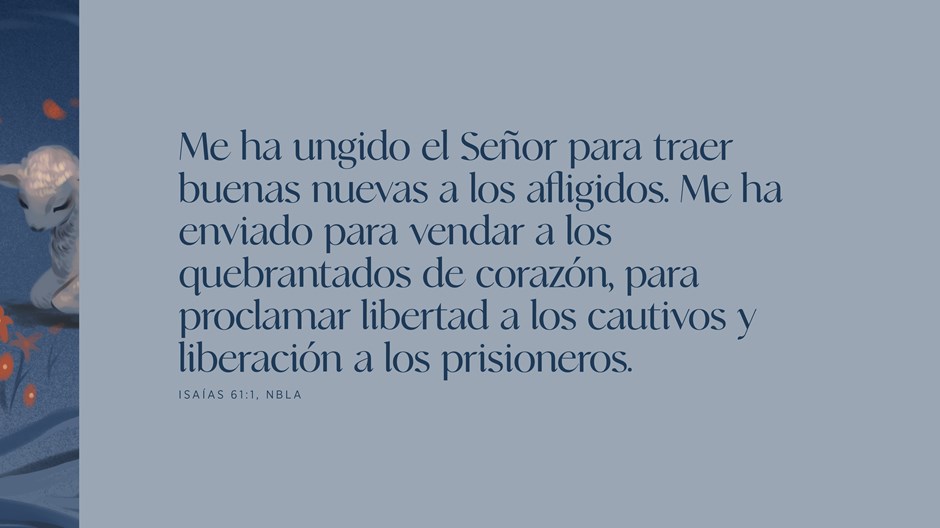 Para descargar nuestro devocional «El Evangelio de Adviento» completo, ingrese en este enlace.
Lea Isaías 61:1-4, 8-11
A menudo surgen debates sobre cuál es la misión de la Iglesia. ¿Debemos evangelizar o trabajar por la justicia? ¿Deben los cristianos dar prioridad al perdón de los pecados o al cuidado de los enfermos? Estos debates tienen sus orígenes en una antigua división sobre la teología y la misión. Hablando en términos generales, un grupo puede ser inamovible en cuanto a dar de comer a los hambrientos, pero a la vez indiferente en cuanto al nacimiento virginal; otro grupo puede ser lo opuesto. Un grupo puede dedicarse a mejorar el mundo, mientras que el otro se aferra a la promesa de una vida celestial después de la muerte.
Ambos lados de esta división habrían sido reprendidos por Jesús. Cuando fue a la sinagoga y leyó Isaías 61, anunció su misión. El Espíritu del Señor lo había ungido para anunciar «el Evangelio a los pobres... para proclamar libertad a los cautivos, y la recuperación de la vista a los ciegos; para poner en libertad a los oprimidos, para proclamar el año favorable del Señor» (Lucas 4:18-19, NBLA). Jesús mostró cómo el reino de Dios trae perdón y libertad, sanidad y esperanza, todos ellos señales de la renovación de la creación que se avecina.
El profeta Isaías mismo previó el día en que Dios crearía nuevos cielos y una nueva tierra donde «todo mortal» vendría a adorar (Isaías 66:22-23). Aunque Isaías, y con él Israel, pensaban que estos hechos ocurrirían todos juntos, Dios, en Cristo —¡el Ungido!—, estaba inaugurando un reino que un día culminaría con la reconstrucción del mundo. Comenzará con nosotros, con la relación entre Dios y el hombre que estaba en el corazón de la creación. Y obrará a través de los justificados para traer justicia. El pueblo «restaurado» se une a Dios en su obra de restaurar el mundo.
Pero cuando anunció el cumplimiento de la profecía de Isaías, Jesús también se refería a sí mismo como el portador del reino. No se trataba de un mero proyecto de mejora social. La reforma total del mundo y de sus sistemas comenzaría con una semilla que caería a la tierra y moriría (Juan 12:24). Solo el Mesías puede inaugurar el reino.
La misión del Mesías, el Ungido por el Espíritu, continúa a través del pueblo del Mesías, los pequeños ungidos. Lucas hace un paralelismo con esta historia en su segundo escrito al hablar del Espíritu que unge a los seguidores de Jesús en el aposento alto. En un sentido muy real, la misión de la iglesia no es realmente la misión de la iglesia sino del Mesías. Es Jesús quien la inició; es Jesús quien, por medio del Espíritu, nos capacita para participar en ella; y es Jesús quien vendrá de nuevo en gloria para llevar su reinado a su culminación.
Glenn Packiam es pastor asociado de la iglesia New Life en Colorado Springs. Sus libros incluyen Worship and the World to Come y The Resilient Pastor (febrero de 2022).
Traducción por Sofía Castillo.
Edición en español por Livia Giselle Seidel.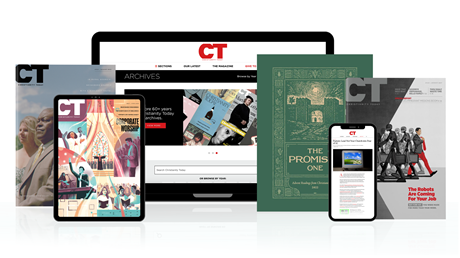 Annual & Monthly subscriptions available.
Print & Digital Issues of CT magazine
Complete access to every article on ChristianityToday.com
Unlimited access to 65+ years of CT's online archives
Member-only special issues
Subscribe
La misión del Mesías
La misión del Mesías