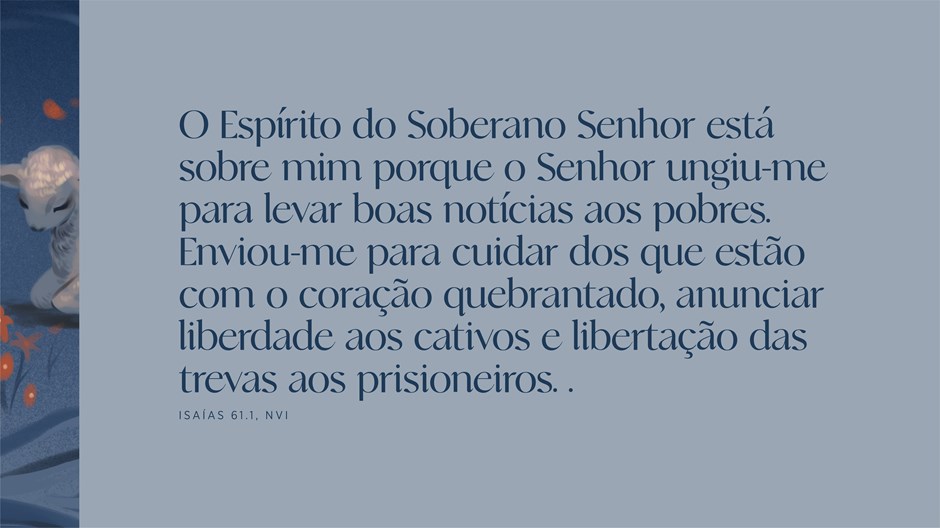 Clique Aqui e faça o download do nosso devocional diário "O Evangelho do Advento".
Leia Isaías 61.1-4, 8-11
Sempre surgem debates a respeito da missão da igreja. Devemos evangelizar ou trabalhar por justiça? Os cristãos devem priorizar o perdão dos pecados ou o cuidado aos enfermos? Esses debates têm raízes profundas em uma velha divisão entre teologia e missão. Genericamente falando, um grupo pode ser intransigente quanto a alimentar os famintos, mas indiferente quanto ao nascimento virginal; já outro pode ser o contrário. Um pode se dedicar a melhorar o mundo e o outro, à promessa de uma vida no céu após a morte.
Nessa divisão, ambos os lados teriam sido repreendidos por Jesus. Quando foi à sinagoga e leu Isaías 61, ele anunciou sua missão. O Espírito do Senhor o ungiu para "pregar boas novas aos pobres [...] para proclamar liberdade aos presos e recuperação da vista aos cegos, para libertar os oprimidos e proclamar o ano da graça do Senhor"(Lc 4.18,19). Jesus demonstrou como o reino de Deus traz perdão e liberdade, cura e esperança — todos estes sinais da renovação da criação que está por vir.
O próprio Isaías ansiava pelo dia em que Deus traria novos céus e uma nova terra nos quais "toda a humanidade virá e se inclinará" diante do Senhor (Is 66.22,23). Embora Isaías e, junto com ele, Israel tivessem imaginado que isso aconteceria de uma só vez, Deus, em Cristo — o Ungido! —, estava inaugurando um reino que um dia culminará na recriação do mundo. Ele começará conosco — com o relacionamento entre Deus e os seres humanos, que estava no cerne da criação. E trabalhará por meio dos que foram justificados, para trazer justiça. O povo "justificado" se une a Deus em sua obra para restaurar o mundo.
Mas, ao anunciar o cumprimento da profecia de Isaías, Jesus também estava apontando para si mesmo como aquele que traria o reino de Deus. Não se tratava de um mero projeto de melhoria social. A restauração total do mundo e de seus respectivos sistemas começaria com um grão que cairia na terra e morreria (Jo 12.24). O Messias sozinho inaugura o reino.
A missão do Messias, do Ungido pelo Espírito, continua por meio do povo do Messias — dos pequenos ungidos. Lucas faz um paralelo dessa história, em seu segundo volume, quando fala sobre o Espírito ter ungido os seguidores de Jesus, no cenáculo. Em sentido bem real, a missão da igreja não é realmente da igreja, mas sim a missão do Messias. Foi Jesus quem a começou; e é Jesus que, pelo Espírito, nos capacita a participar dela; também é Jesus que virá novamente em glória para trazer seu reino ao ápice.
Glenn Packiam é pastor sênior associado da New Life Church, em Colorado Springs. Entre as obras de sua autoria estão Worship and the World to Come e The Resilient Pastor (fevereiro de 2022).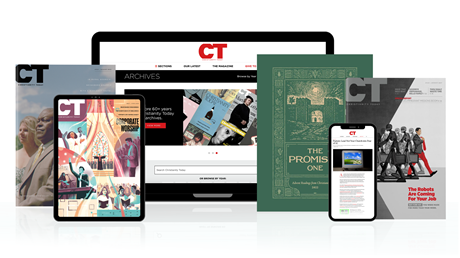 Subscribe to Christianity Today and get access to this article plus 65+ years of archives.
Home delivery of CT magazine
Complete access to articles on ChristianityToday.com
Over 120 years of magazine archives plus full access to all of CT's online archives
Subscribe Now
A missão do Messias
A missão do Messias