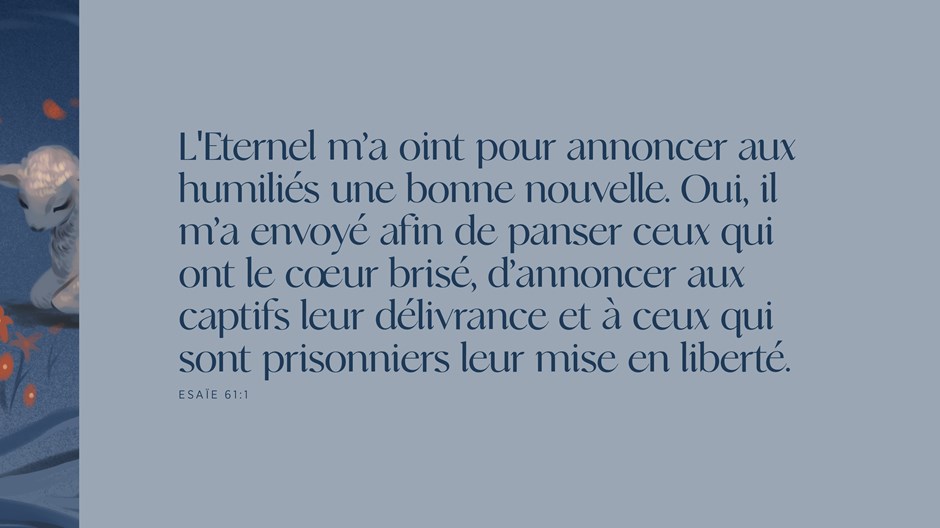 Lecture dans Ésaïe 61.1-4, 8-11
La mission de l'Église fait souvent l'objet de débats. Sommes-nous censés évangéliser ou œuvrer pour la justice ? Les chrétiens doivent-ils donner la priorité au pardon des péchés ou au soin des malades ? Ces débats trouvent leurs racines dans un vieux clivage en matière de théologie et de mission. Pour le dire très schématiquement, les uns pourraient être inflexibles sur la nécessité de nourrir les affamés, mais indifférents à la naissance virginale, tandis que les autres s'orienteraient dans le sens inverse. Les uns se consacrent à l'amélioration du monde et les autres à la promesse d'un au-delà céleste.
Les deux camps auraient été réprouvés par Jésus. En se rendant à la synagogue et en lisant un passage d'Ésaïe 61, il annonçait sa mission : l'Esprit du Seigneur l'avait oint pour apporter « une bonne nouvelle aux pauvres […] pour proclamer aux captifs la libération et aux aveugles le recouvrement de la vue, pour renvoyer en liberté les opprimés, pour proclamer une année de grâce du Seigneur » (Luc 4.18-19). Jésus a montré comment le royaume de Dieu apporte le pardon et la libération, la guérison et l'espérance, comme autant de signes du renouveau de la création à venir.
Ésaïe lui-même attendait le jour où Dieu ferait naître de nouveaux cieux et une nouvelle terre où « toute chair » viendrait l'adorer (Ésaïe 66, 22-23). Bien qu'Ésaïe, et Israël avec lui, aient pu imaginer que cela se produirait d'un seul coup, Dieu en Christ — l'Oint — inaugurait en fait un règne qui culminera un jour dans la refonte complète du monde. Il commencera par nous : par la relation entre Dieu et l'être humain qui était au cœur de la création. Et il travaillera par le biais de ceux qu'il a justifiés pour apporter la justice. Le peuple restauré se joint à Dieu dans son œuvre de restauration du monde.
Mais en annonçant l'accomplissement de la prophétie d'Ésaïe, Jésus se désignait aussi comme le porteur du Royaume. Il ne s'agit pas d'un simple projet d'amélioration sociale. La refonte totale du monde et de ses systèmes commence par une graine qui tombe en terre et meurt (Jean 12.24). C'est le Messie seul qui inaugure le royaume.
La mission du Messie, l'Oint de l'Esprit, se poursuit à travers le peuple du Messie, les petits oints. Luc fait un parallèle avec ce récit dans son deuxième livre, le livre des Actes, en parlant de l'Esprit qui oint les disciples de Jésus dans la chambre haute. Dans un sens très réel, la mission de l'Église n'est pas la mission de l'Église, mais celle du Messie. C'est Jésus qui l'a commencée ; Jésus qui, par l'Esprit, nous donne le pouvoir d'y participer ; et Jésus qui reviendra dans la gloire pour porter son règne à son apogée.
GLENN PACKIAM est pasteur senior associé à la New Life Church de Colorado Springs. Il a notamment écrit Worship and the World to Come et The Resilient Pastor (février 2022).
Traduit par Léo Lehmann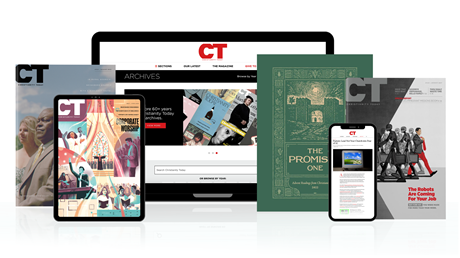 Subscribe to Christianity Today and get access to this article plus 65+ years of archives.
Home delivery of CT magazine
Complete access to articles on ChristianityToday.com
Over 120 years of magazine archives plus full access to all of CT's online archives
Subscribe Now
La mission du Messie
La mission du Messie