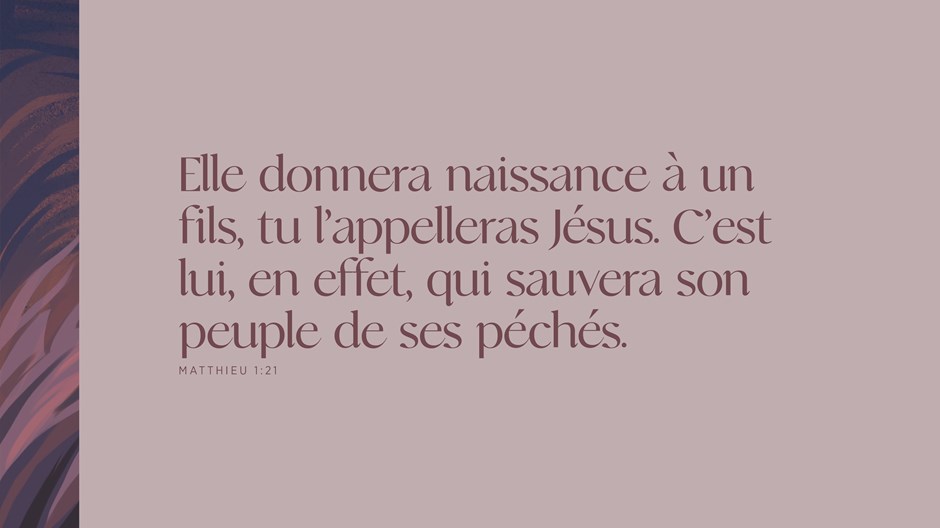 Lecture dans Matthieu 1.18–25
Quand nous pensons à l'histoire de Noël, nous avons souvent en tête une image idyllique, comme sur un vitrail, du petit Jésus reposant dans une mangeoire aux côtés de Marie et Joseph sereinement installés. Pourtant, les événements qui ont précédé la naissance de Jésus étaient loin d'être idylliques. En réalité, ils étaient pleins de désordre et de confusion. On peut détecter la tension dans la voix narrative de Matthieu au chapitre 1.18-19, lorsqu'il décrit la grossesse de Marie avant leur mariage et le divorce envisagé par Joseph.
Nous pouvons imaginer l'ampleur du choc de Joseph — et peut-être même de sa honte — face à la grossesse de Marie. Puis, comme Marie, il reçoit la visite d'un ange. Joseph répond à l'annonce de l'ange avec une grande humilité, et certainement avec espoir, entendant que l'enfant qui allait naître allait « sauver son peuple de ses péchés » (v. 21). Cette nouvelle du salut, elle aussi, aura été choquante — merveilleusement choquante — pour Joseph.
Dans notre monde marqué par le découragement, il arrive que le message évangélique du salut perde de son éclat pour les chrétiens. Nous pouvons facilement considérer comme acquis le fait que Jésus est venu sauver des pécheurs, le qualificatif incluant aussi bien les impénitents que les régénérés que nous sommes. En ce temps de l'Avent et de Noël, puisse le choc de l'événement tant attendu qu'était la naissance du Christ (en particulier pour Joseph et Marie) ne pas perdre son impact sur nous. Puissions-nous nous étonner et nous émerveiller à nouveau de ce que Jésus était prêt à être l'agneau sacrificiel venu sauver son peuple de ses péchés.
Matthieu signale un autre détail qui peut nous émerveiller : dans la naissance du Christ Jésus, nous assistons à l'accomplissement de la prophétie d'Ésaïe 7,14 : « la vierge sera enceinte, elle mettra au monde un fils et l'appellera Emmanuel. » Jésus est l'Incarnation, Emmanuel, « Dieu avec nous » (Mt 1.22-23).
En ces temps de tumulte mondial, l'Incarnation de Jésus nous encourage d'au moins deux façons. Elle peut stimuler les croyants vers une foi profondément enracinée dans un Sauveur qui habite son peuple par le Saint-Esprit. Dieu est avec nous. Nous pouvons vivre notre vie chrétienne dans la confiance et la victoire, non comme des victimes, mais comme des vainqueurs.
Et, pour ceux d'entre nous qui sont peut-être devenus moins enthousiastes dans leur foi, il nous est rappelé que le récit de l'Évangile est source de vitalité et de sens, notamment pour que nous partagions cette Bonne Nouvelle avec d'autres. Jésus est venu comme un bébé sans défense, mais il reviendra comme un Seigneur juste et équitable au nom duquel tout genou fléchira et que toute langue confessera (Philippiens 2.10). Puissions-nous partager cette Bonne Nouvelle avec générosité. Aujourd'hui est un jour de salut.
MATTHEW D. KIM est le professeur George F. Bennett de prédication et de théologie pratique au Gordon-Conwell Theological Seminary et l'auteur de Preaching to People in Pain.
Traduit par Léo Lehmann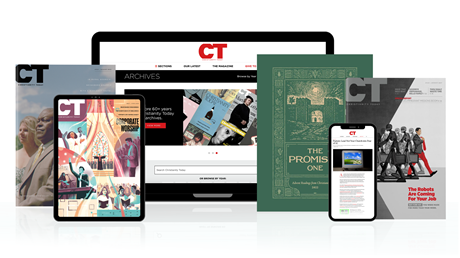 Subscribe to Christianity Today and get access to this article plus 65+ years of archives.
Home delivery of CT magazine
Complete access to articles on ChristianityToday.com
Over 120 years of magazine archives plus full access to all of CT's online archives
Subscribe Now
Le choc de l'Évangile
Le choc de l'Évangile