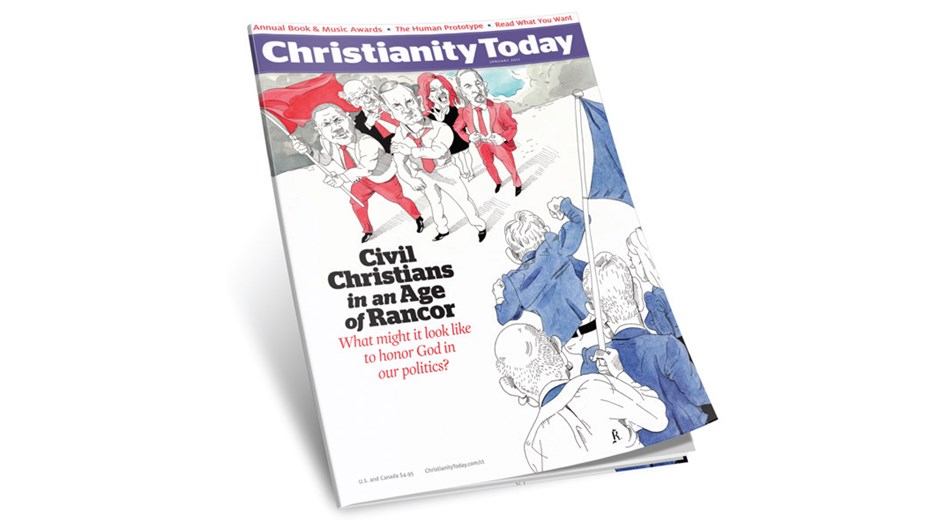 Civility Calls
Just a word of praise for "The Cure for Election Madness" [January]. What a wonderful way to begin the year! I cannot imagine a more timely or relevant topic heading into this election year in our tumultuous and divisive American political climate. Amy Black's analysis of the current political scene's poisonous and polarizing discourse, exploration of constructive and Christlike ways to engage issues and candidates, and compelling call for both critical thinking and civility are most necessary and welcome. This is the best CT article I have read since becoming a subscriber.
Nathaniel Rhoads
Winnemucca, Nevada
Kudos to Amy E. Black for her insightful and challenging cover story. God calls Christians to stand up for our convictions that are rooted in his truths. But he also calls us to love our neighbors as ourselves. Those are not mutually exclusive exhortations.
Every human deserves dignity and respect; that's a point we as a pro-life community have made for decades. Unfortunately, we haven't always lived it out in our interactions with those who disagree with us. All of us—liberal or conservative—are more than the sum of our positions on policy issues. Let's look for points of mutual civility where they might be found, even if all we can do is say, "We're both created in God's image. That means we deserve each other's respect." We may not change each other's minds, but we don't have to call each other names. We can never become so consumed with winning a political battle that we lose sight of basic virtues like the Golden Rule. God expects—he demands—more than that.
Jim Daly
President, Focus on the Family Colorado Springs, Colorado
Provoking Words
Since the release of Love Wins, CT has suggested that Rob Bell advocates universalism, such as in the January issue, where the No. 1 news story of 2011 states, "Rob Bell tries to legitimize universalism." In Love Wins, Bell deals with universalism in three ways: apparently in favor of it, unclear on his position, and against it.
I believe the favorable and ambiguous statements regarding universalism in Love Wins are provocative statements designed to make us think. However, in balance it is clear that Bell advocates universal responsibility for our choices, not universalism.
Ken Tunstall
Barrie, Ontario, Canada
Editor's Response:
When we say that Rob Bell tries to "legitimize," we mean he specifically argues in his book that universalism is a legitimate theological option for Christians, that it should not be dismissed out of hand. We did not say that he teaches it, or believes it, or is trying to get others to believe it.
Lost and Found
"Blessed Are the Jobless" [January] really nailed it. As a recently employed former jobseeker myself, I know from experience that jobseekers yearn for caring, community-based job clubs in order to tackle the many issues associated with joblessness. In addition, networking with the employed is a very important activity.
David Reed
Aurora, Illinois
Give and Take
I enjoyed the article "Discipling the Dragon" [January], and am excited about what God is doing in China. However, I am concerned about the apparent one-way discipleship the article suggests. The faith of China's Christians was formed in the crucible of persecution. I am sure God has taught some lessons to our Chinese sisters and brothers about what it means to follow Jesus. Have any of them written books about the sacrifice required in following Jesus, and have they been translated into English? Perhaps Christianity Today could print an article about what we can learn from them.
Cindi Kirby
Plano, Texas
Hands-On Parenting
We cannot find a solution to the spanking debate by merely resolving not to use violence ["Thou Shalt Not Abuse," January].
It is a disservice to parents to imply that sweet reason and gentleness will always be enough (possibly supplemented by the occasional smack carefully delivered without anger). As the mother of four grown children, I can testify we all find ourselves using our bigger, stronger bodies to force our screaming, thrashing children to do something, whether it's manhandling them into the car seat, shoving medicine down their throats, or just holding them down in the time-out chair.
To pretend that this is not "violence" is not helpful. Instead we must humbly and prayerfully realize that parenting is a place where we are the strong in charge of the weak, and remember that strength only compels bodies and not souls. Abuse happens when we forget that respect, obedience, and love are choices of the heart beyond anyone's compulsion.
Gloria Wall
Mountain View, California
Tapping Out
Have we so lost touch with the life Jesus lived and taught that the spectacle of cage fighting could seriously be considered an "open question" among Christians [The Village Green, January]?
Matt Morin rightly calls cage fighting and the culture surrounding it a "form of pornography," human degradation that cannot be consistent with creation or new creation in God's image. From the exaltation of ego to disrespect for the body—and really the person—of a combatant, and the voyeurism Morin describes, there is no resemblance between the phenomenon of cage fighting and a life lived in Christ and motivated by the Holy Spirit.
Christians have to do better than represent their Lord as approving this and other manifestations of a culture of death. If we can't, we're no better than the bloodthirsty mobs that thronged the amphitheaters of ancient Rome.
D. Gregory Van Dussen
Batavia, New York
What got the most comments in January's CT
23% The Cure for Election Madness Amy Black
17% Thou Shalt Not Abuse CT Editorial
10% The Village Green: Sports & Violence Joe Carter ,Ted Kluck, and Matt Morin
Readers' Pick
The most praised piece in January's CT
One Leap after Another by Mark Moring
Worth Repeating
Compiled by Elissa Cooper
"I don't think there's anything sinful about it. But it's certainly not what I desire."
Anonymous, on how physical intimacy with a spouse is more pleasurable and emotionally satisfying than masturbation.
Her.meneutics: "Getting to the Root of Female Masturbation," by Marlena Graves
"We face many problems and challenges as a nation, but putting a right-wing nut in the White House will make things a lot worse. And that's something this country can't afford."
Willie, debating the merits of the Republican presidential candidates following the Iowa caucus.
CT Politics Blog: "Bachmann Retreats as Majority of Evangelicals Pick Santorum in Iowa," by Tobin Grant
"I am constantly amazed at how much the porn industry has invaded the church."
Carol A., responding to the DVD release of the documentary Out of the Darkness, which features testimonies and ministries devoted to those struggling with pornography.
CT Entertainment Blog: "Overcoming the Porn Problem," by Mark Moring
"We ask God to strengthen believers like you who are striving to remain as living stones there. May God's protection and peace shield you all in the coming year."
Ken, joining others in prayer for Christians in the Arab world amid changes from last year's political events and current struggles to stabilize.
CT Liveblog: "Jesus, Christmas, and the Arab Spring," by Botrus Mansour
Related Elsewhere:
The January issue is available on our website.
Letters to the editor must include the writer's name and address if intended for publication. They may be edited for space or clarity.
E-mail: cteditor@christianitytoday.com
Fax: 630.260.8428
Have something to add about this? See something we missed? Share your feedback here.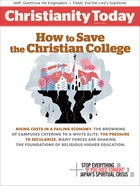 This article is from the March 2012 issue.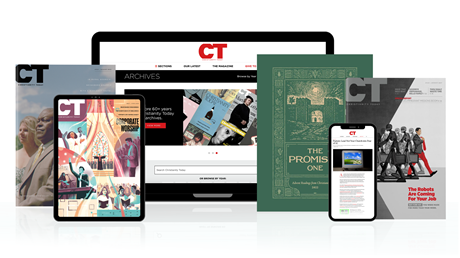 Annual & Monthly subscriptions available.
Print & Digital Issues of CT magazine
Complete access to every article on ChristianityToday.com
Unlimited access to 65+ years of CT's online archives
Member-only special issues
Subscribe
Letters to the Editor
Letters to the Editor