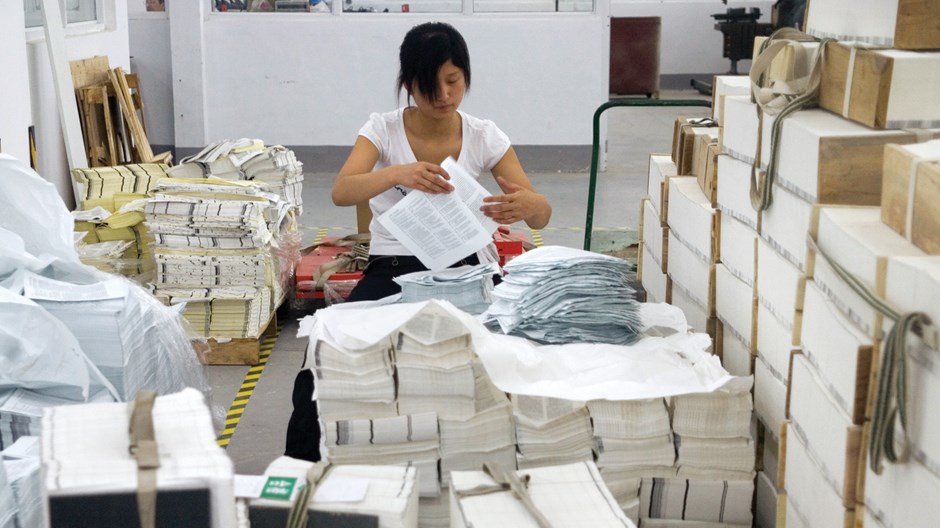 Image: M. Scott Brauer
China's communist government may be constricting freedom of worship in some places, such as Beijing's Shouwang house church, but Chinese consumers are gaining access like never before to legally published books by best-selling American evangelical authors.
Since early April, the 1,000-member-strong Shouwang church has held services outdoors rain or shine, and eight of its pastors are under house arrest. The government, citing the church's lack of registration, pressured the church's landlord to cancel Shouwang's lease.
At the same time, there has been a surge across China in the availability of popular Christian titles by authors Rick Warren, Gary Chapman, and Beth Moore, as well as classic titles by C. S. Lewis and others. Statistics on Christian book sales are unreliable in China. But figures on Bible publishing provide one reliable snapshot of the phenomenal growth. Amity, the official publisher of Bibles inside China, increased Bible printing each year from 1998 (2.8 million) to 2008 (10 million). Other than Bibles, top sellers are Rick Warren's The Purpose Driven Life, with more than 100,000 in print, and the Francine Rivers novel Redeeming Love.
A big reason for this growth is the 2008 debut of the online-only retailer Baojiayin (GoodNewsinChina.com). For decades, the government heavily limited the retail sales of Christian literature. But all that changed with Baojiayin.
For instance, Paul Douglas, an Australian medical doctor living in China, uses Baojiayin to send about $140 worth of books to local churches, creating an instant lending library. Douglas can donate sets of theological commentaries, marital advice books, and biographies of Christian leaders.
In addition, Douglas, ordering through another faith-and-values bookseller, ZDL Books, buys titles such as John Stott's The Message of Romans commentary and DVDS such as June Hunt's Hope for the Heart counseling series for individuals, especially graduating seminarians. "I choose the books, plug in the person's address, and they are typically sent out within a day," Douglas says.
Another new reality is driving sales: the government has given its official blessing to direct-to-consumer book sales. While book content is still under stringent review, communist leaders increasingly view religious literature as a positive influence on Chinese citizens.
Baojiayin is unique in selling exclusively Christian titles. Beyond books, Baojiayin sells everything from Cru's Jesus film to the Christian Broadcasting Network's Superbook DVDS. "We're seeing things approved that five years ago no one would have thought would ever be approved," says a Baojiayin employee.
In Beijing, a university professor (who asked not to be named) says he buys hundreds of books each year for students and friends. The professor's wife likewise gives away Sally Clarkson's books on motherhood, Josh McDowell's books on parenting, and Patricia St. John's children's books.
The professor, who moved to China six years ago, frequently gives The Good Life by Charles Colson and The Call by Os Guinness as gifts to those enrolled in his time-management course. "It's important for students to know why they are at university, beyond trying to become financially successful," the professor says.
Fenggang Yang, director of the Center on Religion and Chinese Society at Purdue University in Indiana, says interest in Christianity is a byproduct of economic reforms initiated by then-Communist Party leader Deng Xiaoping in 1978. "There has been an increased interest in all religious publications, not just Christian, especially among college-educated, urban young professionals," Yang says.
Paul Peng works for Enoch Publishing, the oldest and one of the largest publishers of books with Christian values. Some 30 percent of Enoch's consumers aren't Christians. "We have several channels to sell books: bookstores opened by Christians, general bookstores, online bookstores, and directly to some churches."
ZDL retails both in brick-and-mortar outlets and online. "When our company started eight years ago, there was basically no distribution of legal Christian products," says David Wright, general manager of ZDL. "Demand has increased significantly year after year."
All books for sale must have a Chinese International Standard Book Number (ISBN). ZDL is engaged in this process, which involves negotiating with government censors. ZDL also employs a theologically trained Christian editorial team to ensure quality translations.
The government sometimes deems works worthy for their social rather than spiritual value, allowing publishers to avoid a more rigorous review process. For example, John Maxwell's books on leadership and James Dobson's volumes are not necessarily considered religious. Liu Dong, a Shanghai-based reporter for the English-language Global Times, notes that books by John Piper and Philip Yancey are available in secular bookstores because they are considered intellectual, not religious.
Paul Hattaway, founder of missions group Asia Harvest, says he has not smuggled anything into China for more than a decade. His organization's materials are printed inside the nation, he says. "China's great need is for God's Word and solid teaching. How it gets into their hands is not important," says Hattaway, author of Operation China. ZDL's Wright says that as persecution has become less of a reality, Christians in China are tempted toward materialism. Nevertheless, he says, a rising number of books are being written by native Chinese theologians and teachers who have persisted through difficult times. Other groups are starting new relationships inside China. David C. Cook, based in Colorado Springs, formed a partnership with the China State Administration of Religious Affairs (SARA) and the China Christian Council (CCC). Following six years of effort, Cook signed a formal publishing agreement in 2009. The company expects to publish, among other works, a new children's Bible storybook and Warren Wiersbe's Bible commentary series.
Cris Doornbos, Cook's chief executive, says the company has influence over the editorial process and is hiring Chinese Christians on a work-for-hire basis in China to do the translation, which is then reviewed by a third party. The books are available to even low-income households because state-owned companies and the Three-Self Patriotic Movement (China's official church system) are the distribution channels.
Doornbos says, "By working with SARA and CCC, all these resources will then be legal in China and have a much broader reach than they do today."
Even after Christian books are printed, much of the reading public is unaware exactly where they can obtain certain volumes. Some titles are available only through the Three-Self channels. A buyer seeking a particular book not sold in bookstores would have to know which Three-Self church carries it—and where that church is located.
Purdue's Yang says the number of legal titles available still only totals 1,300, and numerous publishing restrictions remain, especially on works that broach church-state relations or delve into exploring Christianity in China. Another drawback is that many valuable resources are no longer available because press runs are often under 10,000 copies.
While the number of Chinese storefront booksellers with a Christian worldview has mushroomed from 2 to 250 in the past decade, that total has remained stagnant the past four years. But Yang sees small Christian bookstores serving a niche that online companies cannot: being a physical connection point for new Christians to network with each other. However, bookstores do not exist in China's rural areas. Rural residents are for the most part literate, but they usually are poor and unable to afford materials.
Doornbos, who notes that the Chinese government has not rejected any titles proposed by Cook, says, "Now is our opportunity to make sure we give the church in China all the Christian resources that we can."
John W. Kennedy is a Christianity Today contributing editor.
Related Elsewhere:
Previous Christianity Today articles about China include:
Interview: Chai Ling on Saving China's Daughters | Each day in China, 35,000 baby girls are aborted and 500 women commit suicide. One freedom fighter won't take it any longer. (October 4, 2011)
Shouwang Showdown, 15 Weeks In | Members of one of China's largest house churches continue to meet amid arrests. (July 20, 2011)
Official Chinese Newspaper Publishes Call to Change Religion Policy | Religious freedom experts are surprised and cautiously optimistic, but disagree on proposal. (December 8, 2009)
China's 'Conscience' Missing in Action | Top Christian lawyer Gao Zhisheng vanishes as government stifles dissent. (October 23, 2009)
Smuggling Debate | Ministries disagree on how best to provide Bibles to Chinese Christians. (January 27, 2009)
Have something to add about this? See something we missed? Share your feedback here.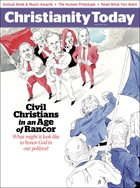 This article is from the January 2012 issue.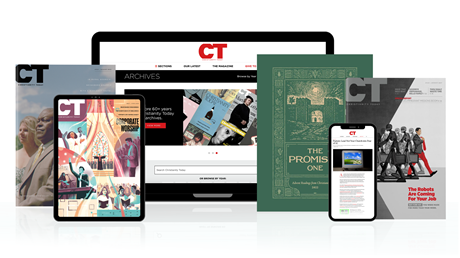 Annual & Monthly subscriptions available.
Print & Digital Issues of CT magazine
Complete access to every article on ChristianityToday.com
Unlimited access to 65+ years of CT's online archives
Member-only special issues
Subscribe
Discipling the Dragon: Christian Publishing Finds Success in China
Discipling the Dragon: Christian Publishing Finds ...