In a recent sermon, my pastor told of a frantic phone call he received from his mother several years ago. "Peter, you must come home right away!" she said. His elderly father had been knocked out, badly cut, and relieved of thousands of dollars. He was lying in critical condition in a local hospital. Peter caught the next plane home and congratulated the men who did the deed.
"You see," he explained, "they were cardiac specialists. By operating so quickly after his heart attack, they saved my father's life."
Last summer I too had an encounter with masked men bearing scalpels. A surgeon operated on my foot, not my heart, and my life was never in danger. Yet the horizontal recovery time did give me a chance to reflect on pain that we choose voluntarily, sometimes for our own good and sometimes to our peril.
While rehabilitating, I often did exercises that hurt because I knew that working through the soreness would allow my foot to regain its usefulness. On the other hand, the surgeon warned against bicycling, mountain climbing, running, and other activities that might endanger the healing process. Basically, anything that sounded fun, he vetoed.
On one visit I tried to talk him into granting me a premature golf match. "Some friends get together once a year. It's important to me. I've been practicing my swing, and if I use only my upper body, and keep my legs and hips very still, could I join them?"
Without a flicker of hesitation my doctor replied, "It would make me very unhappy if you played golf within the next two months."
"I thought you were a golfer," I said, appealing to his sympathies.
"I am. That's how I know you can't swing without rolling that foot inward and putting weight on the parts that are trying to heal."
Later, I told my wife about this strange way of expressing disapproval. "Why should I care if my doctor is unhappy?" I joked. "I'm not his psychiatrist."
The point was obvious. My doctor has nothing against my playing golf; as a fellow golfer, he sympathizes with me. But he has my best interests at heart. It will indeed make him unhappy if I do something prematurely that might damage my long-term recovery. He wants me to play golf next year, and the next, and the rest of my life, and for that reason he could not sanction a match too soon after my surgery.
As we talked, I began to appreciate my doctor's odd choice of words. If he had issued an edict—"No golf!"—I might have stubbornly rebelled. He left me the free choice and expressed the consequences in a most personal way: Disobedience would grieve him, for his job was to restore my health.
The role of a doctor may be the most revealing image in thinking about God and sin. What a doctor does for me physically—guide me toward health—God does for me spiritually. I am learning to view sins not as an arbitrary list of rules drawn up by a cranky Judge, but rather as a list of dangers that must be avoided at all costs—for our own sakes.
Dr. Paul Brand told me about attending a meeting of government health experts. He compiled a list of all the behavior-related problems on the agenda: heart disease and hypertension exacerbated by stress; stomach ulcers and cancers associated with a toxic environment; aids; sexually transmitted diseases; emphysema and lung cancer caused by cigarette smoking; fetal damage stemming from maternal alcohol and drug abuse; obesity and other diet-related disorders; violent crime and automobile accidents involving alcohol. These were the endemic, even epidemic, concerns for health experts in the United States.
A comparable gathering of experts in India, he knew, would have dealt instead with malaria, polio, dysentery, tuberculosis, typhoid, and leprosy. After valiantly conquering most of those infectious diseases, the U.S. has now exchanged its old health problems for new ones—most of which involve personal choice.
Sin represents a grave danger to my spiritual, and perhaps my physical, health. The more I see my sins in this light, the more I understand God's strong words against them. I find myself gazing into the grieving eyes of a Doctor whose patients are destroying themselves. As Jesus said, applying the doctor image to himself, "It is not the healthy who need a doctor, but the sick. I have not come to call the righteous, but sinners to repentance."
Sometime today, sometime tomorrow, I will recreate the original rebellion of Eden and act by my standards and my desires, and not God's. God cannot overlook such behavior; it must be accounted for. But in that reckoning he aims not to destroy but to heal. No surgeon who wills the health of a patient can effect it without some pain.
The wounded surgeon plies the steel
That questions the distempered part;
Beneath the bleeding hands we feel
The sharp compassion of the healer's art.
—T.S. Eliot, The Four Quartets
Have something to add about this? See something we missed? Share your feedback here.
Philip Yancey
Philip Yancey is editor at large of Christianity Today and cochair of the editorial board for Books and Culture. Yancey's most recent book is What Good Is God?: In Search of a Faith That Matters. His other books include Prayer (2006), Rumors of Another World (2003), Reaching for the Invisible God (2000), The Bible Jesus Read (1999), What's So Amazing About Grace? (1998), The Jesus I Never Knew (1995), Where is God When It Hurts (1990), and many others. His Christianity Today column ran from 1985 to 2009.
Previous Philip Yancey Columns:
Our digital archives are a work in progress. Let us know if corrections need to be made.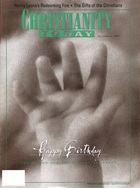 This article is from the December 6 1999 issue.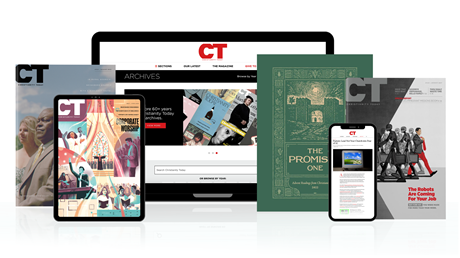 Annual & Monthly subscriptions available.
Print & Digital Issues of CT magazine
Complete access to every article on ChristianityToday.com
Unlimited access to 65+ years of CT's online archives
Member-only special issues
Subscribe
Doctor's Orders
Doctor's Orders