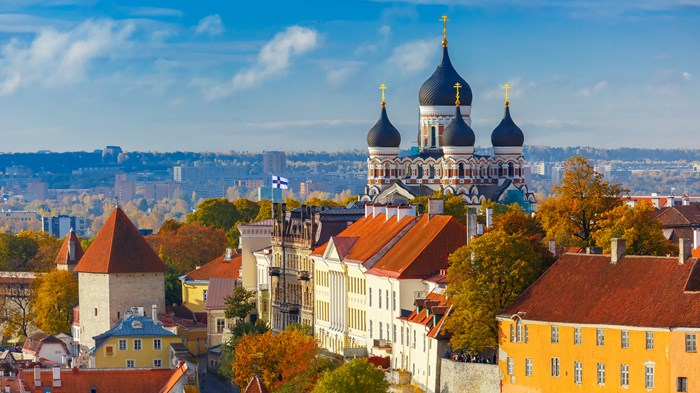 Image: KavalenkavaVolha / iStock / Getty Images Plus
Since Russia's invasion of Ukraine last year, few European institutions have welcomed both Slavic foes. A rare example is found right on the border, in a nation that wonders if it might be next.
Estonia, the northernmost of three small former Soviet republics on the Baltic Sea, immediately rallied in support of Ukraine. Given that Russia's aggression began on February 24—coinciding with Estonia's date of independence, first proclaimed in 1918—some wondered if it was a deliberate message.
The initial blitzkrieg toward Kyiv reminded Estonians of the Soviet occupation of the 1940s. Politicians donned blue and yellow ribbons; military brass sent weapons and aid. Citizens, including the 1 in 4 with Russian ethnicity, reacted to the atrocities in horror.
But as many universities closed their doors to students from Russia and allied Belarus, one evangelical institution bucked the trend. Baltic Methodist Theological Seminary (BMTS)—fully united with the national stance condemning the war—insisted instead on the unity of Christ.
"We did not hang a Ukrainian flag, but held a joint prayer of lament," said Külli Tõniste, BMTS president. "Preservation of community is more important than an outward show of patriotism."
Founded in 1994 and accredited by the state, the Methodist seminary hosts students from neighboring Latvia, nearby Finland, the United States, Israel, Nigeria, and Ghana. But it was the caldron of Russians, Belarusians, and Ukrainians—43 percent of the student body—that could have proved to be a tinderbox.
Yet sensing confusion and insecurity among many, Tõniste—an Asbury Theological Seminary alumna with a PhD from the London School of Theology—assured all students that her door was open to hear their stories. The Ukrainian refugee from Mariupol. The Estonian whose grandfather was killed by the Soviets. And the Russian of mixed family with Ukrainians who doesn't know what to believe.
"Once admitted," she said, "our students are safe with us."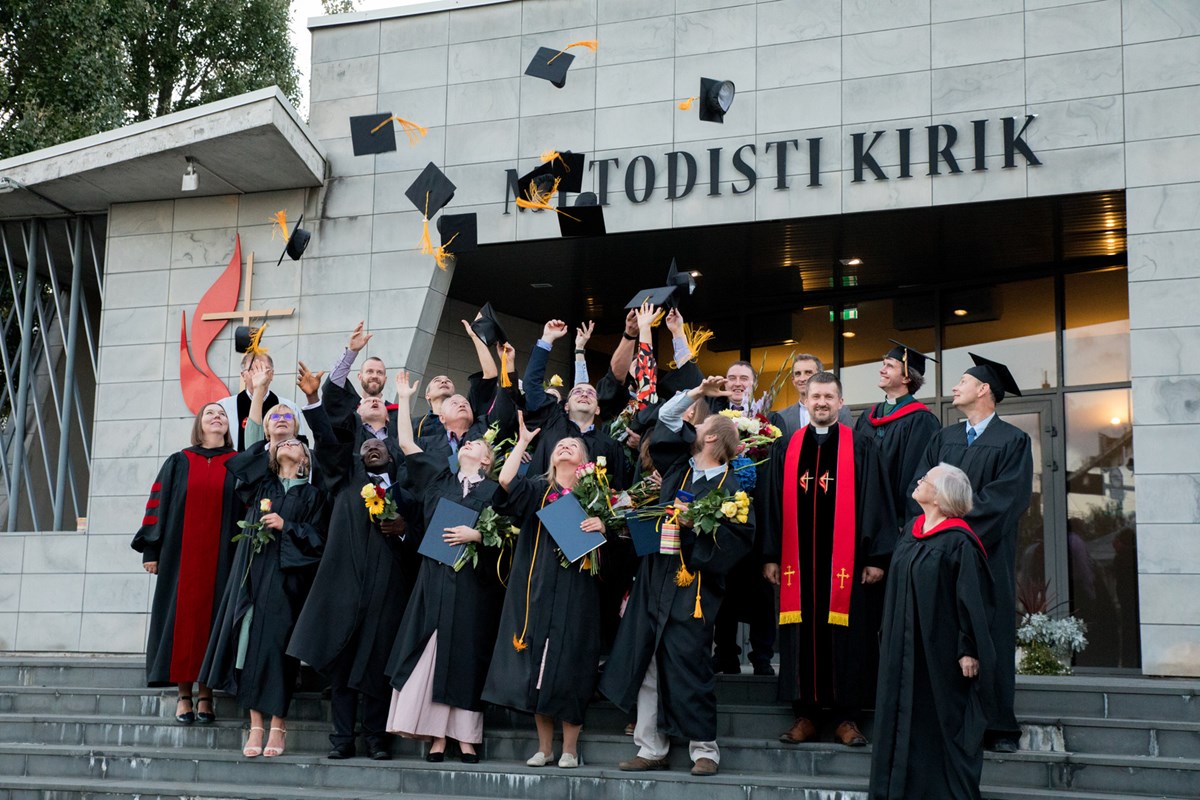 Image: Marina Kisseljova / Courtesy of BMTS
One example is Philip Kharchenko, a first-year student from Russian ally Belarus. A physical education teacher back home, he was "shocked" at the invasion—as initially all his colleagues were as well. But as his school and nation rallied behind Moscow, he felt increasingly uncomfortable.
Having long felt called to ministry, he found a home in Estonia.
"I thought they wouldn't let me in," he said. "But I am glad to be here, surrounded by people studying the Bible—it opens up a whole new experience of God."
He has made quick friends with Russians and Ukrainians alike, comparing similar words in each of their languages. And at the annual Christmas celebration—which raised $1,600 for sister seminaries under fire—he watched in admiration as other Russian and Belarusian students included a Ukrainian-language song among their multi-language holiday medley.
Then all joined in an African-led dance.
"In the non-Christian world, I see great separation between peoples," said Kharchenko. "But at seminary, our borders just dissolve."
Two months later, it took administrative resolve to ensure this.
Simultaneous translation into Estonian, Russian, and English permits not only a diverse student body but also a diverse faculty. But as the one-year anniversary of the war approached, a visiting professor from Moscow—over Zoom—began to talk politics.
Among his complaints was the potential expansion of NATO into Ukraine. Estonian students responded negatively and some called on the seminary to take action against him. Estonia, which shares a 183-mile border with Russia, joined the European Union (EU) and North Atlantic alliance in 2004, and is keen on its defense.
Tõniste defended academic freedom, while the seminary's academic dean addressed it privately.
"Our students need education, not indoctrination," she said, adding there have been no further controversies. "We demonstrated the values of our society against a closed system like Russia, giving them space to think differently than they otherwise might."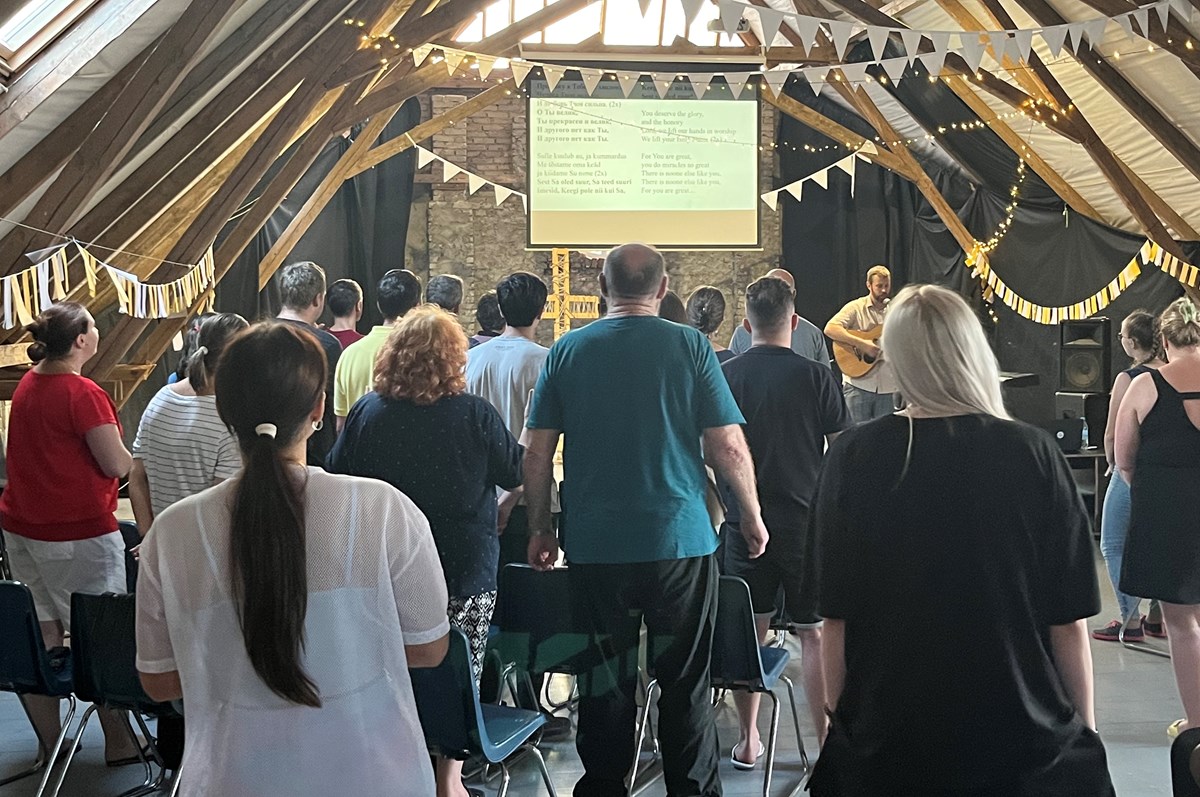 Image: Kaire Lotamõis
Estonia ranks third in the 2022 Cato Institute Index of Human Freedom.
Last month, the nation reconstituted its pro-Europe government following parliamentary elections decisively won by the incumbent center-right Reform Party of Kaja Kallas, Estonia's first female prime minister. Tõniste is among her many supporters, and esteems egalitarian church ministry in the continent's largest Methodist seminary.
But the war has rattled the largely secular nation.
Home to 1.3 million citizens, only 29 percent of Estonians claim a religion. Lutherans are the largest Protestant denomination with 8 percent, while Methodists, present since 1907, constitute only 1,400 people. Orthodoxy, meanwhile, is the largest faith at 16 percent, divided between a larger branch affiliated with Moscow and a smaller church related to Constantinople.
All belong to the Estonian Council of Churches, and cooperate well.
But Tõniste said that Moscow's propaganda, alongside feelings of social disenfranchisement, has caused about 15 percent of the Estonian population to become pro-Russia. And following Russian Orthodox Patriarch Kirill's statement that those who died in the invasion would receive forgiveness of sins, the Estonian government reportedly pressured the Russian Orthodox Church's local affiliate to distance itself from his remarks.
One student spoke of a "cancel culture" emerging in the nation.
"Everything changed on February 24," said a second-year BMTS student. "I suspect it is because I am Russian."
Arriving in Estonia four years ago, he requested anonymity because of the sensitivity of the situation—both locally and at home. When he enrolled in the seminary, he received an official student stipend from the Estonian government. After the war, it was not renewed.
He then went to apply for a job, and the hiring manager turned him away rudely. But with sanctions applied against Russia, the sophomore's family cannot send him money through the banks. And amid nationwide mobilization, he fears returning home.
He makes ends meet doing freelance video editing.
"I have almost enough for food, rent, and tuition, but I know God will provide," said the Pentecostal student. "Fortunately, we have a wonderful Christian community, where everything is good."
He refers to his church—led by a Ukrainian pastor—as well as the seminary. Among the 90 percent who receive a scholarship to reduce the $2,700 yearly tuition, he benefited from extra funds raised this year to support refugees and sanctions-affected students. But beneath the surface of friendly interactions, he senses a barely noticeable tension—both in his youth group and among his seminary peers.
It might just be him, he admits. But they don't talk about the war.
The introspective student doesn't want to "trigger" anyone—amid his own regret. The invasion upended his sense of national pride, as if he caught his own father doing wrong. But he is confused also by the Ukrainian response, embodied by a visiting preacher.
Living alone, the student was asked to share his apartment with his local pastor's friend—both originally from Donetsk on the front line of fighting. The three-month stay did not go well.
They discussed politics, scripture, and pacifism. The Ukrainian guest said he would take a gun to defend his land. The Russian student responded that while the government has a right to defend itself, the best choice for a believer is to flee or resist nonviolently.
Conversation escalated, and the frustrated preacher retorted in anger that all Russians are bad. In the end they shook hands, parting ways but able to accept one other as fellow believers.
Which has been the key to life at BMTS.
"Our president told us, 'We will stand with you until the end,'" said the future graduate. "I have great appreciation for that opening speech."
It was still tough for Inna Prysiazhniuk, a third-year student from Ukraine.
"It was hard to publicly identify as Ukrainian, a nation in so much pain," she said, as her brother-in-law serves on the front lines. "Everyone here was super supportive. But I would avoid saying so, if I could."
The burden weighed so heavily that she emotionally withdrew from life—including seminary relationships. Having lived in Estonia the past seven years, the 33-year-old former bioresource engineer watched warily as societal tensions rose with the influx of Ukrainian refugees. Beginning in 2017 and escalating rapidly since the invasion, most Estonians welcomed them heartily. But many locals chafed at the jobs lost to cheaper labor, while others resented the rise in prices due to the war.
At 19 percent, Estonia suffers the fourth-highest rate of inflation in the EU.
The problem was not with fellow Christians. Prysiazhniuk's multicultural Pentecostal church in Tallin emphasized reconciliation as it focused on principalities and powers, not persons. Seminary staff offered "huge support," while Russian classmates received her with "open arms."
But torn internally by the hatred in her heart, she kept her distance.
"I prayed for peace and forgiveness from Day One of the war, but internally it took so long," said Prysiazhniuk. "I'm not a robot; the pain is there."
Since the start of the new term last fall, she has been more engaging. She sees the guilt and shame of Russian students, and expressed her concern as two friends prayed to avoid mobilization during an upcoming trip home. Her own prayers for love have been answered, as she has intentionally sought out new students to welcome.
God has changed her heart, she said.
"We have one Lord and must be above politics," Prysiazhniuk said. "At seminary, our nationalities are kept secondary, and this is exactly what I needed."
Tõniste has worked hard to make it so.
But after previously assuming it, the war helped her recognize that the student body had severe cultural differences, and these needed to be embraced. Russian evangelicals rarely discuss politics in public, while many Ukrainians wear it on their sleeve. Estonians are proud of their democratic accomplishments, while Belarusians lament the lax morality of the West.
Tõniste reminds that Christian values uphold Europe, and the individual autonomy that spawns widespread relativism is a price of liberty. Consequently, at the seminary everyone's story is heard, and their national complexity is recognized—but right and wrong are emphasized throughout.
It is the classic campus ethos of the liberal arts.
"The informal education students receive from each other is just as valuable as our curriculum of theology," Tõniste said. "Estonians know about life under occupation, and how much better it is to be free."