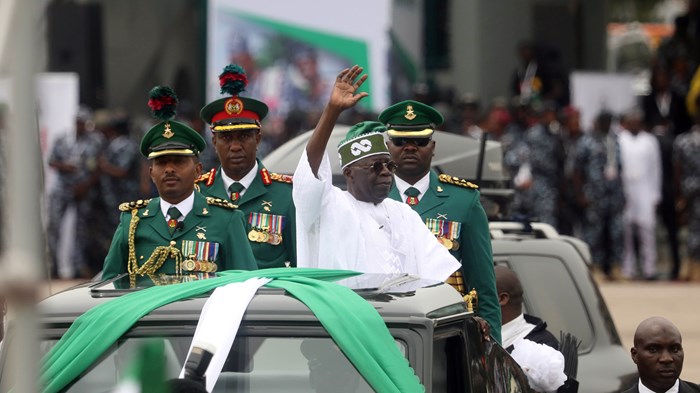 Image: Sodiq / Xinhua / Getty Images
Bola Tinubu, the 16th president of Nigeria, has "absolute" faith in God.
"I know that his hand shall provide the needed moral strength and clarity of purpose," he stated during his inaugural speech on Monday, "when we seem to have reached the limits of our human capacity."
But what if the limits are self-imposed?
Tinubu, who infuriated many Christians by nominating a fellow Muslim as his running mate, became the West African nation's first president to enter office with less than 50 percent of the vote. Despite record voter registration, only 29 percent of the electorate cast ballots. Tinubu, affiliated with the incumbent APC party, won 37 percent.
Atiku Abubakar of the opposition PDP party captured 29 percent, while the third-party surge of Peter Obi, a Christian, fell short with 25 percent. Neither candidate attended the inauguration, as they contest in court the validity of the electoral results.
The Christian Association of Nigeria (CAN), an umbrella grouping of the five main denominations, vociferously protested the Muslim-Muslim ticket, urging a vote for any other candidates. But with the nation roughly divided 50-50 along religious lines, results show that no candidate was able to marshal a conclusive sectarian advantage.
In breaking political protocol, Tinubu, two-term governor of the southwestern megacity of Lagos, stated the choice of Kashim Shettima as vice president simply reflected his personal competency. But most analysts linked it instead with the candidate's northern origin.
Everyone jostled over this mostly Muslim bloc of votes.
Competition led the PDP to break regional political protocol in nominating a Fulani from the north, when outgoing APC president Muhammadu Buhari, also Fulani, per tradition should have been succeeded by a southerner. Obi also picked a northern Muslim as his presidential partner.
Tinubu, who helped secure Buhari's victory eight years earlier, had long been acclaimed as a powerful political boss and kingmaker for others. Running for office himself, he declared at the start of his campaign: It's my turn.
Yet despite alleged fraud and campaigns of voter intimidation, Tinubu lost APC electoral strongholds in the north to Abubakar, and his home city of Lagos to Obi. He enters office amid deep political division, worrying economic conditions, and a host of Christian leaders deeply wounded by his campaign.
"What he did shows no regard for Christians," said Esther Ayandokun, rector of the Baptist College of Theology in the southern state of Oyo. "We are not happy, but there is nothing we can do."
She urged prayer, and good conduct as good citizens. Protests are not advised, she said in frustration, even though if the situation was reversed she believes some Muslims would respond in bloodshed. She wondered if there was a secret plan to Islamicize Nigeria, but noted that the only other Muslim-Muslim ticket, in 1993, was met with a military coup.
Tinubu is the fifth president since the 1999 restoration of democracy in Africa's most populous nation.
If there is hope, said Ayandokun, it is found in her biblical namesake.
"A woman knows how to speak to her man," she said. "Oluremi Tinubu may be the Esther of our time."
Nigeria's new first lady is the administration's most ardent Christian supporter. A senator herself, Oluremi is also an ordained pastor in the Redeemed Christian Church of God (RCCG), one of the nation's largest homegrown denominations with affiliated churches worldwide. Mother to three of Tinubu's six children, in a 2020 interview she stated that despite their Muslim names, Tinubu's liberal faith permits her to raise them as Christians.
"I call on Christian leaders all over Nigeria to please pray for us," Oluremi asked during the official interdenominational Christian service held this past Sunday, one day prior to the inauguration. "Our country shall make progress."
Ayandokun will keep an open mind.
"With a Muslim-Muslim ticket, anything can happen," she said. "Maybe God can use her in his house, to spare us."
Tosin Awolalu was similarly disappointed with Tinubu's choice of running mate. But from his experience in Lagos, he noted the former governor's positive record in office and penchant for selecting a good team.
"Selecting Shettima was for political mathematics, not because he is a bigot," said the director of administration for West Africa Theological Seminary. "A man who allows his wife to practice her faith should be respected—and trusted."
If he governs well, it will be an answer to prayer, Awolalu said. If not, both Muslims and Christians will be in opposition. Personally, he hopes for the best—and sees a different biblical parallel.
"Cyrus was an unbeliever, and was called God's beloved," said the RCCG bi-vocational pastor. "God can use anyone and turn the heart for his purposes."
In this contemporary reading of politics, it was the PDP that sought to further entrench Muslim control of Nigeria in selecting its candidate. It was good that CAN opposed the same-faith ticket, Awolalu said, but now Christians must unite in prayer to support this hopeful agent of God's good will.
Many in CAN are leading the way.
The association's chairman in Lagos stated that Tinubu "has been wonderful to the church in the past." CAN's national youth wing congratulated his "well deserved" victory and looked forward to cooperation in developing the "brotherhood of all peoples."
Daniel Okoh, the new CAN national chairman, welcomed the new president, calling this a "new chapter" for Nigeria. But at a pre-inaugural peace forum in the national capital of Abuja, he was more cautious than his colleagues.
He noted election irregularities while calling on Christians to trust the judicial process. And he asked Tinubu to pursue an inclusive agenda, to address the polarizing issues of religious and ethnic identity.
"Nigerians should be able to lay claim and gain access to economic and sociopolitical benefits in any part of the country where they chose to reside," stated Okoh. "[And] the total right to freedom of belief or worship should be granted unhindered to citizens, to freely subscribe to any religion of their choice."
Tinubu earlier called Okoh a "worthy and distinguished leader."
Gideon Para-Mallam, whose foundation organized the forum, said that Okoh's statement "says volumes" in assuring Muslims that Christians do not oppose them in principle. While certain elements in Tinubu's administration will push an Islamic agenda, he said, believers should "wait and see" what the president does.
"Winning elections is one thing; governing well is quite another," said Para-Mallam. "I only hope Tinubu will offer a different national meal for Nigerians than the sour taste Buhari left in our mouths."
Much of its pungency centered on the continuing violence—often with religious overtones—that continues to plague the nation. Mass killings took place recently in Kaduna, Benue, and Jos. One death, of prominent peacemaker Yakubu Sankey whose wife served on the court of appeals, was blamed on kidnapping marauders.
"Why are we so quick to excuse such crimes as mere criminal activity?" said Para-Mallam of his friend and fellow church member. "He was a mild man, able to bring Muslims and Christians together."
Many are pessimistic that Tinubu can do so.
"This is not the government God approved for us," stated Elijah Ayodele, head of the INRI Evangelical Spiritual Church, one of many to speak against Tinubu. "APC [and election authorities] colluded to steal the will of the people, and God will definitely fight for the cause of the people at the appropriate time."
Ayodele had prophesied Abubakar as "God's choice" in the elections.
Samson Auta called for monitoring Tinubu.
"I don't think he is the legitimate president of Nigeria," said the northwest regional coordinator for the Interfaith Mediation Center (IMC), speaking in his personal capacity. "And those with power use all in their means to keep it."
Despite high expectations that a new electronic voting system would increase transparency, the new technology failed to upload many results from the polling stations of origin. In some locations armed thugs destroyed ballots, altered others, and compelled officials to upload false results. Direct violence was less than in previous elections; however, confusion characterized the overall process.
Civil society—Muslim and Christian—must watch for continued corruption.
Auta, who attends an Assemblies of God church in northern Nigeria, credits religious leaders as responsive to community concerns when the IMC's early warning–early response alerts them to possible tensions. He quotes Ecclesiastes to anticipate the full-scale blooming of these local seedlings of hope.
"There is a time and a season for everything," said Auta. "Which means one day we can escape this period, and live together in harmony."
But at this moment, many Igbo Christians find harmony hard to anticipate. Though several community leaders supported candidates from the two traditional parties, ordinary Igbo rallied behind Obi in their southeastern homeland. The ethnic group is Nigeria's third-largest, after the Hausa-Fulani and Yoruba; yet no Igbo has been president since the first largely ceremonial, post-independence head of state. Observers said voting disruptions were particularly pronounced in Igbo areas of Lagos. And in a telling sign for some, no Igbo was included in Tinubu's 13-member inauguration committee.
James Akinyele fears their sense of marginalization will only grow.
"It is difficult to speak about legitimacy in this election," said the secretary general of the Nigeria Evangelical Fellowship. "The only redress now is the court of law."
Unfortunately, a 2021 survey found that 71 percent of Nigerians lack trust in the courts. Akinyele sees an ominous sign in the rejection of one lawsuit already, where judges stated the PDP lacked standing to contest Shettima's initial double candidacy for vice president and senate.
The electoral law stipulates 180 days for any challenge to reach a verdict, with an additional 60 days for appeals. Though Tinubu is already sworn in, it may take until November for the nation to learn if his mandate will stand.
But the judge's urgency makes some expect a decision within three weeks.
"We must pray and ask God to intervene, trusting his sovereignty," said Akinyele. "And if the Supreme Court upholds the result, we must hold the government accountable."
While previous elections have seen lower-level results invalidated, never has a president been legally removed. So whereas some Nigerians see Cyrus as a biblical parallel, Akinyele said, he favors the leading interpretation that cites the figure of Moses. As Israel was oppressed by Pharaoh, so is Nigeria by politicized Muslims—and in need of miraculous deliverance.
Obi could yet be that figure, pending the court decision.
"If God in his sovereignty does something like this," he said, "it would be a story to tell."
But it is a false hope to imagine an honest president will make the difference. The transformation of a nation rests in the church, said Akinyele, which must redouble its efforts to prepare its members to be God's ambassadors in politics and in the marketplace.
All sources stated this was a Christian responsibility, only lately pursued.
"Four years is a long time," Akinyele said. "The church gained huge momentum last elections, and now must build upon it."
There is much to do, for all. Nigeria—which by 2050 may be the third-most populous nation in the world—suffers from 37 percent unemployment, 22 percent inflation, and 63 percent of its people in multidimensional poverty.
Half of its youth want to leave the country.
Tinubu has a plan to fix things. His early agenda calls for greater investment in the security forces, redistribution of funds from subsidies to development, and combatting widespread theft of Nigeria's oil resources.
So whether or not Tinubu is Esther's husband Xerxes, God's chosen Cyrus, or Moses' foil Pharaoh, he projected at his inauguration the characteristics of both the singularly confident leader and the supplicant of God.
"With full confidence in our ability, I declare that these things are within our proximate reach because my name is Bola Ahmed Tinubu, and I am the President of the Federal Republic of Nigeria," he stated. "May God bless you and may he bless our beloved land."