Across 198 Nations, Christians Face More Terrorism But Less Government Hostility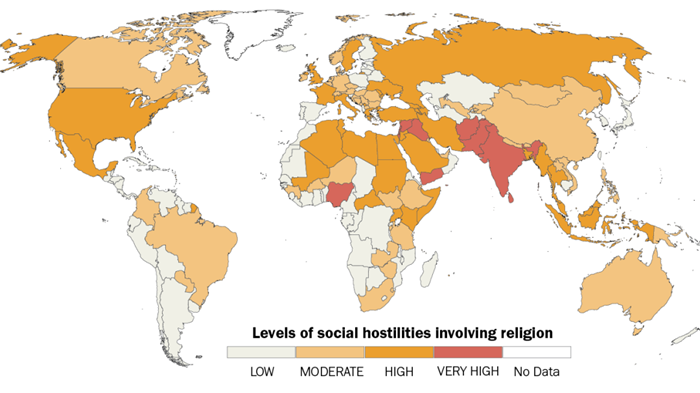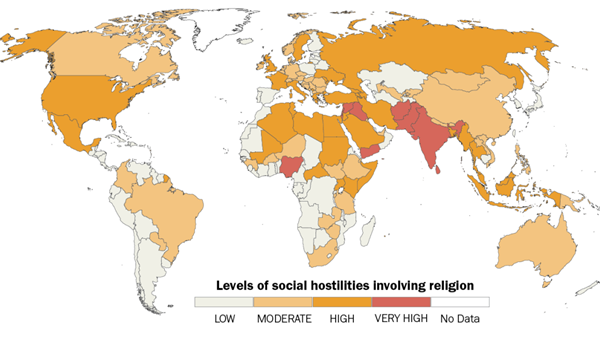 Across 198 Nations, Christians Face More Terrorism But Less ...
From some angles, it looks like the beginning of a hopeful trend among the steady stream of persecution headlines.
Both government and societal harassment of religion dropped worldwide in 2014, according to a Pew Research Center study released today. This is the second year in a row that researchers found such a drop.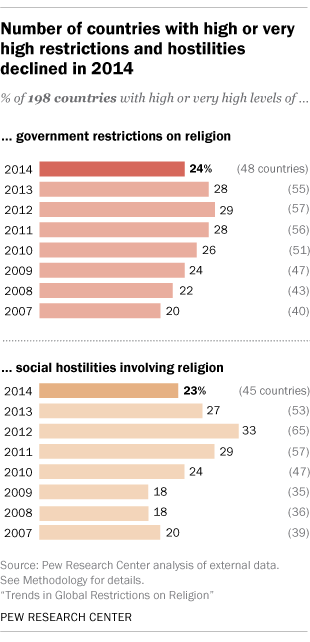 Overall, religious restrictions were high in 34 percent of the 198 countries and self-governing territories Pew examined in 2014, down from 39 percent in 2013 and 43 percent in 2012. About half of the countries (51%) saw decreases in government restrictions, while about a third (36%) saw increases.
But the news was more mixed for Christians, which make up about 30 percent of the world's population. Once again, Christians were the most harassed religious group, facing arrest, discrimination, and assault in 108 countries, up from 102 countries in 2013 (but falling short of the 110 countries in 2012).
Pew has measured persecution both by governmental sources and societal pressure since 2009, when it launched its landmark analysis. In 2012, religious hostilities hit record levels.
Overall, about a quarter of the world's governments (24%) had high or very high levels of restrictions against religion in 2014, down from 28 percent in 2013 and 29 percent in 2012. (In other words, nine nations have dropped out of the "high" category since 2012.) Nearly half of the countries examined (46%) saw decreases in the level of government restrictions, while about a third (29%) saw increases.
That meant fewer governments interfered with worship practices, Pew stated. "There also was a sizable drop in the number of countries where governments used force against religious groups that resulted in individuals being killed, physically abused, imprisoned, detained, or displaced from their homes."
This trend held for Christians. The number of countries where Christians were harassed by their government dropped from 85 in 2013 to 79 in 2014.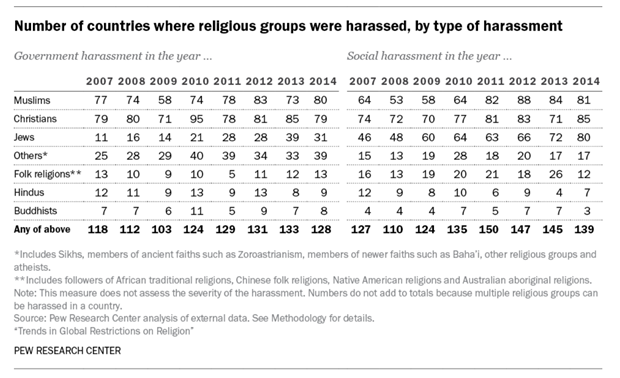 Albania was one of the countries that had a "modest decrease" in its score on government hostilities. The Albanian government returned four Orthodox church properties it had seized during its Communist era, and passed a law allowing for the creation of religious cemeteries, Pew noted.
Here are the Top 10 countries (apart from North Korea) with the highest government restrictions on religion (full list here):
China
Egypt
Uzbekistan
Turkey
Indonesia
Iran
Syria
Saudi Arabia
Kazakhstan
Azerbaijan
Pew also found that social hostilities dropped overall: 23 percent of the countries studies had high or very high social pressure against religion, down from 27 percent in 2013 and 33 percent in 2012. (In other words, 20 nations have dropped out of the "high" category since 2012.) Overall, 41 percent of countries saw decreases in social hostilities, while 32 percent saw increases.
However, those numbers were pulled down by the falling number of countries that are socially hostile toward Muslims, folk religions, and Buddhists. In contrast, the number of countries that were socially hostile to Christians rose, from 71 in 2013 to 85 in 2014. Jews and Hindus also faced more social harassment in 2014.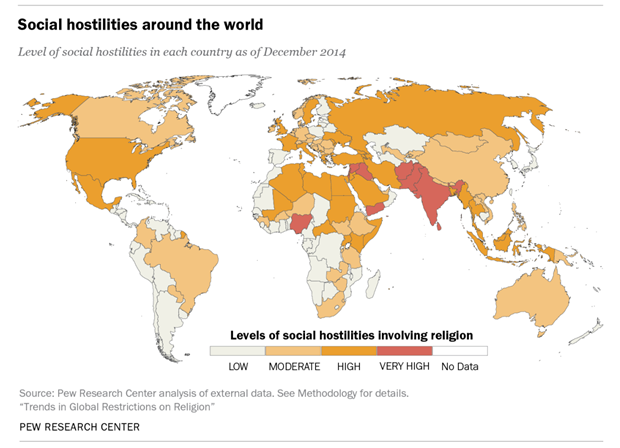 One country where hostility toward Christians grew was Laos, "where the growth of Christian congregations, coupled with scarce resources in rural communities, led to increasing tensions with the country's Buddhist majority," Pew stated. In one village, for example, six families that converted to Christianity were forced to flee after running into conflict with village elders.
Pew also counts non-state Islamist terrorism as a "social hostility." Like Open Doors and the US State Department, Pew identified terrorism as the biggest threat against religion. Violence was up in all regions except sub-Saharan Africa, increasing the most in Asia and the Pacific. The number of deaths from religion-related terrorism has risen dramatically since 2007, when just 17 countries experienced casualties, to 2014, when 60 countries did.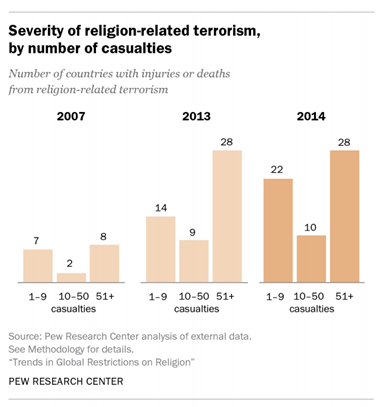 "In some countries, the terrorist activities were limited to recruitment or fundraising," the report stated. "But in 60 countries, religion-related terrorism led to injuries or deaths, including at least 50 casualties in each of 28 countries."
More countries (82) had "religion-related terrorist activity" in 2014 than in 2013 (73), including injuries or deaths (60, up from 51).
Here are the Top 10 countries with the highest social hostilities toward religion (full list here):
Israel
Iraq
Syria
Yemen
Pakistan
Sri Lanka
India
Afghanistan
Lebanon
Palestinian territories
Nigeria, where churches have united, launching a new plan against Boko Haram's deadly assault on Christians (4,000 were killed in 2015), is No. 11 on the list.
While Pew's research currently stops at calendar year 2014, Open Doors labeled 2014 the worst year for persecution against Christians in the modern era—until 2015 surpassed it. Last year, Christian martyrdoms and church destructions nearly doubled, mainly caused by violent Islamist extremism, Open Doors reported.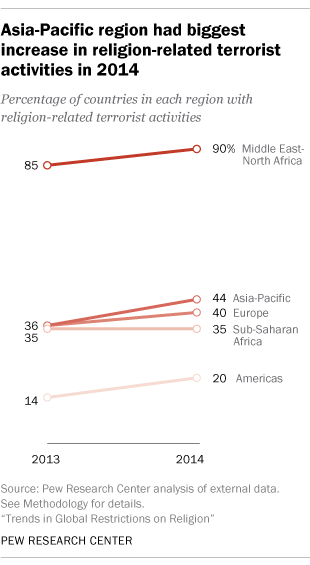 The brunt of that persecution is borne by Christian women, who are also the most religious and the most vulnerable. More than 83 percent of women worldwide identify with a faith group, compared to 80 percent of men. That's a difference of 97 million people, according to a separate survey by Pew.
Two Muslim groups—including the largest Muslim organization in the world—recently released documents condemning extremism and asking majority-Muslim countries to protect religious minorities, including Christians.
CT has reported on the wave of refugees fleeing hostile countries such as Iraq and Syria. Many face discrimination and assaults in their resettlement centers, according to Open Doors Germany. Some immigration officials have been asking trivia questions—like the number of books in the Bible or the color of its color—in an attempt to determine whether the faith of asylum seekers is genuine.
CT noted when Pew launched its analysis of religious restrictions in 2009, and how it showed that religious hostility hit a six-year high.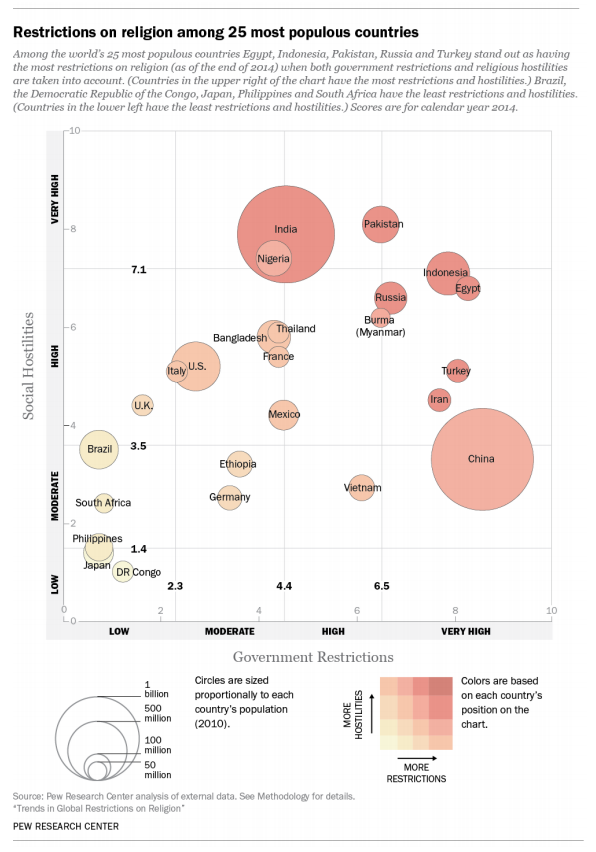 06/23/2016