The Attempt to Sell Hispanic Evangelicals on Israel
español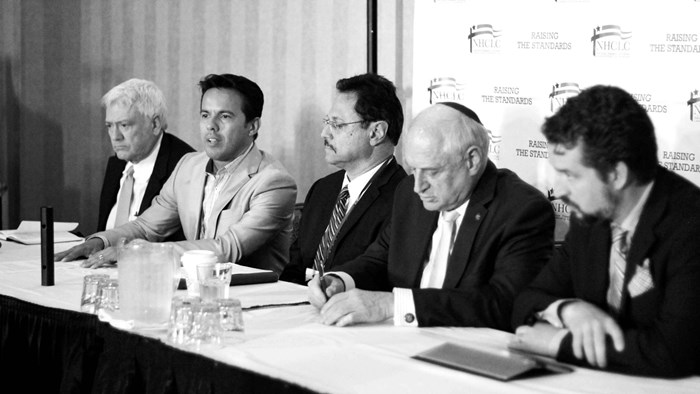 Image: Courtesy of A. Larry Ross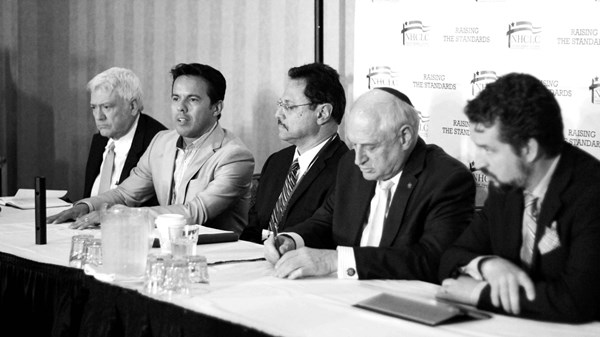 The Attempt to Sell Hispanic Evangelicals on Israel
When Jeb Bush spoke at a gathering of Hispanic evangelical leaders in late April, the largest cheers didn't come when he greeted the crowd in Spanish. Nor did they arrive when he enthusiastically expressed support for immigration reform. Instead, according to CNN, Bush's biggest applause may have occurred when the former Florida governor mentioned Israel.
"We (the US government) need to be focused and engaged in the world so that our friends know that we have their back, and our enemies fear us a little bit," Bush told the gathering of Latino pastors and other leaders, according to Jewish News Service (JNS). There is no better place to start this journey than re-establishing a stronger relationship with Israel."
The three-day National Hispanic Christian Leadership Conference (NHCLC) meeting drew 1,500 attendees and featured Republican presidential contenders Bush and Mike Huckabee.
It had a distinctly pro-Israel feel.
The last morning of the conference focused on Latino evangelical support for the Jewish state, with speakers such as Rabbi Yechiel Eckstein of the International Fellowship of Christians and Jews and Reuven Azar, deputy head of mission at the Embassy of Israel in Washington.
Organizers also announced a new subsidiary to promote pro-Israel education and advocacy, the Hispanic Israel Leadership Coalition (HILC).
"We want to build the Hispanic Evangelicals to be a firewall, a protection against this rise of anti-Semitism and anti-Israel rhetoric," Mario Bramnick, a Florida pastor who will lead the HILC, told JNS.
Over the past decade, Jewish leaders have sought to build closer ties with Hispanic Americans.
In 2005, the American Jewish Committee started a new Latino and Latin American Institute, and helped organize visits by groups of Hispanic journalists and media leaders to Israel. Earlier this year, Azar released a video message to Hispanic Americans, asking them to support Israel.
Last year, the NHCLC worked with the Conference of Presidents of Major American Jewish Organizations, the Jewish Federations of North America, and American Israel Public Affairs Committee to host several roundtables focusing on furthering Hispanic and Jewish relationships. In November 2014, the NHCLC announced a partnership with the International Christian Embassy Jerusalem to encourage more Hispanic evangelical tourists to visit Israel.
Hispanic Americans haven't always had close ties to Israel.
A 2011 study commissioned by the Foundation for Ethnic Understanding found that 46 percent of Hispanic Americans believed that the US government was too supportive of the Israeli government.
Among Hispanic Americans, four in 10 (41%) sympathize with Israel, compared with 17 percent who feel the same towards Palestinians, according to a report from the Pew Research Center.
An earlier report from 2007 found that two-thirds of Latino evangelicals (62%) sided with Israel, as opposed to one-third (33%) of Latinos overall.
Many Hispanic Americans side with Palestinians because they care about justice and the oppressed, NHCLC president Sam Rodriguez told JNS last fall.
"My job is to convince young Latino people that supporting Israel actually works for the good of all in the Middle East," he said. "First by affirming the nearly 150 million Latino evangelicals across the world in their commitment to Israel, then by elevating what we currently have in our community to teach about Israel to the wider Latino community."
CT's coverage of the NHCLC's work includes its advocacy on immigration reform, social services, and education-focused efforts to encourage higher graduation rates and college enrollment among Hispanic Americans. (Former Regent University president Carlos Campo sits on the NHCLC's board.) Rodriguez's wife and fellow pastor Eva Rodriguez has also written about celebrating the gifts Christian women bring to the table.

05/08/2015