Lawyers for an Iranian pastor awaiting a final decision on his death sentence have not received communication from authorities that their client will be executed, despite reports that his death is imminent.
Rumors of an imminent execution of Yousef Nadarkhani were leaked this week after a source close to one of his lawyers contacted international media, informing them that a lower court had signed Nadarkhani's execution papers and that his death sentence would be carried out soon, sources told Compass.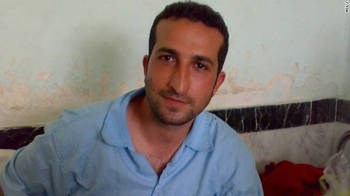 "The lawyer is waiting for confirmation, but he understood from a source that the execution was issued," said Firouz Khandjani, a member of the council of the Church of Iran, Nadarkhani's denomination. "Now we are trying to understand exactly what is happening. Because the information came from someone close to the lawyer, he took it seriously."
Nadarkhani's case had been sent to Supreme Leader Ayatollah Khamenei for a decision on his death sentence, but legally the lower court still has the authority to issue an execution order, Khandjani said. Khamenei may or may not make a decision, and if the court were to issue an execution order, Khameni would have the authority to block it, Khandjani said.
Though Nadarkhani's lawyers have not received written confirmation of an execution order, Khandjani said he found it "worrying" that the government has repeatedly disregarded its own law and legal process in its treatment of Christians.
The Iranian government has executed prisoners without prior notice, sources told Compass, though it is not common.
"We are concerned for the safety of Christians in Iran, because the government is not respecting the law or the legal procedures," Khandjani said. "We are waiting for a confirmation, but we have to take action, because we know of people who were executed without notification."
Nadarkhani spoke to his wife as recently as Wednesday, according to sources, and Jubilee Campaign reported that the American Center for Law and Justice had confirmed that he was still alive earlier today.
Some sources told Compass they are skeptical of the credibility of information that Nadarkhani's lawyers received and the certainty with which international press have been reporting his "imminent death." They say this may be a governmental ploy to gauge international reaction to such a rumor.
Christians in Iran are routinely arrested and interrogated. Most of them belong to networks of house churches meeting in small groups in secret.
In December the head of Iran's Judiciary, Ayatollah Sadeq Larijani, reportedly ordered the presiding judge over the trial in Rasht to make no moves on Nadarkhani's case for one year.
In September 2010 Nadarkhani was sentenced to death after a court of appeals in Rasht, 243 kilometers (151 miles) northwest of Tehran, found him guilty of leaving Islam. He has been in prison since October 2009.
The court in Rasht was expected to pronounce a verdict on Nadarkhani's appeal in October 2011 but instead sent the Christian's case to the nation's Islamic authority, Khamenei.
At an appeal hearing in June, the Supreme Court of Iran upheld Nadarkhani's sentence but asked the court in Rasht to determine if he was a practicing Muslim before his conversion. The court declared that Nadarkhani was not a practicing Muslim before his conversion, but that he was still guilty of apostasy due to his Muslim ancestry.
The Supreme Court had also determined that his death sentence could be annulled if he recanted his faith. The Rasht court gave Nadarkhani three chances to recant Christianity in accordance with sharia (Islamic law), but Nadarkhani refused to do so. The Supreme Court in essence ruled that Nadarkhani could be executed if he did not recant.
"You have to consider that Nadarkhani has been condemned twice," Khandjani said. "One time by a local court, and then the Supreme Court confirmed the death sentence."
Authorities arrested Nadarkhani in his home city of Rasht in October 2009 on charges that he questioned obligatory religion classes in Iranian schools. After finding him guilty of apostasy, the court of appeals in Rasht in November 2010 issued a written confirmation of his charges and death sentence.
One of Nadarkhani's lawyers, Mohammad Ali Dadkhah, also faces charges for "actions and propaganda against the Islamic regime," due to his human rights activities.
Iranian authorities view Iranian Christians as pawns of the West trying to bring down the regime, sources said. As Christians in Iran are held hostage to the government's political whims, some Iranian Christians say the key to their freedom is continued pressure from the international community.
"We have to keep praying and sharing information about Christians in Iran, because this is a difficult moment for the people of Iran," Khandjani said. "The minorities are particularly affected, but Iranians in general are under pressure from the government. Their freedoms are very restricted."