When executive chair Doug Birdsall invited Malaysian Methodist bishop Hwa Yung to work with him in planning Cape Town 2010, Hwa Yung had one question. "Which kind of conference do you want to have? A normal kind of congress dominated by old western leaders? Or one that represents what the church is today?"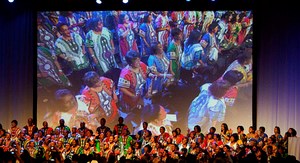 Cape Town 2010 was designed to represent the global evangelical church, but the devil is in the details. I spent some of the conference's third day finding out those details.
How did 4,000 church leaders get invited? Who chose them? Who decided how many to invite from the US, or from Burundi, or from China? And how? Here's the short version of what I learned.
The process started with a selection committee, chosen from the Lausanne network including one representative from each of 12 regions globally. That committee chose a selection director for each of 200 countries. According to Lindsay Brown, international director for Cape Town 2010, the committee looked for "Christian statesmen" who would be fair-minded in trying to represent the whole church in their country, not merely their friends or fellow church members. That chair gathered a selection committee, vested with the authority to choose delegates for their country.
How many?
That depended on the number of evangelical Christians that resided in each country, based mainly on statistics from Operation World. The number of delegates was proportional to that population, though additional delegates could be added if the country had a vigorous foreign mission profile and/or a vital and fast-growing church. Out of a total of 4,000 delegates, the United States got to send 400, Canada 50, the UK 80, China 230. There would be far more from Africa than from North America.
A point of contrast: at the Edinburgh World Missionary Conference exactly a century ago, there were 1200 delegates: 500 from the US, 500 from Britain, 4 from Asia, and none at all from Africa. The world has changed.
The national selection committees were tasked with choosing delegates according to certain guidelines. The delegates should be those in agreement with the Lausanne Covenant, the statement reached by the first Lausanne congress in 1974. Each delegation should be relatively young (at least compared to those who ordinarily attend significant world missionary conferences), and balanced in terms of the nation's churches, ethnicities, and genders. A complex grid suggested that at least 60% be under the age of 50 and 10% under 30, that women represent at least 35% of the seats, that the nation's ethnicities and denominations be fairly represented, and that at least 10% of the delegates come from the "marketplace"–being lay people who had no official status in church or mission. Sometimes the guidelines had to bend, as they did when Japan and Korea found it impossible to invite enough women or to leave elders behind in favor of younger people. As I write the final statistics of attendance are not known, but Hwa Yung thought that women represented perhaps 27% of the conference–less than the goal the selection committee set, but probably far more than at any comparable congress in the past. In general, Hwa Yung says, the selection committees produced the kind of congress aimed for.
Added to the 4,000 were several hundred special delegates, chosen by the Lausanne staff or added because of their status as missionaries (unlikely to be chosen by the committees in either their home country or the country where they serve).
The end result is no perfect mirror of the evangelical church, but it is undoubtedly the most representative body of the evangelical church ever assembled. I suspect that of all church congresses, evangelical or not, at any time in history, it most closely approximates the demographic reality of Christian populations around the world. In that sense, at least, Cape Town 2010 is historic.
International director Lindsay Brown says that global equity was reflected in finances, too. China's 230 delegates (unable to attend because the Chinese government refused to let them go) paid for all their own expenses besides contributing several hundred thousand dollars to the expenses of others. Most Indian delegates paid their own expenses. Malaysia did the same, even though they had been allocated scholarship funds. "China and India gave more than Europe," Brown says. "This is the first time I've seen that kind of open-handedness." Hwa Yung adds, "We in the global South asked for greater numbers [of delegates]. We must also come up with the money to support them."
Editor's Note: CT also covered the run-up to Cape Town in an earlier report.
Photo courtesy of the Lausanne Movement Flickr stream.