U2 (Bono)
Bono, U2's lead singer, has spent the last several years urging Christians to support the human rights causes. While the Irishman has been eager not to call himself a Christian (he says he'd "like to be" one), he nevertheless became for many Christians a symbol of integrating art, faith, and global engagement.
Featured Articles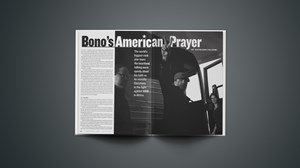 Bono's American Prayer
"The world's biggest rock star tours the heartland, talking more openly about his faith as he recruits Christians in the fight against AIDS in Africa."
Bono: Grace over Karma
'No Line on the Horizon' Is No Radical Reinvention of U2 (Hooray!)
What's so great (and what's not) about the band's new album.
loading more