Pat Robertson
Love him or hate him—the latter of which is now a trope among culturally savvy evangelicals—Pat Robertson is one of the most influential leaders in 20th-century evangelicalism, founding the Christian Broadcasting Network, Regent University, the American Center for Law and Justice, and, most controversially, the Christian Coalition in 1989. The coalition's close alignment with the Republican Party made it the target of several Federal Election Commission lawsuits in the '90s, and it has since lost influence among Christians suspicious of partisan politics. Meanwhile, Robertson continues to make headlines by pontificating on everything from marijuana to Israel to September 11 to the end of the world.
Featured Articles
Why You Can't Stop Pat Robertson
Plus: Researchers question fetal pain, Brother Roger's funeral, Silver Ring Thing loses federal funds, and other stories from online sources around the world.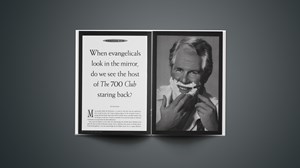 Robertson R Us
When evangelicals look in the mirror, do we see the host of The 700 Club staring back?
Pat Robertson Repudiates the Gospel
The broadcaster's advice to divorce an Alzheimer's patient is more than an embarrassment.
loading more