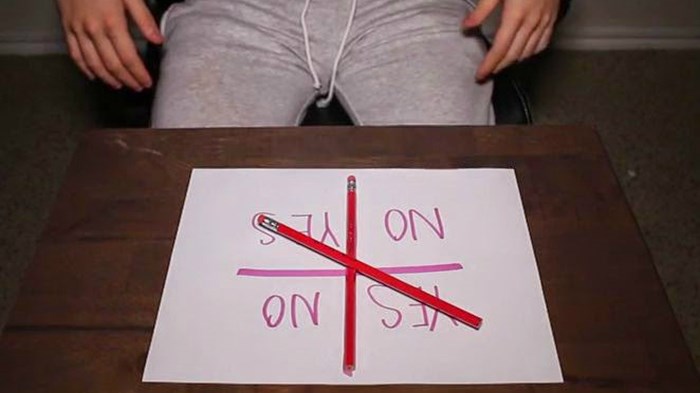 Image: charliecharliechallenge.net
The game starts with: "Charlie, Charlie, are you here? Charlie, Charlie, can you play?"
Players recite these words sitting around table with two pencils, one carefully balanced on top of the other. Underneath the pencils is a sheet of white paper marked with "yes" and "no" in cross-shaped grid. After the invocation, if the top pencil mysteriously swings to 'yes,' the players start asking Charlie questions just as is done with the Ouija board.
In April and May, American teens embraced the game and spread it quickly through social media and online video, receiving millions of views on YouTube. It has also gone viral through the hashtag #CharlieCharlieChallenge, receiving more than 1.6 million tweets in recent weeks. This prompted religious leaders from the Vatican, the Bahamas to the Virginia Beach studios of 700 Club televangelist Pat Robertson to condemn the game as a "demonic" summoning of spirits.
"Demons are real. They are not playthings and they are certainly not parlor games. For any little kids to begin to play these games and think it's cool, it's not," Robertson said. "I know what the Bible says about it, but I am just telling you what I am saying about it—they are real. They desire to destroy human beings."
Roman Catholic experts in demonology are also sounding the alarm. "Some spirits who are at the root of that practice will harass some of those who play the game," said José Antonio Fortea, a Madrid-based and Vatican-approved exorcist for the Catholic Church. Demon possession is unlikely, he said, but participation in the game "will result in other spirits beginning to enter into even more frequent communication. Then the person really can suffer much worse consequences from the demons."
The Catholic News Agency reported:
Catholic experts have noted that occult activity and the resulting need for exorcisms has reached a critical level worldwide. The International Association of Exorcists (AIE) met for their 12th annual conference in Rome last October. According to AIE spokesperson Dr. Valter Cascioli, an increasing number of bishops and cardinals asked to participate in the conference due to an increase in demonic activity. "It's becoming a pastoral emergency," Cascioli told CNA. "At the moment the number of disturbances of extraordinary demonic activity is on the rise."
Skeptics of the #CharlieCharlieChallenge are doubtful of demonic activity. They say an internet hoax, a clever marketing scheme, and gravity are more likely explanations. Some news media report that the game is a marketing campaign for The Gallows, a "found footage" genre horror film due for release in July that is centered around the accidental death a boy named Charlie.
Snopes, the website famed for exposing internet fraud and hoaxes, said:
It seems fairly evident that the connection between the social-media-driven "Charlie Charlie challenge" and the upcoming film The Gallows emerged well after the former had come and gone from Internet "trending" lists.
Others said gravity explained the pencil's movement. "What's actually moving the pencils? Gravity, and the awkward positioning of some pencils. They just wouldn't sit still even if you wanted them to," according to a report in The Independent.
These explanations have done little to calm reaction in the Christian community in some parts of the world. In the Bahamas, a high school guidance counselor sent a letter to local pastors asking them to visit campus and pray for students who were summoning "a Mexican demon."
A Washington Postcolumnist wrote that a Dominican Republic television news report about a "Satanic game" overtaking local schools in April likely triggered the social media virus, which then easily crossed over from Spanish into English. A traditional Spanish "school-yard game" Lapicera, called the poor man's Ouija board, is its likely origin.
In Waynesboro, Pennsylvania, schools, many primary school children became so frightened over the game that teachers forbid students to play it or even discuss it.
One prominent Baptist pastor issued a warning about the game on Twitter.
"Christians should run — not walk away from any attempt to contact or harness demonic powers through @CharlieCharlie," warned Robert Jeffress, pastor of First Baptist Church in Dallas.