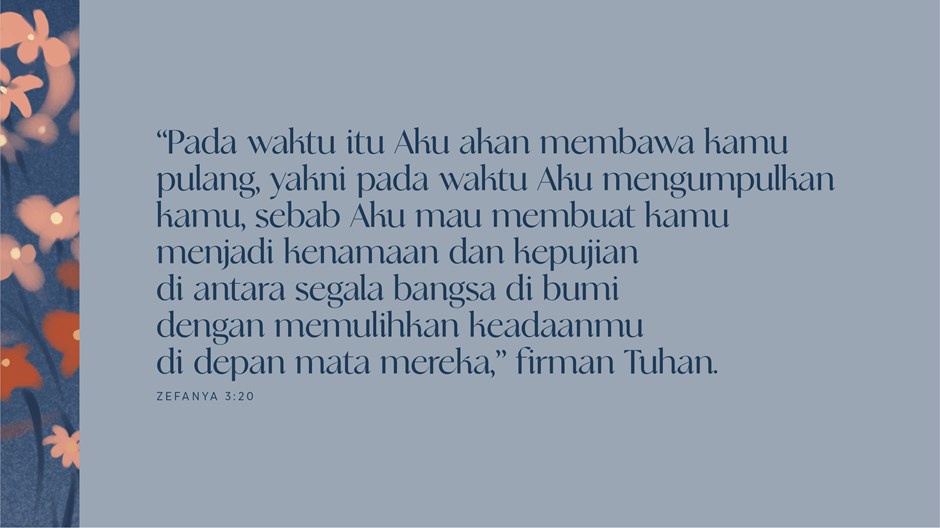 Untuk mengunduh kumpulan renungan "Berita Injil di Masa Adven," klik di sini.
Baca Yesaya 12:2–6; 52:7–10 & Zefanya 3:14–20
Ketika mendengar kata "rumah," apa yang terlintas di benak Anda? Bagi sebagian orang, kata itu memicu trauma. Bagi yang lain, kata itu membuat mereka merasakan perasaan campur aduk terhadap angan dan ingatan mereka tentang rumah. Sebagian orang merasa gelisah kalau pergi dari rumah, sedangkan yang lain, tidak pernah betah di rumah. Dan, tentu saja, ada banyak orang yang sangat menyukai rumah, yang tidak sabar untuk segera pulang. Bahkan banyak yang menganggap diri mereka "orang rumahan."
Merindukan rumah-tempat di mana kita seharusnya berada-adalah bagian dari kondisi manusia. Ini adalah tempat di mana kita bisa menjadi diri sendiri, dikenal dan dicintai, dan di mana kita merasa betah. Rumah seharusnya adalah tempat yang damai, di mana kita merasa nyaman, bukan merasa was was. Rumah adalah tempat yang aman. Pada akhirnya, dalam hal tertentu, kita semua rindu untuk menjadi orang rumahan.
Dalam Zefanya 3:20, Tuhan berfirman, "Pada waktu itu Aku akan membawa kamu pulang, yakni pada waktu Aku mengumpulkan kamu." Tuhan berjanji suatu hari nanti akan membawa pulang umat-Nya di seluruh dunia. Ini adalah rumah kegembiraan dan pujian karena segala yang Allah telah genapkan melalui keselamatan-Nya (Yes. 52:9, 10). Ini adalah rumah tempat perayaan, terbuka bagi semua orang. Ini adalah suatu pesta selama berabad-abad karena apa yang terlalu bagus untuk jadi kenyataan benar-benar terjadi (Zef. 3:14-15).
Tempat ini dipenuhi dengan kegembiraan dan pujian. Ini merupakan tempat perlindungan, di mana Allah adalah "kekuatan dan keselamatan" kita (Yes. 12:2). Dalam rumah ini, orang yang rendah, tertindas, dan terpencar, dapat kembali pulang ke tempat di mana keadaan mereka dipulihkan seperti sedia kala (Zef. 3:19-20). Dalam setiap perikop ini, Tuhan berbicara kepada orang-orang tertentu, di waktu dan tempat tertentu. Tetapi nubuat-nubuat ini juga berkembang melampaui konteks dekatnya, karena "pulang ke rumah" adalah bagian tak terpisahkan dari keselamatan itu sendiri.
Yesus menggemakan pandangan tentang rumah ini ketika Ia berkata, "Jika seorang mengasihi Aku, ia akan menuruti firman-Ku dan Bapa-Ku akan mengasihi dia dan Kami akan datang kepadanya dan diam bersama-sama dengan dia" (Yoh. 14:23). Dan sebelumnya, di Yohanes 14:3, Yesus memberi tahu kita bahwa Ia sedang menyiapkan sebuah tempat, rumah, hanya untuk kita.
Kita adalah rumah bagi Tuhan. Kita merasa betah di dalam Tuhan, dan Tuhan sedang mempersiapkan rumah bagi kita. Tetapi tidak hanya di waktu yang tak tentu di masa depan; melainkan di sini dan sekarang ini, kita dapat menemukan kemiripan dari rumah dan menjadi rumah Tuhan bagi orang lain. Kita dapat "memberitakan kabar baik" dan mengundang orang lain untuk bergabung dengan kita (Yes. 52:7). Siapakah yang tidak ingin berada di rumah seperti itu?
Marlena Graves adalah seorang mahasiswa doktoral dan asisten profesor seminari. Ia merupakan penulis beberapa buku, di antaranya The Way Up Is Down: Becoming Yourself by Forgetting Yourself.
Diterjemahkan oleh: Budi Martono Winata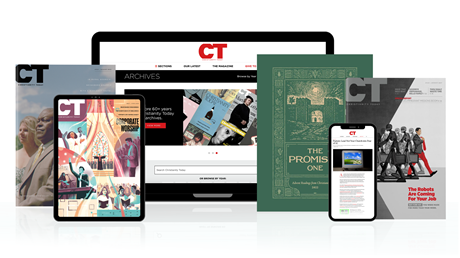 Subscribe to Christianity Today and get access to this article plus 65+ years of archives.
Home delivery of CT magazine
Complete access to articles on ChristianityToday.com
Over 120 years of magazine archives plus full access to all of CT's online archives
Subscribe Now
Membawa Kita Pulang ke Rumah
Membawa Kita Pulang ke Rumah