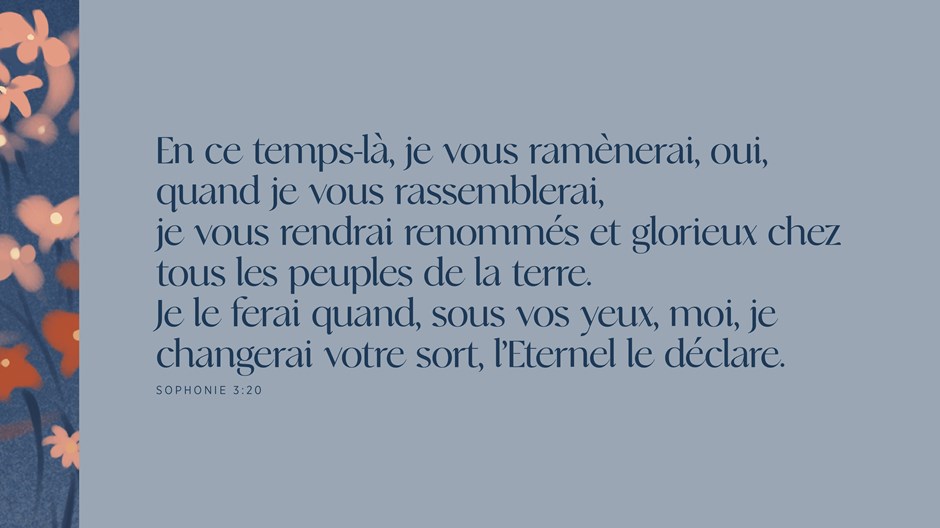 Lecture dans Ésaïe 12.2-6 ; 52.7-10 et Sophonie 3.14-20
Quand vous entendez l'expression « à la maison », qu'est-ce qui vous vient à l'esprit ? Pour certains, cette expression ravive des traumatismes. D'autres se sentent partagés quant à leur expérience et leurs souvenirs de la « maison ». Certains ont hâte de s'éloigner de ce lieu. D'autres ne se sont jamais sentis chez eux. Et, bien sûr, beaucoup aiment profondément leur foyer, ont hâte de rentrer chez eux. Les casaniers sont nombreux.
Avoir envie d'un chez-soi, d'un endroit auquel nous appartenons, fait partie de la condition humaine. Un endroit où l'on peut être soi-même, où l'on est connu et aimé, et où l'on se sent bien chez soi. La maison doit être un lieu de paix, où nous sommes à l'aise au lieu d'être sur nos gardes. La maison est un lieu de sécurité. En fin de compte, dans un certain sens, nous aspirons tous à être des casaniers : vivre sans connaître le fait d'être étranger.
Dans Sophonie 3.20, le Seigneur dit : « En ce temps-là, je vous rassemblerai ; à ce moment-là, je vous ramènerai à la maison ». Dieu promet de ramener un jour à la maison son peuple dispersé à travers le monde. Cette maison est une maison de festins et de chants, à cause de tout ce que représente le salut accompli par Dieu (Ésaïe 52.9, 10). C'est une maison pleine de célébrations spontanées et ouvertes à tous. C'est une fête pour tous les âges parce que ce qui est trop beau pour être vrai est vrai (Sophonie 3.14-15). Elle est pleine de joie et de louanges. C'est un lieu de refuge, où Dieu est notre « force et notre défense » (Ésaïe 12.2). Cette maison, est un lieu sans discrimination, où les humbles, les opprimés et les exilés peuvent retrouver la place à laquelle ils se sentent le plus eux-mêmes (Sophonie 3.19-20).
Dans chacun de ces passages, Dieu parlait à un peuple particulier à un moment et à un endroit particuliers. Mais ces prophéties s'étendent également au-delà de leur contexte immédiat, car ce retour « à la maison » fait partie intégrante du salut lui-même.
Jésus fait écho à ces aspirations à un véritable foyer lorsqu'il proclame : « Si quelqu'un m'aime, il obéira à ma parole. Mon Père aussi l'aimera : nous viendrons à lui et nous établirons notre demeure chez lui » (Jean 14.23). Et plus tôt, en Jean 14.3, Jésus annonce qu'il nous prépare un lieu, une maison, juste pour nous.
Nous sommes une maison pour Dieu, une maison en Dieu, et Dieu prépare une maison pour nous. Mais cela ne concerne pas seulement un jour futur ; dès ici et maintenant, nous pouvons trouver quelque chose d'un chez-nous et être pour d'autres la maison de Dieu. Nous pouvons « annoncer de bonnes nouvelles » et inviter d'autres à se joindre à nous (Ésaïe 52.7). Qui ne voudrait pas habiter une telle maison ?
MARLENA GRAVES est doctorante et professeur auxiliaire en séminaire. Elle est l'autrice de plusieurs livres, dont The Way Up Is Down: Becoming Yourself by Forgetting Yourself.
Traduit par Teodora Haiducu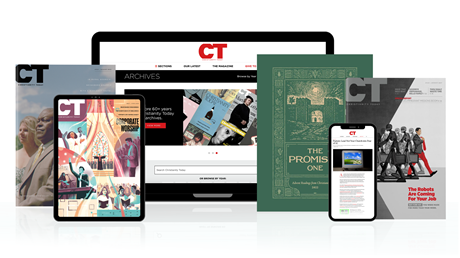 Subscribe to Christianity Today and get access to this article plus 65+ years of archives.
Home delivery of CT magazine
Complete access to articles on ChristianityToday.com
Over 120 years of magazine archives plus full access to all of CT's online archives
Subscribe Now
Nous ramener à la maison
Nous ramener à la maison