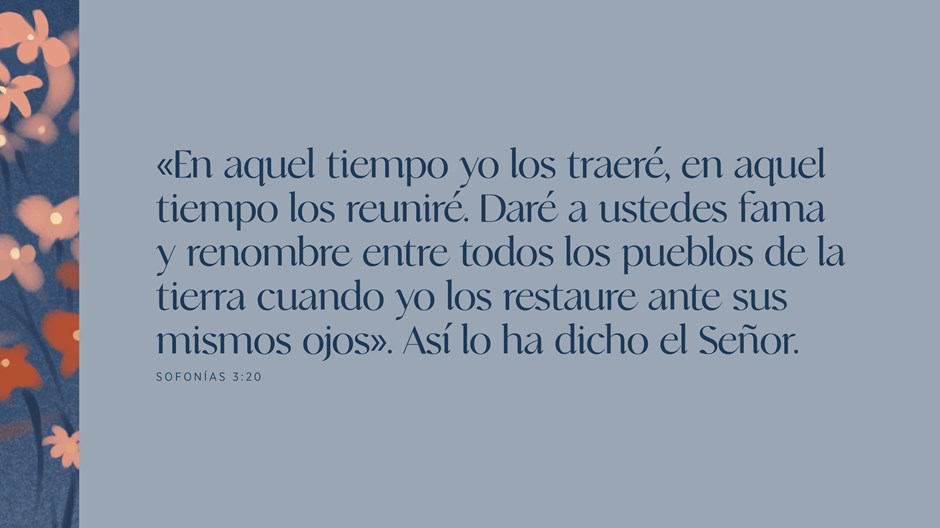 Para descargar nuestro devocional «El Evangelio de Adviento» completo, ingrese en este enlace.
Lea Isaías 12:2-6; 52:7-10 y Sofonías 3:14-20
Cuando escucha la palabra «hogar», ¿qué es lo primero que llega a su mente? Para algunos, la palabra desencadena el recuerdo de un trauma. Otros se sienten divididos respecto a sus nociones y recuerdos del hogar. Algunos tienen ganas de llegar a casa. Otros nunca se han sentido en casa. Y, por supuesto, hay muchos que sienten un profundo cariño por su hogar y que no ven la hora de volver a casa. Hay muchos que incluso se consideran «hogareños».
Es parte de la naturaleza humana anhelar un hogar, un lugar al cual pertenecer. Un lugar donde podamos ser nosotros mismos, donde nos conozcan y nos quieran, y donde nos sintamos en casa. El hogar debe ser un lugar de paz, donde estemos tranquilos en lugar de en guardia. El hogar debe ser un lugar seguro. En última instancia, en algún sentido, todos anhelamos ser hogareños y no conocer la sensación de alienación.
En Sofonías 3:20, el Señor dice: «En aquel tiempo yo los traeré, en aquel tiempo los reuniré». Dios promete traer un día a casa a su pueblo de todo el mundo. Es un hogar de celebración y canto por todo lo que Dios ha logrado por medio de su salvación (Isaías 52:9,10). Es una casa de celebraciones espontáneas y abiertas para todos. Es una fiesta que seguirá por la eternidad, porque eso que es demasiado bueno para ser cierto es realmente cierto (Sofonías 3:14-15). Está llena de alegría y alabanza. Es un lugar de refugio, donde Dios es nuestra «fuerza y canción» (Isaías 12:2). En este hogar donde hay equidad, los humildes, los oprimidos y los exiliados regresan al lugar donde realmente pueden sentirse ellos mismos (Sofonías 3:19-20). En cada uno de estos pasajes, Dios se estaba dirigiendo a un pueblo concreto en un tiempo y lugar determinados. Pero estas profecías también se extienden más allá de su contexto inmediato, puesto que el regreso al hogar forma parte de la salvación en sí.
Jesús hace eco de estos sentimientos sobre el hogar cuando proclama: «El que me ama, obedecerá mi palabra, y mi Padre lo amará, y haremos nuestra morada en él» (Juan 14:23). Y antes de esto, en Juan 14:3, Jesús nos dice que está preparando una morada, un hogar, solo para nosotros.
Somos un hogar para Dios, estamos en nuestro hogar en Dios, y Dios está preparando un hogar para nosotros. Sin embargo, esta no es una verdad que se cumplirá en un futuro incierto, sino que aquí y ahora podemos encontrar una semblanza de hogar y ser el hogar de Dios para otros. Podemos «llevar las Buenas Nuevas» e invitar a otros a unirse a nosotros (Isaías 52:7). ¿Quién no querría estar en un hogar así?
Marlena Graves es estudiante de doctorado y profesora adjunta de seminario. Es autora de varios libros, entre ellos The Way Up Is Down: Becoming Yourself by Forgetting Yourself.
Traducción por Sofía Castillo.
Edición en español por Livia Giselle Seidel.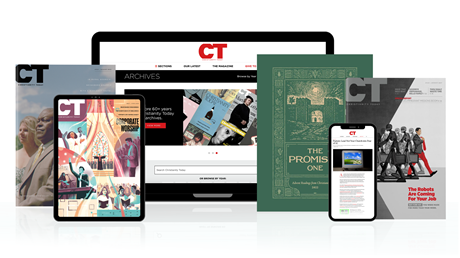 Subscribe to Christianity Today and get access to this article plus 65+ years of archives.
Home delivery of CT magazine
Complete access to articles on ChristianityToday.com
Over 120 years of magazine archives plus full access to all of CT's online archives
Subscribe Now
Camino al hogar
Camino al hogar