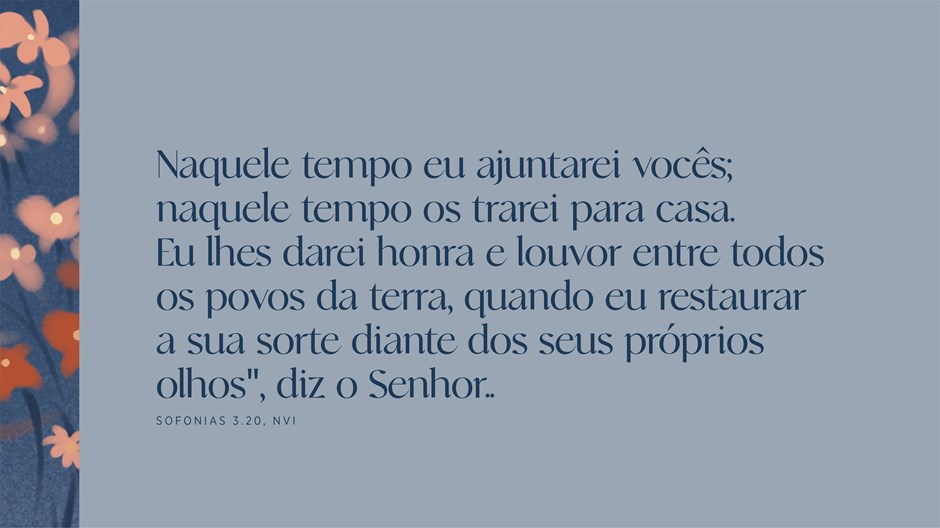 Clique Aqui e faça o download do nosso devocional diário "O Evangelho do Advento".
Leia Isaías 12.2-6; 52.7-10 e Sofonias 3.14–20
Quando você ouve a palavra casa, o que lhe vem à mente? Para alguns, a palavra desencadeia traumas. Já outros se sentem ambivalentes em relação às suas noções e memórias relacionadas ao termo casa. Alguns estão ansiosos para sair de casa. Outros nunca se sentiram em casa. E, claro, há muitos que gostam profundamente de casa, que mal podem esperar para voltar para lá. Há ainda muitos que até mesmo se consideram "caseiros".
Faz parte da condição humana esse anseio por um lar — por um lugar ao qual pertencemos. Um lugar em que possamos ser nós mesmos, em que sejamos conhecidos e amados e no qual nos sintamos, por assim dizer, em casa. Toda casa deve ser um lugar de paz, onde nos sentimos à vontade, e não na defensiva. Um ambiente seguro. Em última análise, em certo sentido todos nós desejamos ser caseiros — ser alheios ao distanciamento.
Em Sofonias 3.20, o Senhor diz: "Naquele tempo eu ajuntarei vocês; naquele tempo os trarei para casa". Deus promete um dia trazer para casa seu povo em todo o mundo. Esta é uma casa de festa e canto, por causa de tudo o que Deus realizou por meio de sua salvação (Is 52.9,10). É uma casa em que haverá flash mobs regulares de celebração liberada para todos, feita no calor do momento. É uma festa para todo sempre, pois o que parece bom demais para ser verdade é verdade (Sf 3.14,15). Está repleta de alegria e louvor. É lugar de refúgio em que Deus é a nossa "força" e "salvação" (Is 12.2). Nesta casa, há um campo em que o jogo é equilibrado, em que os humildes, os oprimidos e os exilados retornam ao lugar em que mais se sentem eles mesmos (Sf 3.19,20). Em cada uma dessas passagens, Deus estava falando para um povo específico em um tempo e lugar específicos. Mas essas profecias também se expandem para além de seu contexto imediato, pois voltar para casa é parte integrante da própria salvação.
Jesus faz eco aos sentimentos sobre essa casa, quando proclama: "Se alguém me ama, guardará a minha palavra. Meu Pai o amará, nós viremos a ele e faremos nele morada" (Jo 14.23). Antes disso, em João 14.3, Jesus nos diz que está preparando um lugar, uma casa, só para nós.
Somos lugar de habitação para Deus; em Deus estamos em casa, e ele está nos preparando uma morada. Mas não apenas no céu; aqui e agora podemos encontrar vislumbres dessa morada e podemos ser morada de Deus para outros. Podemos ser aqueles que "trazem boas notícias" e convidam outros a se juntarem a nós (Is 52.7). Quem não gostaria de estar em uma casa assim?
Marlena Graves é doutoranda e professora adjunta em um seminário. Ela é autora de vários livros, entre eles The Way Up Is Down: Becoming Yourself by Forgetting Yourself.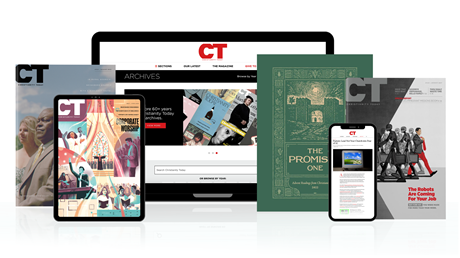 Subscribe to Christianity Today and get access to this article plus 65+ years of archives.
Home delivery of CT magazine
Complete access to articles on ChristianityToday.com
Over 120 years of magazine archives plus full access to all of CT's online archives
Subscribe Now
O Deus que nos traz para casa
O Deus que nos traz para casa