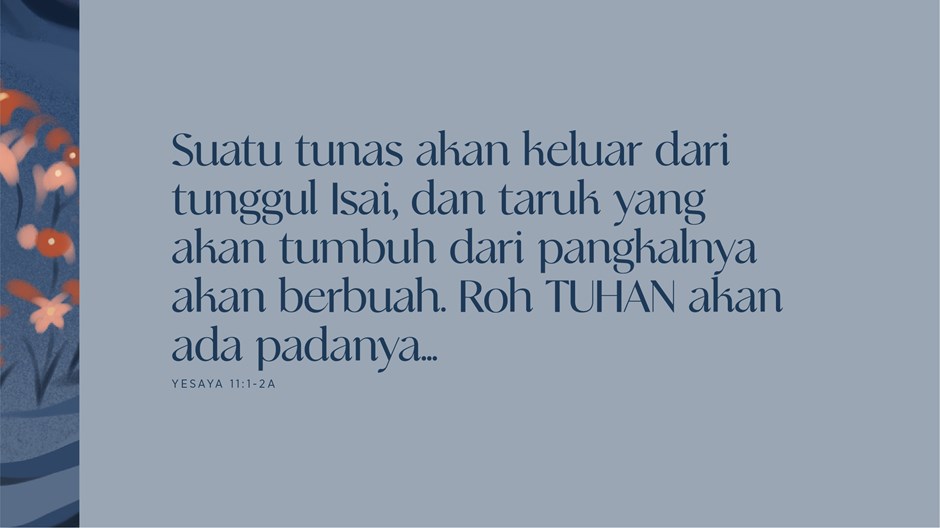 Untuk mengunduh kumpulan renungan "Berita Injil di Masa Adven," klik di sini.
Baca Yesaya 11:1-5 & Yeremia 33:14-16
Saya memiliki tiga anak perempuan, dan saya sering terheran-heran memikirkan mereka. Saya tidak bisa membayangkan bagaimana seluruh dunia saya itu—kehidupan, identitas, dan masa depan ketiga putri saya—dihasilkan dari telur mikroskopis yang telah dibuahi. Bagaimana mungkin keajaiban dan misteri kehidupan manusia dapat terjadi? Hanya Tuhan yang tahu.
Sejak zaman nabi Yesaya hingga Yeremia, generasi bangsa Israel di kerajaan Utara maupun Selatan mengalami kehancuran, baik tanah, penghidupan, keluarga, dan mata pencaharian mereka. Semua ini merupakan hukuman Tuhan atas dosa-dosa mereka. Segala harapan untuk hasil yang baik telah hilang. Terlalu banyak generasi yang telah mengalami kematian dengan berbagai cara yang berbeda. Hal ini membuat mereka sulit memercayai bahwa keadaan mereka akan berbeda pada akhirnya. Namun mereka masih merindukan seorang Juru Selamat untuk menyelamatkan mereka, seorang Mesias untuk membebaskan mereka dari cengkeraman musuh.
Ketika harapan lenyap, saat mereka hidup sebagai orang asing yang tertindas di kerajaan yang penuh kehancuran, nabi Yesaya dan kemudian nabi Yeremia sama-sama berbicara tentang pengharapan. Melalui kedua nabi tersebut, Tuhan menyampaikan janji pengharapan ini, yang digambarkan sebagai suatu tunas yang muncul "dari tunggul Isai," seperti "Tunas keadilan" yang tumbuh dari keturunan "Daud" (Yes. 11:1; Yer. 33:15).
Generasi demi generasi berlalu sebelum harapan yang dijanjikan Tuhan itu muncul.
Namun Ia memenuhi janji-Nya, melalui kedatangan Tuhan kita Yesus Kristus. Ketika generasi umat Tuhan bertanya-tanya, apakah Tuhan akan muncul? Tepat pada waktunya, Yesus datang. Yesus, yang adalah "TUHAN keadilan kita" (Yer. 33:16), pada diri-Nya berdiam Roh Allah, Pribadi yang penuh dengan kebenaran dan keadilan.
Dalam kemanusiaan-Nya, Yesus lahir dari benih ilahi yang dipercayakan kepada Yusuf dan Maria. Yesus adalah tunas kecil yang keluar dari tunggul Isai. Ia menguasai dunia dan segala isinya—karena di dalam Dia dan oleh Dia "segala sesuatu dijadikan" dan "segala sesuatu ada di dalam Dia" (Yoh. 1:3; Kol. 1:17). Sekali lagi, saya berhenti sejenak dalam keheranan dan kekaguman.
Sama seperti saya tidak dapat memahami keajaiban eksistensi ketiga putri saya, saya pun tidak dapat memahami misteri keselamatan dari Tuhan, atau waktu Tuhan (kepada siapa, apa, di mana, dan mengapa). Tetapi saya sungguh tahu bahwa Allah menepati janji-Nya, baik dalam sejarah, kepada umat-Nya maupun kepada perorangan. Tuhan selalu hadir.
Selalu. Dia hadir ketika kita kurang mengharapkan-Nya dan dengan cara yang tidak kita duga—ketika semua harapan tampak hilang. Memang, Tuhan kita muncul seperti tunas kecil di hutan yang telah terbakar habis. Perhatikanlah itu.
Marlena Graves adalah seorang mahasiswa doktoral dan asisten profesor seminari. Ia merupakan penulis beberapa buku, di antaranya The Way Up Is Down: Becoming Yourself by Forgetting Yourself.
Diterjemahkan oleh: David Alexander Aden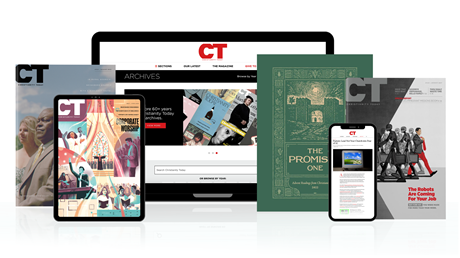 Annual & Monthly subscriptions available.
Print & Digital Issues of CT magazine
Complete access to every article on ChristianityToday.com
Unlimited access to 65+ years of CT's online archives
Member-only special issues
Subscribe
Seperti apa Harapan itu?
Seperti apa Harapan itu?