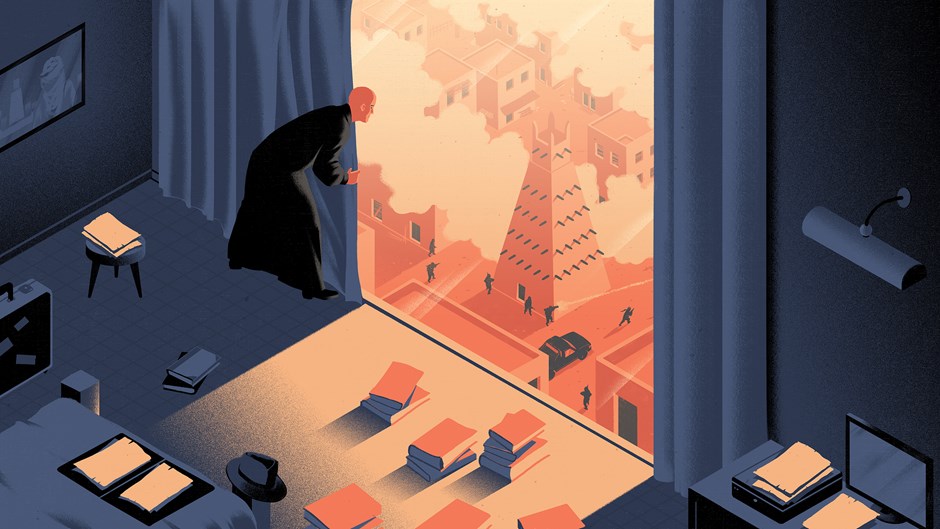 Image: Rui Ricardo / Folio Art
The shooting started right away. Columba Stewart had just touched down in Timbuktu when Islamist militants launched another attack.
The fighters were trying to retake control of Mali, after United Nations forces had pushed them back. As Stewart made his way through the ancient city in 2017, the rebels fired on security guards and the guards shot back.
Stewart was whisked to a safe room at the hotel. Waiting in the windowless interior room, he prayed. He sipped a little scotch. And he waited for hours. He knew what he had to do. Stewart is a monk—a Benedictine brother at St. John's College, in Minnesota, part of the order that built libraries in the Middle Ages, preserving and reproducing Bibles by hand, along with psalters, books of martyrs, and Greek and Arabic philosophy.
So Stewart knew his responsibility in Timbuktu. He had to save the ancient manuscripts.
When the shooting stopped, Stewart spent the next two days training Malians to run a mobile digitization studio to preserve the more than 300,000 Islamic manuscripts that al-Qaeda might have destroyed.
"We don't always know trouble is coming, but we have a history of being there just in time," Stewart said. "People can say it's serendipity, but I believe in providence."
Stewart joined the Benedictines in 1981 and now serves at executive director of the Hill Museum and Manuscript Library (HMML) at Saint John's. He has rescued documents in Lebanon, Syria, and Iraq, as well as Egypt, Ethiopia, and India—saving biblical texts and some of the most significant documents for the church in the Middle East, as well as Muslim texts.
Unlike manuscript hunters of the past, he leaves the treasure behind. He trains local leaders to preserve their heritage, and in exchange they allow him to make the documents available online. His status as a Catholic priest has opened doors where others would fail.
"Our team has worked with them to ensure that their deposits of wisdom, their libraries of handwritten texts, the voices of their past, can join the global conversations of the digital era," Stewart said in a recent speech. "And we do it side-by-side, as equals."
The St. John's library now hosts the largest digital collection of old manuscripts in the world, including 250,000 full books and 75 million individual handwritten pages.
The library won the National Medal of Honor from the Institute of Museum and Library Services in 2011. This October, Stewart received a $10,000 honorarium from the National Endowment for the Humanities (NEH)—the highest honor bestowed by the US government for intellectual achievement.
Daniel Wallace, executive director of the Center for the Study of New Testament Manuscripts (CSNTM) in Texas, thinks the awards are well deserved. He sought Stewart's advice, early on, as the CSNTM began efforts to digitize 5,500 ancient copies of the Greek New Testament manuscripts, and along the way discovered 75 previously unknown to scholars.
"Only a fraction of the works written before Gutenberg's invention still exist, and they all are deteriorating," Wallace said. "We are losing contact with our past."
The CSNTM focuses on preserving scripture. The HMML started with a focus on European texts, fearing what would be lost in a nuclear war, but has expanded its mission to include the preservation of non-Western manuscripts. The two projects compliment each other, according to Wallace.
"The Christian faith has always been a 'bookish' religion," he said, "but sola scriptura does not mean that the Bible is our only book."
Preserving a variety of texts gives scholars a more robust understanding of history, too. "To ignore the milieu in which the Bible was written and later received is to ignore the work of God in the world," Wallace said.
Stewart agrees. He says there's a lot to be learned about the vibrant history of the church in times of turmoil. He helped save a 12th-century document in Aleppo, Syria, for example, that explained how the Christians there navigated the transition from Muslim rule to the rule of Crusaders. The manuscript was written by a Christian leader and saved in a church vault for 900 years.
Among its insights: local Christians were forbidden to ring church bells when the Crusaders came to 'liberate' them.
"The manuscripts show continuing creativity and reflection, giving a much keener sense of the continuing living Christian tradition," Stewart said. They also show how, after the rise of Islam, "Christianity and its intellectual activity continued, and frankly even thrived."
Times of tumult are not only ancient history, though. Today, the Middle East is troubled again. And try as he might, Stewart can't save everything.
In 2014, Stewart went to Erbil, in the autonomous region of Kurdistan, to help digitize documents from the 13th century. Christians carried the documents out of Iraq when they fled ISIS. Boys and girls as young as 10 helped load the tomes onto pickup trucks along with their family possessions.
About 2,000 of the manuscripts were left behind and destroyed by ISIS, or lost. Stewart still sees God at work, though. In a ruined monastery in Qaraqosh, 500 manuscripts were kept safe behind a false wall.
HHML goes to a lot of trouble areas. Stewart partnered with Holy Spirit University of Kaslik, in Lebanon, after the country's civil war, according to Randa Chidiac, executive director of the university library. "We live in a conflict zone, and governments have other worries," Chidiac said. Their library has more than 2,000 manuscripts, many documenting the history of the Maronite Church.
Stewart has also worked with the Near East School of Theology, in Beruit. They have the original copies of the Van Dyke Bible, produced by an American missionary and his Syrian partners in 1866. It's the basis for the most widely read Arabic-language Bible in the Middle East, but the manuscripts are so brittle that head librarian Liza Titizian takes great care with every touch.
"What we have here is a treasure, and I don't want to destroy them," she said.
Stewart has also photographed 10,000 palm-leaf manuscripts from India, the Garima Gospels in Ethiopia, and has begun work on 500 Coptic manuscripts in the Egyptian desert.
The library in Minnesota is a mostly Christian collection. That's probably why Stewart thinks the Timbuktu manuscripts are his greatest prize. By preserving Islamic manuscripts, he believes he is being faithful to his Benedictine calling. Speaking to the NEA, Stewart comparing his work in Mali with Peter the Venerable, the 12th-century abbot who oversaw the translation of the Quran into Latin.
"As medieval Christian scholars of Arabic manuscripts came to understand, their enemy was not Islam, however deep their theological differences," he said. "The common enemy was—and remains—the fanaticism and ignorance that make understanding impossible."
Upon this foundation, the gospel prevails. Stewart said it took five years, but his Malian partners eventually trusted him enough to ask for his prayers.
"We need to be Christ to people, and even as St. Benedict teaches us in his Rule, to see Christ in them. Because Christ is in them, as they are created in the image of God," he told CT. "Part of the work of evangelism is just being that witness, and allowing the possibility of genuine spiritual conversation."
Jayson Casper is Middle East correspondent for Christianity Today.
Have something to add about this? See something we missed? Share your feedback here.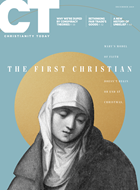 This article is from the December 2019 issue.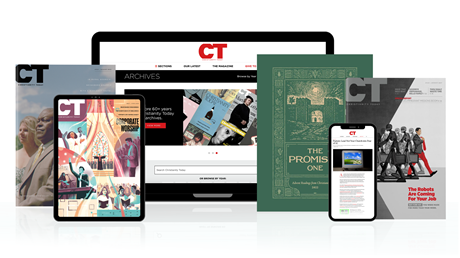 Annual & Monthly subscriptions available.
Print & Digital Issues of CT magazine
Complete access to every article on ChristianityToday.com
Unlimited access to 65+ years of CT's online archives
Member-only special issues
Subscribe
This Minnesota Monk Saves Ancient Manuscripts for a Digital Age
This Minnesota Monk Saves Ancient Manuscripts for a Digital Age