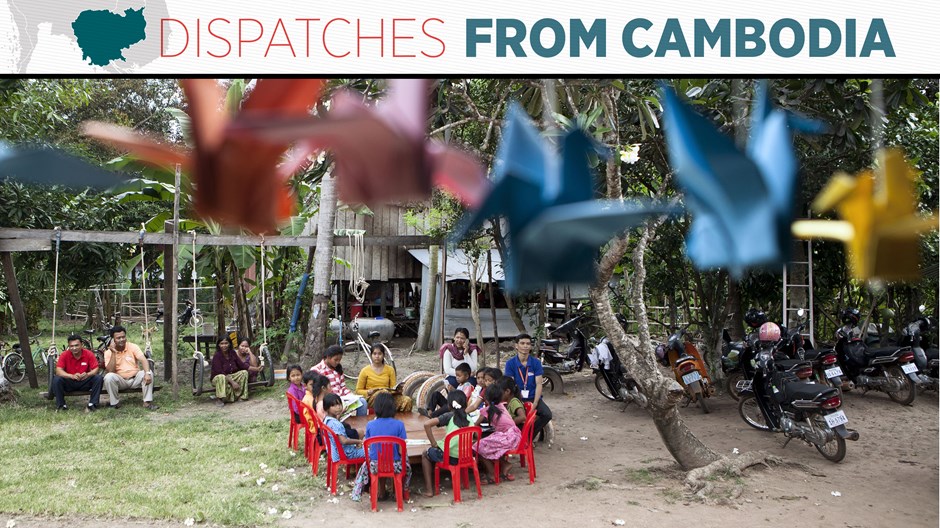 Image: Claire Eggers
Dozens of pastors crowded around Hun Sen with smartphones extended, snapping selfies to commemorate the Cambodian prime minister's first-ever meeting with local Christians.
The government session with 2,500 church leaders last summer was a significant gesture in an overwhelmingly Buddhist nation where Christians were martyred and forced underground only a few decades ago.
Hun's meeting "was a historic event that never happened before," said Tep Samnang, executive director of the Evangelical Fellowship of Cambodia (EFC), an interdenominational network representing most of the country's believers. "It's a sign that [the government] accepts the Christian community more publicly."
While persecution still percolates in other Southeast Asian countries, Cambodian Christians enjoy a promising sense of openness from leaders and neighbors.
"You are at peace, and I appeal to all religions in Cambodia not to harass you or your sects," Hun told the pastors gathered in a luxe city hall in Koh Pich, the fast-developing "Diamond Island" in the center of the capital, Phnom Penh. Though Christians were not allowed to pray or share remarks during the meeting, Tep said, "at least it's a spark to keep the fire burning."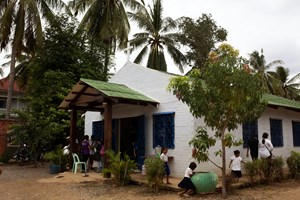 Image: Claire Eggers
Christians remain a small-but-growing 2.5 percent of the 16 million people living in the former communist nation, where gold-trimmed temple rooftops twirl over both city skylines and rural landscapes. The temples serve as gathering places for dozens of nationally observed Buddhist festivals throughout the year.
But Cambodia finally has a generation of church leaders with the training and freedom to evangelize on a nationwide scale—and these emboldened believers are taking advantage:
The Christian and Missionary Alliance (CMA)—the longest-standing and best-known denomination in the country—estimates that the Cambodian Christian population has grown by more than half since 2010, and now includes over 300,000 believers.
The EFC has launched Mission Kampuchea 2021, an initiative to plant a church in every village.
New Life Fellowship of Churches, a booming network based out of Phnom Penh's most popular megachurch, plans to start 500 churches and cell groups in the same period. So far, it has planted more than 200 in 13 of 24 provinces.
"This is a really open time, and we don't know how long it will last," said Neak Phanna, a 32-year-old English teacher among the wave of students who came to faith through the 2,000-member New Life since the new millennium began. "This is our kairos moment. . . . We see that Christianity is having an impact. God is doing what we read about in the Bible."
Across denominations, leaders repeated to Christianity Today during a visit last fall that this is the time for big plans and big prayers.
They want to see Cambodia's Christian population reach 10 percent, surging "the same way God changed South Korea," said Sem Sophea, pastor of a New Life congregation in suburban Phnom Penh. As the capital has swelled, Sem has watched his own church plant grow from 25 worshipers to more than 300 today.
Getting a couple hundred people together on a Sunday morning, one American missionary said, is "like Saddleback in Cambodia." Here, 80 percent of the population lives in rural provinces where the only Christian presence may be a small house church—if that.
Devotion after Devastation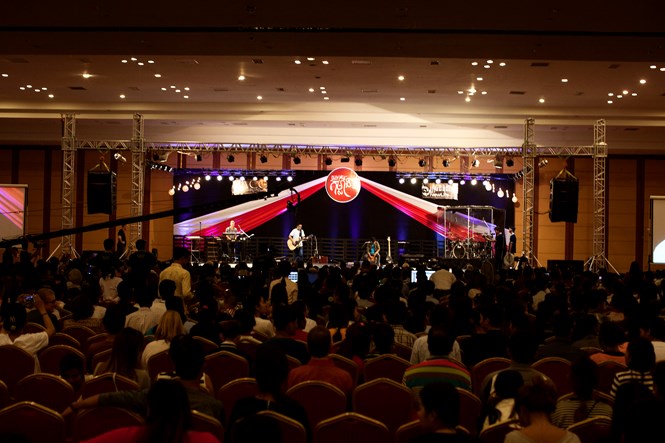 Image: Claire Eggers
At the annual Asian Christian Conference in Phnom Penh, the Khmer worship music drowned out the rainy season downpour that soaked the red-and-white tents outside the crowded convention center. Young adults in skinny jeans and thick-rimmed glasses sang out, "I'm lifting my hands in awe of you," as lights flashed from the stage.
The conference is the biggest Christian event in Cambodia, said New Life senior pastor Jesse McCaul. His father, Chuck, founded the congregation in 1994, right as foreign missionaries were allowed back into the country. The 2016 event drew more than 4,500 attendees and required 550 student volunteers from the church.
Like everything in Cambodia, Christianity skews young. In the aftermath of a civil war and resulting genocide, epitomized in the notorious and haunting Killing Fields, 60 percent of the country's population is under 30. Few Christians can say their faith dates back to before Pol Pot and the Khmer Rouge took power in 1975.
The first Protestant missionaries came to Cambodia in 1923 with the CMA. They trained local pastors, translated the Bible, and conducted ministry in villages for decades. But it wasn't until the unrest around the Vietnam War that the church saw major growth, from about 1,000 to 10,000 believers between 1970 and 1975. Then came the deadly reign of the communist Khmer Rouge.
One church in Phnom Penh was said to have gathered 600 Christians for a prayer service just weeks before the revolution. The members promised to return to the church and write their names on the wall to let each other know they survived. Years later, there were only three names listed. By the end of 1979, only 200 Christians were believed to remain alive in the country.
So the Christian groups already involved in Cambodia, like the CMA and World Vision, shifted their ministry to refugee camps along the border, where the church continued to add converts. Some camps had 10,000 worshipers gathering weekly. Many older Christian leaders trace their faith back to their time as refugees.
The oldest Christian CT met was 70-year-old Bot Bopha, who became a believer when she was 8. Bot brought her small Bible with her to Site 2, the largest camp for Cambodian refugees in neighboring Thailand. "I met a pastor, and I learned more about God," the toothless grandmother told CT. "When I first came back, it was an underground church. We had to meet in a quiet place."
Joe Kong providentially left his job as a government forestry official a month before the revolution. He ended up at a resettlement camp in Oregon, where he helped grow Khmer-speaking CMA congregations in the Pacific Northwest.
He was among the first missionaries to return once Cambodia allowed religious activity again in the early 1990s. Between a crusade in a packed government theater in Phnom Penh and going door-to-door in far-off villages, his team added 500 new believers in three weeks.
"I wanted to give my life to God because he saved my life from the Killing Fields, and he saved my soul with the gospel," said Kong, who cofounded the EFC's precursor and currently chairs its board.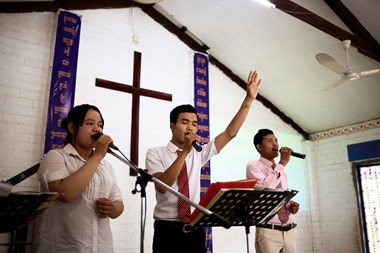 Image: Claire Eggers
Now resourced with more qualified local leaders, seminaries, and training programs, Cambodia's 21st-century church is becoming more autonomous—with outside missionaries serving a supporting role—and more focused on discipleship. Today's leaders have opportunities that weren't available 30, 20, or even 10 years ago, when pastors faithfully suffered through unrest, according to Tep.
"Look at the generation that's emerging. They are passionate and well-equipped and strategic," said the 45-year-old EFC leader. "The older generation doesn't have the capacity, but they have the experience. The younger generation needs to respect the older generation and learn from them. But at the same time, the older generation cannot limit them."
This transition, like Moses passing along leadership to Joshua, marks a crucial moment in the history and growth of the Cambodian church. The first generation of Cambodian pastors—who journeyed faithfully in the wilderness, in the aftermath of the country's darkest days—face a new batch of leaders rising up. They come with university degrees and richer theological training, making them in some ways better prepared to bring depth and discipleship to the growing body of believers.
"You have to humble yourself to work alongside each other, to empower young leaders and trust them," said Kong, with the CMA.
From Benefits to Believers
Through the early 2000s, young Cambodians typically got introduced to the gospel through church outreach programs: kids' clubs, computer classes, or English lessons.
"People used to think the church was a development organization, because most people came to church for the benefits," said Heng Sotha, director of church planting at New Life. "Now they come for the miracles."
Cambodia's churches swirl with stories of spiritual transformation and other incredible turnarounds: the blind woman who squinted at her hymnal but regained sight after missionaries prayed for her; the construction worker who survived a deadly snake bite; the poor shoe-shiner who now leads an English school.
Still, most churches—especially in villages—rely on programs for evangelism. "Through the students, we reach the parents," said Tieng Sienglai, who serves alongside her husband, Timothy, pastor of First Bible Presbyterian Church of Siem Reap. Their ministry spans 10 village churches across the northwestern province that boasts the famous Angkor Wat, a crumbling 12th-century Hindu-turned-Buddhist temple complex.
Angkor Wat's depiction on the Cambodian flag is a constant reminder of the country's religious roots. Buddhism is the national religion; Christianity belongs to the West. Despite these perceptions, neighbors appreciate the clinic services or educational classes offered by churches. The poor live on a few dollars a day, and often cannot afford health care or school fees on their own.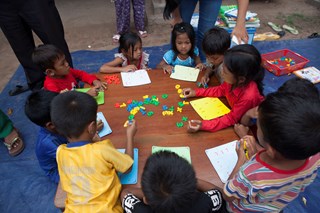 Image: Claire Eggers
Baray Nazarin Church in central Cambodia hosts village kids every day, and sponsors half a dozen poor families. When CT visited, a line of neighborhood moms sat on a swing set, watching their children learn Khmer letters, circle up for schoolyard games, and practice traditional Cambodian dance at the church. "We are Buddhist," one admitted, speaking through a translator. "But we feel happy when our kids come here."
Baray's pastor, Sin Prom, began inviting neighbors into his home in 2006, just months after he became a Christian from hearing the Good News on the radio. With the help of World Vision Cambodia, in 2013 they built a wooden building in front of his house for the church—decorated inside and out with paper cranes, strings of sweet-smelling plumeria flowers, and kids' doodles. The nearest church is only 6 miles away; however, the drive can take 45 minutes on bumpy dirt roads crowded with emaciated cattle.
"When the church can do this kind of work in society, it creates this positive view and [neighbors] aren't scared of Christians anymore," said Tieng, head of the children's and outreach ministries at First Bible. "They'll say, 'I came here to learn English only, no Jesus.' But then they'll come to Sunday school and fall in love with Jesus."
She knows what that's like. As a star English student in Sihanoukville—the lush coastal province named for Cambodia's former king—she felt God speaking to her through a passage she was assigned to translate: the story of Lazarus's death in John 11.
After Tieng became a Christian, her Buddhist parents and siblings teased her for saying grace before meals. She hid her books in a black plastic bag when she went to church on Sunday, telling them she was going to study. "I didn't lie," Tieng said. "I was studying the Word of God."
New faith forces Cambodians to rethink their relationships, and in some cases to choose between God and family. Before Cambodians fully commit their lives to following Jesus, "they have in their minds, 'My family is Buddhist; my parents are Buddhist; my friends are Buddhist. They will persecute me,' " said Sem, the pastor in suburban Phnom Penh.
Since Khmer family traditions center on temple activities and ancestor offerings, prospective converts to Christianity inevitably ask if they can still participate. If Sem told them no, they probably wouldn't be interested in Christianity any longer. Instead, he instructs them to study Scripture and see what God says. "No one told me, 'Don't worship idols.' The goal is to build a relationship with them, and teach them the truth little by little," Sem said. "When they know God, they tear down the idols themselves."
An Opportunity to Become 'Real'
Christianity's global scope, which causes many Cambodians to view it as a cultural threat, draws in many others to a Savior so universal that countries around the world measure their calendar by his life and death. Converts note that Christianity answers questions that Buddhism cannot, such as Who created the world? and Who created man?
"I thought Buddha was a Cambodian God, and Jesus was for Americans," said Ou Savorn, a former Cru leader who now serves with a Christian orphan-care program called Asia's Hope. "But [Jesus] is the universal God. He died and rose again. Did Buddha do that? No."
Before attending Bible school, Ou was a child soldier, refugee, and Buddhist monk-in-training. This background helps him know what fellow Cambodians are thinking through, he said. "It's easy for me to share the gospel and convert them now."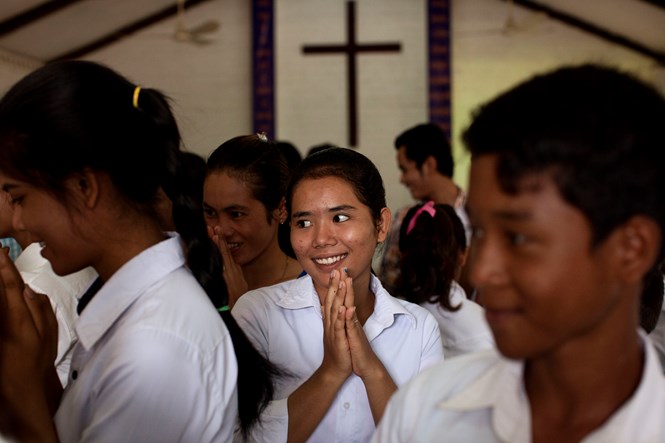 Image: Claire Eggers
At Grace Brethren Church in Battambang, the third-largest city in Cambodia, familiar traditions from the Western church blend with local customs. Dusty Crocs and sandals stay piled at the entryway—or get played with by the kids—while the 60-person congregation worships barefoot on shiny tile floors. When it comes time to "pass the peace," attendees bow toward each other with palms pressed together and extend the traditional greeting: Chom reab suor. Contemporary worship music blares through a buzzing amp, followed by a traditional Khmer hymn accompanied by a twangy guitar.
Pastor Lim Phanny preached through 1 John 3, telling his congregation how God came to earth to give them the gift of eternal life. Lim first heard this message at the refugee camp where he escaped the Khmer Rouge. The gospel that saved him then still offers good news for Cambodia's people.
"For people here, life is difficult. It is difficult to work; difficult to farm; difficult to run a business," said Lim, who founded the church 25 years ago. "We spend one day together to be with our family and study Scripture. Then I send these disciples back to work."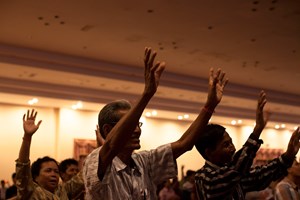 Image: Claire Eggers
The economic and social pressures of life in Cambodia can strain evangelistic efforts. At a small Baptist church in Kampong Thom province, a teenager shares her testimony through teary eyes. When she resisted her arranged marriage at 14, her parents blamed the church for them losing her dowry and began criticizing it around the village.
The pastors—a couple who moved from hours away to plant the congregation—made sure the teen was taken care of and could continue to go to school. "I didn't know what I was missing," she said. "I was like the frog in the well."
According to the traditional Cambodian parable, a frog living in a well can look up and see the sky, but can't imagine the world beyond its walls until it escapes.
At the Asian Christian Conference, where crowds of hundreds of students surround the stage to receive prayer for their future jobs or for their families to come to Christ, the sense of revival feels palpable for all of Cambodia.
"It is a nation that is pursuing a new hope," said Sem, from New Life. "They want to see something real. It's an opportunity for the church of Jesus to become real to them.
"There's a great urgency for Cambodia," the pastor said. "There's a window, and I don't know how much longer it will be open."
Kate Shellnutt is online associate editor of CT.
For a Bible study based on this article, visit our sister brand ChristianBibleStudies.com.
Was this article helpful? Did we miss something? Let us know here.
Have something to add about this? See something we missed? Share your feedback here.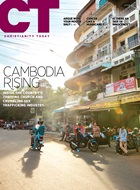 This article is from the June 2017 issue.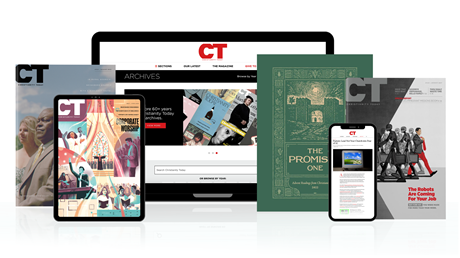 Annual & Monthly subscriptions available.
Print & Digital Issues of CT magazine
Complete access to every article on ChristianityToday.com
Unlimited access to 65+ years of CT's online archives
Member-only special issues
Subscribe
Cambodians Usher in a Miraculous Moment for Christianity
Cambodians Usher in a Miraculous Moment for Christianity