Thursday's House Oversight Committee hearing on the Obama administration's contraception coverage mandate sparked a lot of discussion on religious freedom and conscience. It also sparked a lot of discussion on who gets to speak for whom.
"What I want to know is: Where are the women?" Rep. Carolyn Maloney (D-NY) demanded before she walked out in protest. A photo of five men testifying before the panel quickly circulated on social network sites. At the Washington Post website today, Susan Thistlethwaite picked up on the theme: "Where is women's religious freedom and freedom of conscience?" she wrote. "Women can only conclude from this skewed panel that the chairman does not think they are created equally in God's image, and endowed by their creator with inalienable rights."
I would agree with Thistlethwaite that indeed, women are created equally, and given inalienable rights. Women, of course, deserve religious freedom. But I disagree with her suggestion that religious freedoms differ for men and women. Or, as she suggests, that that religious freedom is based upon an individual's conscience.
"In virtually all religious traditions, 'listening to the heart' and being able to act on the promptings of conscience is the absolute, non-negotiable bottom line for having religious freedom," she wrote.
But "everyone did what was right in their own eyes" makes for poor consciences and bad law. There is a good reason why U.S. courts' decisions on religious free exercise take into account actual religious teachings rather than arbitrary, personal definitions of what is right and wrong. My faith tradition has thousands of years of historical doctrine that richly informs all of our moral and ethical decision-making. Some of it is about the role of men and women—and most of it finds gender differences irrelevant. It is about humanity as a whole. Our faith is not about petty biological differences and personal egos. It is about the salvation of the entire human race. Anything that forces us to act contrary to the dictates of our faith is an affront to all that our forefathers had designed and for which our men (and women) have fought.
Honestly, I should have expected the angry blowback yesterday from the feminist crowd regarding the "all-male" panel. The outcry caused me to step back and admire an adept strategy by some to throw a red herring in the way of public disputation and detract from the real issue of concern.
As a Christian woman, I applauded this discussion by the House oversight committee on threats to our freedom of religion. Silly me: Who knew this (and every other topic under God) must be primarily about exclusively women's rights? Silly me: I thought this was about my freedom to exercise my religious beliefs in a way that honors my faith tradition's historical doctrines and practice. Silly me: I thought this was about the Constitution.
I work for a self-insured religious employer. In fact, I work for the Lutheran Church—Missouri Synod, which was represented on the panel by the Rev. Dr. Matthew Harrison, president of our 2.5 million-member national denomination. For years my family and I have been covered by our church's insurance plan, which has never provided contraception or birth control in its coverage. Our health plan doesn't cover these products because our church body values the sanctity of human life from the moment of conception, and because the mechanism of action for the various categories of hormonal birth control products can be unclear. Rather than guesstimate on what classifies as an early abortifacient and what doesn't, our health plan doesn't cover any form of contraception in order to protect the consciences of the many members of this plan who might share different ideas. I never expected our insurance plan to cover a drug that, to me, seemed a matter of personal choice. After all, they don't cover my vitamins either.
The claim by the pro-Obamacare folks that contraception is "preventive care" is messing with the lexicon of medical definition. Quite simply, pregnancy is not a disease. So therefore, pregnancy does not require preventive care. Instead, it requires "diagnostic care" for the health of the mother and baby. This is something entirely different. We cannot succumb to the mantra that killing unborn children is preventive care.
As a woman, I was embarrassed by the cry of "Where are the women?" because I don't give a rip what gender is speaking about religious freedom as long as it is being addressed. It matters to us all—at least I thought it did. It certainly did to our Founding Fathers who penned the Constitution. And it certainly did to my ancestors who came to this country over a hundred years ago to find the freedom to exercise their faith in a robust and unencumbered way. Rep. Maloney's, and others', insistence that this is primarily a matter of "women's health" is an intentional (although I must say, masterful) attempt to redefine the argument, gain liberal momentum, and detract from the critical issue at hand.
Curiously, before the hearing there was apparently no great concern by the House minority on that committee to get a woman on the witness panel because they didn't make the effort to file the female witness' paperwork in time. The other witness they recommended was a man (who, incidentally, didn't show up). Not to mention that there was a woman (who objected to the HHS mandate) on the second panel of the discussion—but by then the "all male" photo had gone viral and Nancy Pelosi (D-CA) was already holding her own press conference in another wing to lead the charge of taking offense.
What those angry gals fail to realize is that as a Christian woman I was brilliantly represented on that House committee panel. In my first vocation as a Christian, I cheered the testimony of those brave men of the cloth because they represented me. They shared their concerns for the integrity of the free exercise of our faith traditions along with respect for the First Amendment of the Constitution. In my second vocation as a woman, I cheered again because that panel was filled with some of the finest theological leaders of our day. They made my case to congress and they did it exceptionally well. Other women concerned about the ability to maintain their choice to exercise their faith (without the interference of an over-reaching government) should cheer too.
Maggie Karner is the director of LCMS Life and Health Ministries.
Related Elsewhere:
Christianity Today's earlier coverage of health care, contraception, life ethics, and politics includes:
Obama Does Not Widen Religious Exemption for Contraceptive Mandate | The burden to cover contraception shifts to the insurance companies, but an earlier exemption for religious groups will not change. (Feb. 10, 2012)
First They Came for the Catholics: Obama's Contraceptive Mandate | An open letter to evangelical Christians. By Timothy George and Chuck Colson (Feb. 8, 2012)
Evangelicals Mounting Concerns over Obama Administration's Contraceptive Mandate | Protestants are increasingly joining Catholics in protesting Health & Human Services mandate. (Feb. 2, 2012)
The Ironies of Obama's National Prayer Breakfast Speech | The President seems to be debating himself on religious motivations and the common good. By David Neff (Feb. 3, 2012)
Your Insurance May Already Cover 'Abortion-Inducing Drugs' | Health and Human Services ruled last week that insurance plans must provide contraception with no copayment. (August 12, 2011)
Reforming Health Care Reform | How states are blocking abortion coverage. (June 29, 2010)
Health Care Reform Enacted—Now What? | Activists react to the new health care law and reignite a movement for immigration reform. (March 26, 2010)
CT covers more political developments on the politics blog.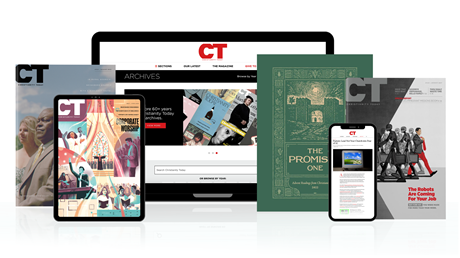 Annual & Monthly subscriptions available.
Print & Digital Issues of CT magazine
Complete access to every article on ChristianityToday.com
Unlimited access to 65+ years of CT's online archives
Member-only special issues
Subscribe
Where the Women Were During the House Contraception Mandate Hearing
Where the Women Were During the House ...