President Barack Obama's address to the National Prayer Breakfast this week echoed themes from his much-admired (and much criticized) 2006 Call to Renewal keynote speech on the role of religion in political life. (I, for one, liked it.)
In that speech, he chastised his fellow progressives not only for trying to exclude religious viewpoints from political discourse and public life, but also for assuming that they could have any hope of reforming American society without appealing to the religious sensibilities of the 90 percent of Americans who believe in God. The religious faith of the American people was an essential element that drove compassion for others and a commitment to right living.
In Thursday's address, he tried to model the theory he articulated in 2006, linking it strongly to his personal prayer life.
The President said that he talks about "shared responsibility" because he "genuinely believe[s] that in a time when many folks are struggling, at a time when we have enormous deficits, it's hard for [him] to ask seniors on a fixed income, or young people with student loans, or middle-class families who can barely pay the bills to shoulder the burden alone." "I think to myself," he continued, "if I'm willing to give something up as somebody who's been extraordinarily blessed, and give up some of the tax breaks that I enjoy, I actually think that's going to make economic sense."
He based his willingness "as a Christian" to give something up for the common good on "Jesus' teaching that 'for unto whom much is given, much shall be required.' " He went on to state that other policies he has pursued—ranging from fostering lifesaving medical research to preventing violence in Uganda—stemmed from biblical principles: "Treating others as you want to be treated. Requiring much from those who have been given so much. Living by the principle that we are our brother's keeper." And "speak[ing] up for those who cannot speak for themselves, for the rights of all who are destitute."
Unfortunately, the speech to that point could have been construed as an attempt by the President to justify his policies with religious principles. Fortunately, he made it clear (citing no lesser an authority than C. S. Lewis) that it was dangerous to try to baptize specific policies as "biblical." The religious principles drive us to action, but they do not in and of themselves dictate what actions we should take as a society. Religious principles should motivate us more than they inform the specific shape of our policies.
As he spoke about the need for action, the President rehearsed his administration's collaboration with various faith-based agencies—including Catholic Charities. That was an ironic inclusion, given the fact that Catholic Charities has been excluded from government partnerships in places like Illinois and Oklahoma because it has religious scruples against placing children for adoption or foster care with same-sex couples. (This conflict, mostly at the state level, has been exacerbated by the actions of the Obama administration's Justice Department in promoting the cause of gay and lesbian partnerships and its refusal to stand by the Defense of Marriage Act.)
The President talked about pursuing the common good with shared good will and respect for our differences. It is too bad that his own policies have marginalized the contributions of Christian agencies.
* * *
Yesterday's event was the National Prayer Breakfast, and President Obama made a point of framing his speech by references to prayer. Early in the speech he said:
I wake up each morning and I say a brief prayer, and I spend a little time in Scripture and devotion. And from time to time, friends of mine … like Joel Hunter or T. D. Jakes [also mentioned in his 2006 Call to Renewal speech], will come by the Oval Office or they'll call on the phone or they'll send me a email, and we'll pray together, and they'll pray for me and my family, and for our country.
The President ended by recounting his visit to Billy Graham's Montreat, North Carolina, home, where the aging evangelist prayed for the President and the President prayed for the evangelist. It was a touching scene that he evoked.
I have fallen on my knees with great regularity since that moment—asking God for guidance not just in my personal life and my Christian walk, but in the life of this nation and in the values that hold us together and keep us strong. I know that He will guide us. He always has, and He always will.
In 2009, Peter Wehner of the Ethics and Public Policy Center praised the wisdom of Senator Barack Obama's Call to Renewal speech and complained about his subsequent tendency as President to appeal to biblical values to drum up support for his specific initiatives, to the point of telling a group of clergy that in promoting the Affordable Care Act, "We are God's partners in matters of life and death." Thus Wehner, who has chastised both the Left and the Right on this score, could speak of Obama claiming God's imprimatur. Now, in this speech, the President once again juxtaposes the necessary cautions with a sense that he is on a mission from God. Will Christians on the other side of the aisle remember his generous offer to work together despite their differences? Or will they feel marginalized by his claiming biblical authority for his policies?
David Neff is Editor in Chief of Christianity Today.
Related Elsewhere:
The full text of the President's remarks are at the White House website. C-Span has video. CT has more coverage of the prayer breakfast and the administration's decision on contraceptives.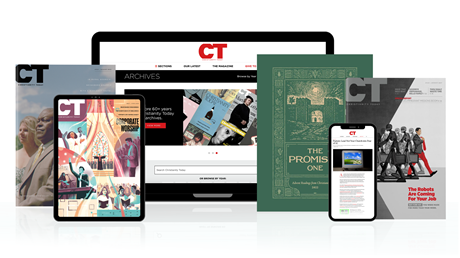 Annual & Monthly subscriptions available.
Print & Digital Issues of CT magazine
Complete access to every article on ChristianityToday.com
Unlimited access to 65+ years of CT's online archives
Member-only special issues
Subscribe
The Ironies of Obama's National Prayer Breakfast Speech
The Ironies of Obama's National Prayer Breakfast Speech