Dear Brothers and Sisters in Christ:
As you probably know by now, Obama Administration has refused to grant religious organizations an exemption from purchasing health insurance that covers abortion-inducing drugs, surgical sterilization, and contraception.
The Catholic bishops in America have responded quickly, decrying the Administration's decision for what it is—an egregious, dangerous violation of religious liberty—and mobilizing a vast grassroots movement to persuade the Administration to reverse its decision.
We evangelicals must stand unequivocally with our Roman Catholic brothers and sisters. Because when the government violates the religious liberty of one group, it threatens the religious liberty of all.
Many bishops have already declared that they will not obey this unjust law. The penalty for such a move would be severe. Catholic hospitals, universities, and other organizations would be forced to pay punitive fines ($2,000 per employee) for refusing to purchase insurance that violates the teaching of their church.
For some institutions, it would spell the end of their existence—and their far-reaching service to the public and the needy.
But Catholic institutions aren't the only ones affected by this mandate. Prison Fellowship, for example, which employs 180 people, could not purchase insurance for its employees that covers abortifacients. Nor could the world's largest Christian outreach to prisoners and their families afford the fines we would incur.
 Three years ago, when we co-authored the Manhattan Declaration, we predicted that the time would come when Christians would have to face the very real prospect of civil disobedience—that we would have to choose sides: God or Caesar.
Certainly for the Catholics and for many of us evangelicals, that time is already upon us.
We would urge you, therefore, to raise your voice against this unjust mandate that violates our first freedom as Americans. First, please sign the petition to President Obama prepared by the Becket Fund for Religious Liberty, which we have posted at the Manhattan Declaration site, demanding that the President extend exemptions from this onerous mandate to all religious employers.
Second, write to your representative and your senators in Congress.
Third, sign the Manhattan Declaration. Join with 500,000 people who have committed to "fully and ungrudgingly render to Caesar what is Caesar's. But under no circumstances will we render to Caesar what is God's."
Fourth, pray. Pray that God would soften the hearts and minds of the president and the leaders within his administration so that they would reverse course. 
We do not exaggerate when we say that this is the greatest threat to religious freedom in our lifetime. We cannot help but think of the words attributed to German pastor Martin Niemoeller, reflecting on the Nazi terror:
First they came for the Socialists, and I
did not speak out —
Because I was not a Socialist.
Then they came for the Trade Unionists,
and I did not speak out —
Because I was not a Trade Unionist.
Then they came for the Jews, and I did
not speak out — Because I was not a Jew.
Then they came for me — and there was
no one left to speak for me.
In Christ,
Chuck Colson
Timothy George
Charles Colson is founder of Prison Fellowship, Breakpoint, and several other ministries. Timothy George is dean of Beeson Divinity School at Samford University and Chairman & President of the Colson Center for Christian Worldview.
"Speaking Out" is Christianity Today's guest opinion column and (unlike an editorial) does not necessarily represent the views of the magazine.
Related Elsewhere:
Earlier this week, Christianity Today reported how Protestants are increasingly joining Catholics in protesting the Health & Human Services mandate.
Previous coverage of health care, contraception, life ethics, and politics includes:
Your Insurance May Already Cover 'Abortion-Inducing Drugs' | Health and Human Services ruled last week that insurance plans must provide contraception with no copayment. (August 12, 2011)
Reforming Health Care Reform | How states are blocking abortion coverage. (June 29, 2010)
Health Care Reform Enacted—Now What? | Activists react to the new health care law and reignite a movement for immigration reform. (March 26, 2010)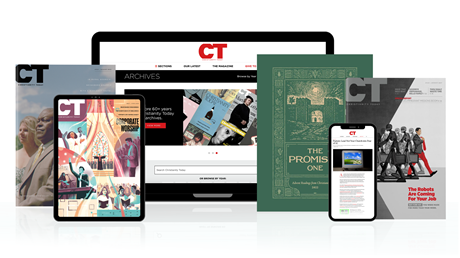 Annual & Monthly subscriptions available.
Print & Digital Issues of CT magazine
Complete access to every article on ChristianityToday.com
Unlimited access to 65+ years of CT's online archives
Member-only special issues
Subscribe
First They Came for the Catholics: Obama's Contraceptive Mandate
First They Came for the Catholics: Obama's Contraceptive Mandate