The U.S. Department of Health and Human Services announced last week that beginning next year, all insurance plans must provide a wider range of services to women, including coverage for all Food and Drug Administration (FDA) approved contraceptives. These include drugs that pro-life groups call "abortion-inducing drugs." The Southern Baptist Convention's Richard Land called the decision "an abomination." However, since 29 states already require contraception coverage, many Americans already belong to insurance prescription plans that cover these medications.
The Affordable Care Act (ACA) passed last year will expand the requirement to the entire country, requiring that all insurance policies provide preventative services. As in the states that already require coverage, preventative services would include all FDA-approved contraceptive methods. The Health and Human Services ruling would go further, however, since insurance companies would be required to provide contraception with no copayment.
The controversy over the ruling mostly revolves around two contraceptives approved by the FDA, ella (ulipristal acetate) and Plan B (levonorgestre). These drugs work by making it unlikely that an embryo will be able to attach to the wall of the uterus.
For pro-life groups, such medications are morally (if not medically) abortifacients, drugs that cause an abortion. They are not abortifacients legally, however. According to medical definitions:
— Pregnancy is a condition of the mother, beginning when the embryo attaches to the uterine wall.
— Contraception lowers the chances of pregnancy; it includes medication that blocks fertilization, but also drugs that prohibit a pregnancy after conception.
— Abortion is the termination of a pregnancy. A drug that works before the embryo attaches to mother is contraception; one that occurs after pregnancy starts is an abortifacient.
Drugs such as ella and Plan B are approved for contraceptive use because they prevent pregnancy. According to the FDA, the drugs are emergency contraceptives that should be taken within five days of "a contraceptive failure or unprotected intercourse." They are not intended as routine contraceptives. Women who suspect that they are pregnant are advised to not take the drug.
Richard Land from the SBC dismissed such definitions. The issue, said Land, was the ending of the embryo, not the pregnancy.
"The 'medical field' is attempting to define something far above its pay grade. God has already made it clear in Holy Scripture that human life begins at conception, or fertilization, and all of the unique, biological characteristics of that particular child are determined at the moment of conception, not implantation (Jeremiah 1:5, Psalm 139:13–16, Psalm 51:5). The use of taxpayers' money to fund killing such babies is an abomination," Land said.
Americans United for Life staff counsel Anna Franzonello testified before the Institute of Medicine (IOM), which made the recommendations to Health and Human Services. Franzonello argued against the inclusion of such drugs in the list of preventative services because they may work after pregnancy begins.
"The IOM recommendation would make the abortion inducing drug ella part of the health care coverage that every American will be forced to buy. Despite the fact that ella can kill a human embryo even after implantation, the [FDA] has labeled the drug as emergency contraception," Franzonello said. "This really was a one-two punch by the FDA and IOM to force all Americans to pay for the abortion-inducing drug."
According to scientific research on ella (which was approved by the FDA last year), the drug can cause an abortion at a higher dose. At the FDA-approved dose, animal testing suggests that it has a contraceptive effect (i.e., post-fertilization, pre-implantation effect).
The new ruling will require insurance to cover ella and Plan B, along with routine contraception. Most Americans who have health insurance already belong to plans that cover this medication. Most state Medicaid plans also include prescription contraception coverage.
It can be difficult to find out if a particular plan covers emergency contraception. We investigated one large religious-based plan: the health care plan offered by the Southern Baptist Convention. The SBC provides health care coverage through GuideStone Financial Resources. The plans offered by GuideStone prohibit "elective termination of pregnancy by any method." But ella and Plan B are regulated contraceptives, not abortifacients. According to documents from Medco, which provides Guidestone coverage, contraceptive coverage for the SBC plan included both ella and Plan B, as well as other contraceptives. A call to Medco's customer service confirmed that the GuideStone plan covered these drugs.
GuideStone said that this was not accurate. It said it considers both drugs to be abortifacients and does not cover them. In a statement, GuideStone told Christianity Today, "Since the outset of healthcare reform GuideStone has been actively engaged in efforts to protect church plans from any requirements that would violate Southern Baptist convictions regarding the sanctity of life and other matters, and we will continue to do so."
GuideStone, like many religious-based groups, is not required to provide contraception if it runs counter to their beliefs. It is located in Texas, which is one of many states that require insurance plans to cover FDA-approved contraception (which includes ella and Plan B). The state exempts religious groups from providing coverage that goes against their religious beliefs (except in the case of the life of the mother).
Health and Human Services provides a similar exemption for religious groups who oppose contraception. But as in many states, this would not apply to faith-based groups that employ people of different faiths. A Catholic hospital, for example, would not be exempt. The Family Research Council's Jeanne Monahan called the religious exemption "a fig leaf."
"Religious groups that provide social services, engage in missions work to people of different religious faiths, religious health insurance companies, let alone religious health care providers and individuals in such health plans are not protected from any discrimination whatever," Monahan said. "The new rule will force many Americans to violate their consciences or refrain from participating in health care insurance, further burdening an already costly system."
The new rule on preventive care and contraceptives goes into effect in August 2012.
Related Elsewhere:
Previous coverage of health care, contraception, life ethics, and politics includes:
Reforming Health Care Reform | How states are blocking abortion coverage. (June 29, 2010)
Health Care Reform Enacted—Now What? | Activists react to the new health care law and reignite a movement for immigration reform. (March 26, 2010)
Pharmacists with No Plan B | Freedom of conscience and 'reproductive rights' clash at the local drugstore. (August 1, 2006)
CT covers more political developments on the politics blog.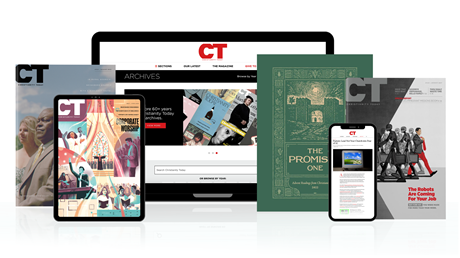 Annual & Monthly subscriptions available.
Print & Digital Issues of CT magazine
Complete access to every article on ChristianityToday.com
Unlimited access to 65+ years of CT's online archives
Member-only special issues
Subscribe
Your Insurance May Already Cover 'Abortion-Inducing Drugs'
Your Insurance May Already Cover 'Abortion-Inducing Drugs'