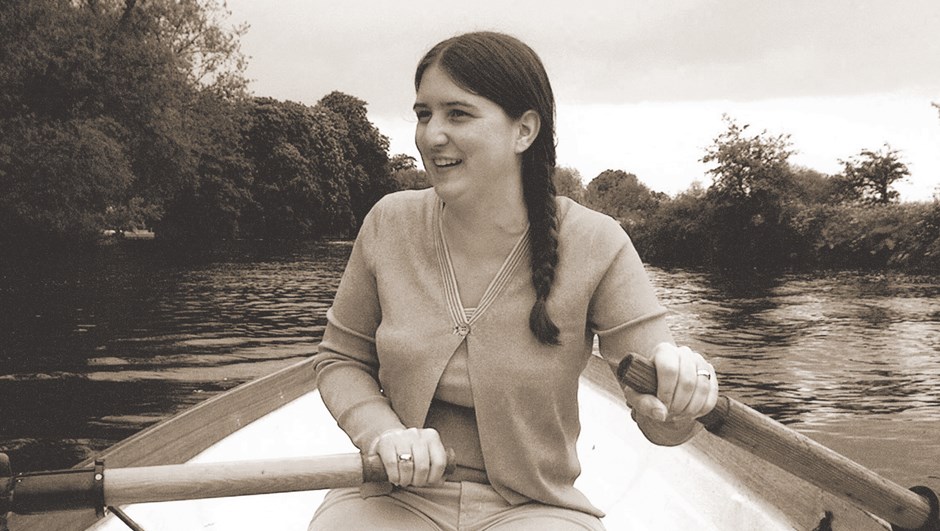 Image: Courtesy of Ben Witherington
The phone rang late Wednesday night near the beginning of the New Year, January 11, 2012. It was Sarangan Sankar, Christy's boyfriend. He was barely intelligible because he was crying so much. He had just been on the phone with the Durham, North Carolina, police who had cordoned off Christy's home. The words he spoke were, "Christy is gone. She was found dead in the house. Christy has passed away."
I was desperate for more information. But Sara was in Philadelphia trying to board a plane for Durham, so I had to let him go. He didn't know any more at that point anyway, and it would have been unkind to press him for details. What did details matter if the fact was certain? Christy was dead.
I hollered to Ann, my wife, who was downstairs in our Lexington, Kentucky, home. Suddenly we were hugging each other for dear life. Ann kept saying, "I knew! In my heart, I knew!"
Since Monday she had been carrying around a premonition that something was wrong. On that day, she listened to a voicemail from Christy's boss at IBM, Paul Haberman, who said Christy had left a message for him saying she wasn't feeling well. Attempts to call her had failed. That wasn't terribly unusual, but worries arise when you know your child is home alone.
Later we learned that Sara had talked to Christy Monday night, and she had seemed fine then. But she did not show up for the weekly Tuesday night board game party that she so enjoyed. By Wednesday, Sara was worried and asked a close friend to break into the house if necessary. James climbed in through a window. He found Christy lying on the floor upstairs and called 911, but he knew she was gone. Sara arrived at midnight, but he wasn't allowed in the house, a potential crime scene. All he could do was stand outside and talk with the police chaplain. Finally, around 3 in the morning, officials decided there had been no foul play or crime, so they removed the body and took it to the medical examiner's office in Chapel Hill.
We felt a deep need for companionship. Given that we have no family within 500 miles, we called our dear friends, Bill and Susan Arnold, who stayed and prayed with us until midnight. Finally, we lay down in our bed, trying to comprehend the reality until the dawn. My heart was pounding; my breath was short. We both cried; we both prayed. Every parent's worst nightmare had come to pass.
So many thoughts and feelings run through your head and heart when you get a phone call like that. My mind darted through instant replays, from waving goodbye to Christy as she drove off to North Carolina on December 31 to holding her after her birth on August 14, 1979, in Durham, England. She is gone from this earth until the Resurrection. Until then, she will not come back except in the form of memories.
Was This God's Will?
From the day Christy died, I was determined to be open to whatever positive thing there might be to glean from this seeming tragedy. I clung to the promise of Romans 8:28, that "God works all things together for good for those who love him."
The first point immediately confirmed in my heart was theological: God did not do this to my child. God is not the author of evil. God does not terminate sweet lives with a pulmonary embolism. Pulmonary embolisms are a result of the bent nature of this world. As Ann kept repeating, "God is not the problem; he is the solution."
One primary reason I am not a Calvinist is that I do not believe in God's detailed control of all events. Why? First, because I find it impossible to believe that I am more merciful or compassionate than God. Second, because the biblical portrait shows that God is pure light and holy love. In him there is no darkness, nothing other than light and love. And third, the words, "The Lord gave, and the Lord has taken away," from the lips of Job (1:21), are not good theology. According to Job 1, it was not God but the Devil who took away Job's children, health, and wealth. God allowed it to happen, but when Job said these words, as the rest of the story shows, he was not yet enlightened about the true nature of the source of his calamity and God's actual will for his life. God's will for him was for good and not for harm.
The beginning of "good grief" starts with the premise of a good God. Otherwise, all bets are off. If God is almighty and malevolent, then there is no solace to be found in him. If God is the author of sin, evil, suffering, the Fall, and death, then the Bible makes no sense when it tells us that God tempts no one, that God's will is that none should perish but have everlasting life, and that death is the very enemy of God and humankind that Jesus, who is life, came to abolish and destroy.
Jesus said, "I came that they may have life and have it abundantly" (John 10:10). If there are promises I cling to as I weep for our Christy, it is this promise, not the sorry solace and cold comfort of, "God did this but we do not know why." No! A thousand times, no. God and his will are aligned with what is good and true and beautiful and loving and holy.
Days later, as I stood before the casket and stared at our "Christy girl," as we called her, I was so thankful that the God of the Resurrection had a better plan for her. Her lifeless body was so cold, so empty. The phrase, "It's all God's will," is cold comfort. I believe in a God whose "Yes!" to life is louder than death's "No!" Death is not God's will. On the contrary, God is in the trenches with us, fighting the very same evils we fight in this world—disease, suffering, sorrow, sin, and death itself. He cries with us.
What Good Grief Looks Like
For some, the phrase "good grief" (if not immediately associated with the Peanuts cartoon strip) seems something of an oxymoron. What can be good about grieving a departed loved one? In the first place, there is such a thing as bad grief: inconsolable grief, grief that consumes the griever, or grieving without hope. The Bible doesn't commend or command that sort of grieving.
Paul discusses good and bad grief in 1 Corinthians 15. He tells us that grieving is both normal and natural even for Christians. In Christy's eulogy, we wrote,
It was C. S. Lewis who said that you can tell the depth of how much someone loved and was loved by the depth of the grief when that person goes on. Christy loved us deeply, and we grieve deeply. But we will continue to remember her sparkling smile, and cherish personal memories we hold close in our hearts.
Just so. It is right for Christians to grieve. Those who have loved and been loved much, grieve much. However, Paul adds a proviso: "But do not grieve like those who have no hope."
I have met Christians who thought they had to be Stoics, to pretend they didn't hurt. Strong people (especially men), they believe, should not allow themselves to grieve deeply and should certainly not let their grief show. Wrong. That's Stoic apatheia: the aim of avoiding deeper emotion or pathos. That is not Christian theology at all. Christians are the very ones to grieve deeply because they have loved and been loved deeply.
One thing I have noticed about this unfathomable good grief is that any little incident can trigger it. When I see a party, I think of the one Christy gave me for my 60th birthday, and I cry. When I walk by her room and see the glitter stars on the ceiling glowing at night, I cry. When I see her picture, any picture, I cry. When I walk in the house from our garage, I see the pencil marks where we measured Christy's and David's heights as they grew, and I cry. And it's okay. Men need to let themselves grieve just as much as women do.
Here is one paradox of grieving. Grieving, for a Christian, is about you. We are not grieving because someone is pain-free in heaven with the Lord! That's cause for celebration! We are not grieving the condition of the Christian loved one who is deceased. For the Christian, to be absent from the body is to be present with the Lord. There is nothing grave in that. No, we are grieving for our own sense of loss, our own sorrow over the sudden departure, our own feelings of being alone. Grief is the self's shock over what has happened to itself, and the shock is both physical and emotional.
Something is wrong, terribly and profoundly wrong, if we have no capacity to mourn the passing of someone we have loved with all our heart. In other words, it takes a strong person to weep and not be afraid to show your mortality and vulnerability. Our macho culture doesn't get that. There may be "no crying in baseball," but there is in life. We need to let ourselves grieve. Among other things it makes us more humane and compassionate with the slings and arrows of outrageous fortune that others experience.
So, if you see me and I am a bit teary, it's okay. God is reminding me of the eternity he's placed in my heart. And he's helping me appreciate the depths of what I miss: Christy.
Yes, if a Christian's grieving goes on perpetually, it becomes apparent that the person is too self-absorbed. Perhaps you are enjoying a pity party, enjoying all the attention and sympathy it brings not to your departed loved one but to you! I have ministered to people like that. I remember an elderly woman who, even though her husband had died 30 years previously, still had not gotten beyond his passing. Instead, she was dwelling on the past wistfully while missing the opportunity to go on living positively. Much though I tried, I couldn't talk or pray her out of her funk. Her experience of grief had made her bitter, not better.
What does it mean, then, to grieve as one who has hope? It means we grieve with one eye forever fixed on the eschatological horizon—that is, looking to the end of history. It means we grieve knowing that resurrection will reverse death. It means we grieve knowing that death will not have the last word. Paul reminds us of the old saying, "Who hopes for what they already have?" (Rom. 8:24). The hope to which he refers is not something we possess now in a fully realized form. While I may have comfort and solace and peace now, none of this is my hope.
My hope is in nothing less than a dramatic reversal of death in the flesh. My hope is not even just in the Risen One, though that is true enough, but in his promise to raise from the dead those who are in Christ. Nothing less than this is my hope. So as I grieve for Christy, I do so in the sure and certain hope of the Resurrection. I cannot wait to see her new resurrection form! If she is any more bright and beautiful than she is in the photo here, I will need strong sunglasses to view her.
Death has a way of convincing us of what matters in life. It shuts up our squabbles and complaints. What really matters about the future is our bodily resurrection—not harps and clouds, not celestial music and comfort.
That is my hope, and that is my faith, and there are reasons I hold to this. It is not a blind or illogical faith, or one unfounded on evidence. I hold to this not simply because Jesus rose from the grave but also because I remember that Jesus raised Jairus's daughter from the dead. I can hear him say at the end times to my Christy girl, Talitha kumi—"Little girl, arise!"
Although I am tearing up as I write this, Paul's words remind me that it's okay to have tears in our eyes as long as we have hope in our hearts.
Ben Witherington is professor of New Testament at Asbury Theological Seminary in Wilmore, Kentucky. The Christy Ann Witherington scholarship has been set up in her memory at Asbury Seminary. To make a tax-deductible contribution, contact Jay Endicott at the seminary.
Related Elsewhere:
Download Ben Witherington's new eBook, When a Daughter Dies, now available at CTeBooks.com.
Previous Christianity Today articles on grief, death, and dying include:
Owning Redemptive Grief after the Ohio School Shooting | Instead of speculating on why T.J. Lane killed three of his classmates, we are better off asking how to grief the tragedy rightly. (Her.meneutics, March 1, 2012)
Why a Funeral Is Not the Time to Rejoice | We can let this season of Lent be Lent, so that Easter can be Easter. (Her.meneutics, February 29, 2012)
Boundaries in Grief | Why medicine should never trade places with a time to properly mourn. (August 20, 2010)
A Culture of Resurrection | How the church can help its people die well. (June 7, 2010)
Have something to add about this? See something we missed? Share your feedback here.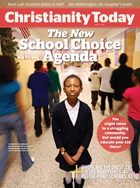 This article is from the April 2012 issue.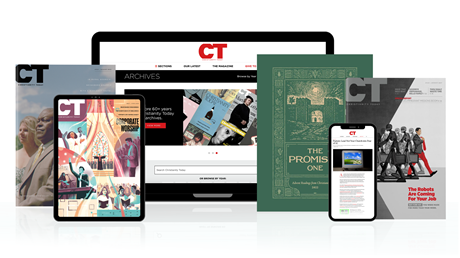 Annual & Monthly subscriptions available.
Print & Digital Issues of CT magazine
Complete access to every article on ChristianityToday.com
Unlimited access to 65+ years of CT's online archives
Member-only special issues
Subscribe
What Good Grief Looks Like When a Daughter Dies
What Good Grief Looks Like When a Daughter Dies