Helping the Poor
Christianity Today's recent cover story "Cost-Effective Compassion" sought to delineate the best ways to eliminate poverty. All the strategies listed have merit and value, but the reality is much more complicated.
Without broadening the poor's understanding of the "why," the proposed solutions do not help much. The head of our nonprofit told me to forgo physical development. He could get plenty of groups to focus on clean water, nets, child sponsors, and so on. Instead, he suggested I focus on what we call "human resource development": long-term investment in working directly with the people. Often the gains are imperceptible, but without it, physical development quickly becomes what the locals call "monuments" to those who built them.
Neil Johnston
Grand Prairie, Texas
I was surprised that in your list of the top 10 strategies for poverty alleviation, only one directly relates to job creation. Ward Brehm, author of White Man Walking, wrote, "The best way to help the poor is to help them not be poor anymore." Wouldn't job creation and employment be the most fundamental part of accomplishing this?
Job creation is the engine of economic growth and organizations. There is so much more potential for Christ-centered microfinance (including not just small loans but also entrepreneurship training and savings services) and other employment-based solutions to be embraced by the church as we address a basic component of poverty alleviation: helping the financially poor find jobs.
Peter Greer
President, hope International
Lancaster, Pennsylvania
Editor's Note:For more responses to our February package on poverty, visit MoreCT.com/morepoor.
Naming the Blame
I appreciated the article about the rising sea level around Tuvalu and the theological questions it raises for Christian inhabitants ["Natural Theology," Briefing]. However, I was disheartened that one professor blamed "human behavior and injustice" for the destruction. Global climate change is not proven to be the cause of Tuvalu's problems. Some scientists say the cause is rather coral growth, land reclamation, and deposits of sediment.
It bothers me to see this allegation printed unchallenged, as if it's established fact. What makes it so dangerous is that the prescriptions for "fixing" this supposedly human-caused problem will impoverish and steal the liberties of countless millions through regulation and taxation.
Lynn Barton
Medford, Oregon
Health Crisis
At last, some real inroads into the brutal trade of abortion ["Un-Planned Parenthood"]. But the question remains: How will pro-lifers provide some of the services (outside of abortion, of course) now provided at low cost by Planned Parenthood? It's okay to win a victory like this, but are we, as advocates for an abortion-free world, prepared to pick up the slack and help women in trouble no matter the cost?
Richard Standley
E-mail
Two Thumbs Up
The "Critics' Choice Awards of 2011" is a great list. I am always encouraged by ct's good taste and high level of engagement with the arts. Christians need more of that—a willingness to see film as art and evaluate it on proper artistic terms, instead of constantly moralizing over whether scenes are "appropriate."
Stephen M.
E-mail
Defining Worship
CT's February editorial, "You Can't Worship Here," makes a valid theological point, one made by a court which is thus "establishing religion." But the editorial failed to note that neither a court, nor a school system, nor a government entity can or should determine church theology. The church must determine its own theology based, of course, on the Word of God. That the church should take the theological position that you point out the court came to is a valid point to make. But let us not confuse that with empowering courts or other government entities to determine or make decisions based on their view of church theology.
Kenneth Henes
Cottage Grove, Wisconsin
Graham and Stott Agree
The review of Alister Chapman's Godly Ambition ["Stott Life Portrait"] states that Billy Graham disagreed with John Stott with regard to the Lausanne Covenant's affirmation that sociopolitical involvement is a Christian duty. This is misleading. Graham signed the Lausanne Covenant publicly. He certainly affirmed the entire covenant, including the statement that "evangelism and social-political involvement are both part of our Christian duty."
There was disagreement several months later at the initial meeting of the Lausanne Continuation Committee in Mexico City, as to our mandate. Was it to promote evangelism pure and simple (a "narrower" purpose), or the whole biblical mission of the church (a "wider" mandate)? Graham and Stott did initially differ on this. The disagreement, however, was not over sociopolitical involvement as a Christian duty, but about the particular focus of the committee.
In the end it was formally—and, I believe, wisely—agreed that the mandate of the Lausanne Committee was to further the total biblical mission of the church, recognizing the central place of evangelism in that mission.
Graham and Stott may have had different approaches and emphases in these matters and in their respective callings, but the statement in the review is not correct.
Leighton Ford
Honorary Lifetime Executive Chair
The Lausanne Movement
Charlotte, North Carolina
What got the most comments in February's CT
40% Cost-Effective Compassion Bruce Wydick
14% A Most Personal Touch Mark Galli
Readers' Pick
The most praised piece in February's CT
Cost-Effective Compassion by Bruce Wydick
Worth Repeating
Compiled by Elissa Cooper
"I see a combination of masculine and feminine attributes in Jesus. Are we to reject his feminine side?"
vrob125, pondering John Piper's recent statement that "God gave Christianity a masculine feel."
Her.meneutics: "John Piper and the Rise of Biblical Masculinity," by Rachel Stone
"The only thing established was that one man has a wavering opinion about who God is."
Lynette, following the second annual Elephant Room, at which pastor T. D. Jakes talked about his own change in beliefs on the Trinity.
CT Liveblog: "T. D. Jakes Embraces Doctrine of the Trinity, Moves Away from 'Oneness' View," by Michael Foust, Baptist Press
"It keeps us from supporting something in which we should be ahead of the world, not trailing."
Phillip, expressing disappointment that Christians have difficulty appreciating art and artists.
CT Entertainment Blog:"Derek Webb's Feedback Film: What Just Happened?" by Mark Moring
"Doug Moo and his team have been extremely transparent about past mistakes in the process, but as far as the translation itself, it is still the most readable and balanced in terms of accuracy and clarity."
Jamie, applauding LifeWay for committing to keep the 2011 NIV translation in stores.
CT Liveblog: "Lifeway Declines SBC Request to Bar NIV from Stores," by Morgan Feddes
Related Elsewhere:
The February issue is available on our website.
Letters to the editor must include the writer's name and address if intended for publication. They may be edited for space or clarity.
E-mail: cteditor@christianitytoday.com
Fax: 630.260.8428
Have something to add about this? See something we missed? Share your feedback here.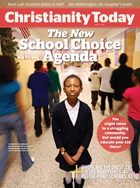 This article is from the April 2012 issue.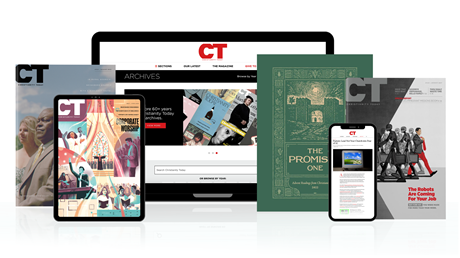 Annual & Monthly subscriptions available.
Print & Digital Issues of CT magazine
Complete access to every article on ChristianityToday.com
Unlimited access to 65+ years of CT's online archives
Member-only special issues
Subscribe
Letters to the Editor
Letters to the Editor