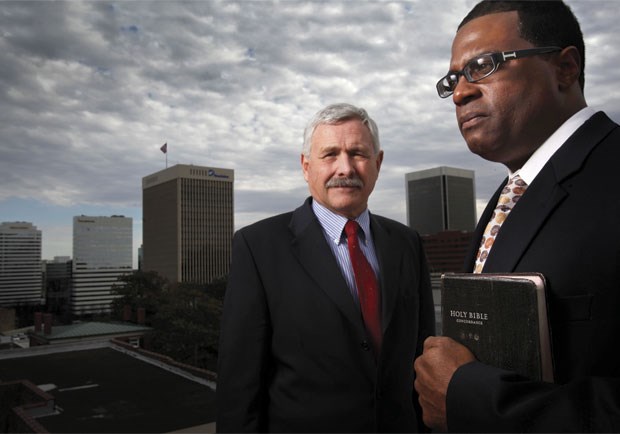 On the fourth floor of the Health District Building in downtown Richmond, Donald Stern's office is beginning to resemble a library with an unusual collection. On his desk, next to new editions of the World Health Report and Control of Communicable Diseases, are Race Matters by philosopher Cornel West, Was Bill Cosby Right? by Michael Eric Dyson, and the Moynihan Report, a controversial 1965 federal document that detailed crumbling relations in the African American family. Nearly 50 years after its publication, Stern says, it has proven "prophetic" in the former seat of the Confederacy.
Stern became Richmond's public health director after his boss urgently called him there in December 2006. He had spent the previous 25 years in some capacity in Virginia public health, tracking infection rates, administering flu shots, inspecting nursing homes—"I've done about every job a physician could do in Virginia public health," says Stern, an affable, mustached doctor trained in maternal and child health. But all that, he says, "was God's means of preparing me for my most challenging role," centered in Richmond.
'People in stable families with a married mother and father have higher high-school graduation rates and income. It's not only about the theological basis for the design of a man and a woman. When you look at out-comes, it's a no-brainer.'—Danny Avula, Richmond deputy public health director
"Here's some light reading for you," Stern says as he hands me Winning the Race: Beyond the Crisis in Black America , historian John McWhorter's landmark study on the effects of welfare reform since the 1960s. "Forty years of public policy around poverty and the war on drugs have, in McWhorter's words, sent the black community to hell."
That hell was clear to Stern when he, like any good doctor with a new patient, examined Richmond's vital signs. "Every health status indicator was worse than the state average. Then we looked at the indicators that were twice as high as the Virginia average: teen pregnancy, infant mortality, out-of-wedlock births, std infections, and lead poisoning. The first four are all a function of relationships between men and women."
The numbers led Stern to the same "inescapable conclusion" made by scores of sociologists, pastors, and pundits observing the post-Jim Crow black family: "There is a crisis in gender relations in the African American community. This is a painful reality."
Should a public health department—perceived as a government monolith unqualified to counsel individual men and women—try to change citizens' gender relations, encouraging fidelity, responsibility, and stable two-parent families?
When it costs a city $205 million every year in taxpayer dollars, say Stern and a number of Christians in Richmond, the answer is clear.
Nuclear Family by the Numbers
With a bottom-line, preventive approach, Richmond has since 2009 hosted one of the few U.S. public health programs whose mantra is "create a community culture connecting fathers to their families." Unlike most city governments, which respond to father absence by increasing aid to single women, the Richmond Family and Fatherhood Initiative (RFFI) uses ad campaigns, legislation, and partnerships with Richmond's sizable Christian community to reach its goal: Decrease the nonmarital birthrate, reconnect fathers to their children, and foster strong two-parent families—all for the future health of Richmond.
All 13 of RFFI's founders are committed Christians, including Brian Gullins, a black pastor who arrived in Richmond to plant a church in 2008. When Gullins needed a second job, Ron Clark, director of the National Responsible Fatherhood Clearinghouse, encouraged him to apply to become coordinator for "Man Up Richmond," a then-new program with the health district. After a series of interviews, Gullins met with Stern for lunch.
"I always thought father absence was a social services issue, but Dr. Stern elevated it to a public health issue," says Gullins, a former youth pastor and schoolteacher from Norfolk, two hours southeast of Richmond. "I had never heard that before. As I saw the tears well up in his eyes, I knew I had to be a part."
With Stern, Gullins convened a Core Team of local nonprofit heads, pastors, and doctors who understood the root causes of father absence. Using the research model of Benjamin Scafidi, a Georgia economist and author of the 2008 report "The Taxpayer Costs of Divorce and Unwed Childbearing," the team produced a "costs and solutions document" that translated Richmond's family fragmentation into raw taxpayer costs. "When we're talking with politicians, it's always important to understand the bottom line," says Gullins. "We needed to know how to talk their language, to get a handle on the cost."
The findings were sobering: Of all births in Richmond in 2007, 65 percent of children were born to single mothers. Among black children, that rate was 84 percent. (In 2007, the national nonmarital birth rate was 40 percent.) And the social service programs stepping in for broken family structures—child welfare, food stamps, housing assistance, and school meals, among others—were alone costing the city over $50 million annually. Martin Brown, Virginia Commissioner of Social Services and Core Team member, says the document revealed how much the God-ordained institutions of family and government had gotten entangled. "Each institution has either acquiesced or taken responsibility away from the other, and we've grown dysfunctional in solving some of our problems," says Brown. (Using Scafidi's model, Brown calculates that father absence costs the state $2 billion annually.)
The report also revealed how incarcerating men without offering rehabilitation has fragmented Richmond's families, costing $35 million annually in the process. (All interviewees for this story said the country's gross incarceration rates among black men amount to "the new Jim Crow," and recommended Michelle Alexander's new book of the same name.) "Those of us in public health apply preventive more than curative strategies," says Stern. "The curative strategy puts more money in jails. The preventive strategy asks, 'Wait a minute, why are these young men dropping out of school? What's happening to the father of this baby?' We're raising questions about the more fundamental elements."
Stern is clear that RFFI is about aligning Richmond's health stats with the state average, not about making "a religious, right-ring, Republican statement," as some have charged. "This is what the research shows."
"If you look at health, education, and poverty indicators, people in stable families with a married mother and father have higher high-school graduation rates and income," says Danny Avula, Richmond's deputy health director and Core Team member. "It's not only about the theological basis for the design of a man and a woman. When you look at outcomes, it's a no-brainer."
The Government Can't Change a Heart
But it's also been a no-brainer for Richmond's faith-based community, which Gullins says has responded overwhelmingly to RFFI.
Six years ago, Owen Cardwell started tackling family disintegration using a TV in the basement of his small church in the East Highland Park neighborhood. Moms and kids and aunts would arrive at New Canaan International and pay $30 to "visit" an incarcerated family member, sitting in front of a camcorder at one of nine state prisons. "Over six years, we've seen how impacting it is for children to visit with their fathers," says Cardwell, a Core Team member.
Starting in 2011—with training from RFFI and a $50,000 grant from Strengthening Families Initiative, a similar statewide program—Cardwell has been working to stop youth from going to jail in the first place. Every week, he and male volunteers from eight churches meet with 36 9th-grade boys at Armstrong High School to talk about healthy relationships, real heroes (as opposed to "media-created idols like Beyonce and Jay-Z"), and "character development," a sanctioned way to teach biblical values in the public schools.
"This is a dropout prevention strategy," says Cardwell, a Virginia civil rights hero for desegre-gating his Lynchburg high school at age 14. "If you work backwards, you find that 70 to 80 percent of persons who are incarcerated have a GED or less. At 14, the boys are not quite jaded enough to disregard us," noting the boys were captivated during a recent trip to the Black Caucus Expo in Washington, D.C.
'I always thought father absence was a social services issue, but Dr. Stern elevated it to a public health issue. As I saw the tears well up in his eyes, I knew I had to be a part.'—Brian Gullins, pastor
Another faith-based group, First Things First Richmond, meets with incarcerated men to encourage "manning up" and returning to their families after their sentence is over. Every Friday, staff teach inmates about relating to their kids and developing skills to enter the workforce. RFFI reached out to jail staff and provided curriculum from the National Fatherhood Initiative.
Due to the response from Richmond churches and nonprofits, Gullins is now working to replicate the rffi model in five other cities with high nonmarital birthrates, incubating "consortiums" of Virginia churches to work with men in each city. Regent University law students are compiling costs and solutions documents for the consortiums' use over the next two years. But city council members, school principals, and even business leaders are showing interest as well. "We've seen so many people from those institutions coming together," says Gullins. "Richmond is still a small city [about 200,000 in the city limits], and if you target the right people, you can create a cultural shift."
Avula attributes RFFI's success in part to the fact that Richmond "is a very religious, conservative town," noting that its mayor is an ordained black pastor. But a vocal minority says government should focus on upping support for single mothers, not getting dads back in the mix. "Stern is at a distinct disadvantage because he's an older white man," says Avula. "Bill Cosby got crucified a few years ago, and he was an icon in the black community. That's as clear an example as possible as to how countercultural this message is."
But the message seems to be resonating, however slowly. Gale Grant, adolescent health coordinator for the city, says her teachers address father absence indirectly, teaching teens in the local high schools about paternity laws and child support enforcement. "We say things like, 'For those of you who've grown up without a father, think how you feel.' We try to connect the dots on the emotional level," says Grant, a Core Team member. In 2011, she learned that the year prior, Richmond had the lowest teen pregnancy rate in over 20 years, at 61 births per 1,000 teens. (The abortion rate also decreased.)
In the meantime, RFFI's success in keeping the black family intact remains to be seen, evident after years of tracking welfare and incarceration rates. Right now, its impact may be known only to the on-the-ground Christian leaders building relationships.
"The government can provide research, resources, and training, but that's where we stop at the door," says Gullins. "When it comes to transforming a heart, we try to set the table for the faith community to do transformative work that comes through Jesus Christ. We're just the kingdom of God behind government lines."
Katelyn Beaty, CT associate editor, is editorial director for This Is Our City.
Have something to add about this? See something we missed? Share your feedback here.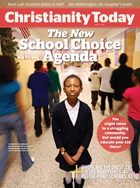 This article is from the April 2012 issue.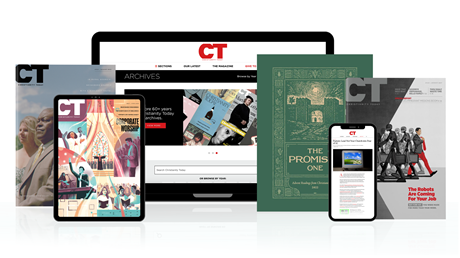 Annual & Monthly subscriptions available.
Print & Digital Issues of CT magazine
Complete access to every article on ChristianityToday.com
Unlimited access to 65+ years of CT's online archives
Member-only special issues
Subscribe
Where Are the Dads? Treating Richmond's Fatherless Epidemic
Where Are the Dads? Treating Richmond's Fatherless Epidemic