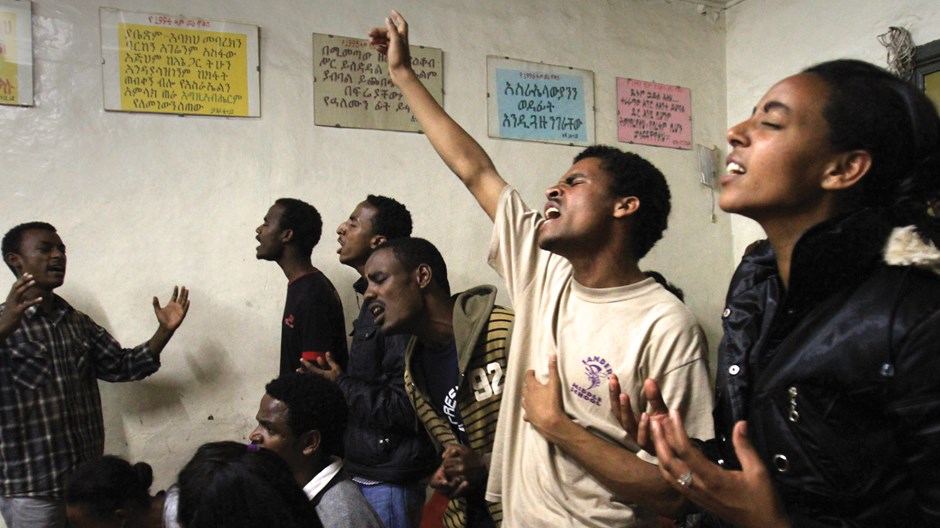 Image: Rick Egan
Preacher Yoshanis Asrat's frenzied homily pulsed over the tin shacks and mud homes of the Megenanga neighborhood in Addis Ababa. If you followed his voice and the blaring synthesized piano that accompanied it, you would arrive at his congregation, the Mascara Church—little more than a tent in a muddy backyard in Ethiopia's capital.
But in a black suit with his hair slicked back, and standing over a glass lectern in front of a large gold-colored cross, Yoshanis might as well be in a polished megachurch in a wealthy American suburb.
"Take Jesus," he shouted to his parishioners, scattered across the rows of rickety wooden benches. "Take him right now! Right now he will heal you!"
"Amen!" the congregants cried.
In 16 years, Yoshanis's flock has grown from a handful of members meeting around a kitchen table to a congregation of several hundred. That could be a testament to the pastor's electrifying orations. But such growth has not been uncommon for charismatic and evangelical churches in Addis Ababa, a city of 3 million people.
"We are growing into a modern country," Yoshanis said. "We have modern people here, and they want a modern church."
Ethiopia has 90 million people and is one of the world's fastest growing major nations, with a 3.1 percent increase in population from 2010. Over the past 30 years, that national population growth rate has averaged 2.7 percent per year. The rapid expansion is introducing historic change to the Ethiopian Orthodox Church, an ancient branch of Christianity.
As the world's largest Oriental Orthodox church, its identity is tied to traditions and some unique teachings that are more than 1,600 years old. (For example, opposing the Council of Chalcedon in A.D. 451—which taught that Christ existed as one person with two natures, human and divine—they believe that Christ's natures were united in one.)
According to Operation World, since 1974, the Protestant church has grown tenfold, representing about 20 percent of the current population. Many Ethiopian Protestants belong to indigenous evangelical or charismatic movements, historically linked to the Lutheran church, Sudan Interior Mission (now Serving in Mission), and the Mennonite Church.
Researchers expect these growth trends to persist for decades to come, leading to a deep shift in Ethiopia's religious landscape. But signs of significant change have already occurred.
Hungry for the Word
The story of Berhanu Aweku, a young adult born into an Orthodox family, reveals how change is unfolding at the ground level.
As he matured, Berhanu became increasingly hungry for God's Word. But in his hometown of Arba Minch, 300 miles south of Addis Ababa, the only Bible teaching he received came from Orthodox priests and monks, who have for generations seen themselves as the only trustworthy mediators of biblical truth for a population that is about 50 percent literate.
Berhanu said that several years ago, a friend introduced him to a "Pentay" church, a slang term for any non-Orthodox church in Ethiopia. His friend promised the inquisitive teenager an environment in which pastors would encourage him to examine the Bible for himself.
"In the Protestant church, you have the opportunity to make a study of the Holy Scriptures," the 20-year-old student and part-time disc jockey said. "That was something new for me." Once he had a Bible in his hands, Berhanu said, he was hooked. And he wanted to share what he learned from reading the Bible for himself.
During an interview at the Arba Minch club where Berhanu works, he looked across the crowded dance floor from a closet-sized DJ booth. He picked out acquaintances from Orthodox, Protestant, and Catholic families. A few Muslims were in the crowd too. Aside from drinking non-alcoholic Ambo mineral water, Muslims are as much a part of the social scene in Ethiopia as everyone else, Berhanu said.
"We all get along," Berhanu said. "There is no competition. In Ethiopia, everyone loves each other." But on closer questioning, Berhanu admitted that he lost a few friends when he left the Orthodox Church.
Berhanu's experience has become common, said evangelical pastor Danel Duento, who was drawn to the Protestant church for similar reasons more than 30 years ago. He faced more significant backlash from family and friends back then. He now leads a congregation in the rural Hadiya Zone, south of Addis Ababa.
"The young people—now that they are educated—are used to studying and reading everything," Danel said. "But when the young people go to the Orthodox Church, all they are getting is the traditional things. They are not being given the Word to study."
That's a fair critique of traditional Ethiopian Orthodoxy, according to Ralph Lee, a church history professor at the Theological College of the Holy Trinity, an Orthodox-affiliated school in Addis Ababa.
Lee said, "The general perception [in Orthodoxy] was that it's better not to read the Bible, because you might get it wrong." The thinking was that it was best to leave biblical scholarship to the priesthood. Even as Ethiopia's population became more educated during the past century, Lee said, the idea that everyday Christians should avoid direct contact with the Bible was "so enculturated that there was almost a lack of awareness of any need for a change."
Tentative Unity
The first Western missionaries arrived in Ethiopia in the 1800s. At that time, the pro-Orthodox government tolerated their presence. With few exceptions, it has been far more important for Western church leaders to maintain healthy relations with the national government than with the Orthodox Church.
In 1936, during the Italian occupation, the government forced many missionaries out of the country. When Western missionaries returned in the mid-l940s, they discovered to their surprise that the homegrown Kale Heywet Church had flourished. Some 20,000 newly baptized members had joined the church during the war years.
In the 1960s, the evangelical movement achieved another push forward when the government of Emperor Haile Selassie encouraged missionary outreach to the Oromo people. He wanted to assimilate the nation's largest ethnic group into larger Ethiopian culture. This openness resulted in the presence of nearly every major Protestant denomination in Ethiopia. Although overseas missionaries abound, indigenous evangelism is the most successful way to attract newcomers.
But the growth has triggered a violent backlash. In 2002, a mob of Orthodox priests and adherents carrying axes and machetes attacked Protestants in the town of Merawi, injuring many and killing Pastor Damtew Demelash of the Full Gospel Believers Church. Just a few years earlier—and just a few blocks from the trendy nightclub where Berhanu now spins tunes for an interreligious crowd—a stone-throwing mob of Orthodox Christians attacked Protestants attending a conference, wounding 51.
But at St. Gabriel's Orthodox Church, priest Aba Mezmur Hawaz tells his parishioners not to quarrel with fellow Christians. If someone is better able to see God through a Protestant lens, he said, so be it. "The whole world of Christians—we are all going to go up one way together."
He gave a different assessment of the Muslims in his community. "They will go a different way," he said. "And if they want to fight with us, we will fight with them."
This is not a matter of simple religious prejudice. In recent years, both Orthodox and Protestant Christians have been the victims of attacks by Islamic extremists, which killed several people and destroyed scores of Christian homes and churches. Although they are still relatively rare, such attacks have brought Christian leaders together for support, protection, and prayer.
Back to the Bible
Starting in 1985, a younger generation of Orthodox Christian leaders has been addressing the growth of Protestants in new ways.
The Mahibere Kidusan reform movement, for example, grew from resistance to the atheist Derg junta, which ruled Ethiopia from 1975 to 1987. Leaders adopted many of the methods of the Pentays. They encouraged Orthodox authorities to establish Sunday schools, using the same hands-on approach to Bible study as many Protestant groups. In 1991, the church hierarchy officially blessed this reform group.
Aba Yesus Moa, a priest at the 1,000-year-old St. Mariam's Orthodox Church in Hosaena, said he has embraced these changes. "When I was young," he said, "there were no Protestant churches around here." Moa, who was wearing a black skull cap and shawl, added, "Now they are everywhere."
Moa said there is much to be admired about how the Protestants have grown their denominations in Ethiopia. "They are sharing strong feelings, and they have strong teachers," he said. "Some people have left the Orthodox Church, and they have told us, 'We would have stayed if you would have given those things to us.'"
That's when Moa decided to change his approach.
"We have started teaching more out of the Holy Bible and we have started to evangelize more, as the Protestants do," he said. "I like the new way. We are growing again. Now when we give a study of the Holy Bible, we get a lot of people coming."
Missing Awe
It would be easy for evangelicals to take full credit for this shift, which is making the gospel more relevant and more accessible to millions of Ethiopians. But Lee said, "This thing was ready to happen." Improvements in literacy and Western educational models were the kindling for the fire. The Protestant movement, he said, was the spark.
Lee also lamented how many Protestant leaders view the Orthodox Church.
At a pastoral meeting in Hosaena, held at the Ethiopian Evangelical Church Mekane Yesus, many ministers cut down the essence of the Ethiopian Orthodox faith to two words: "Bad spirits," said Pastor Salamo Karala, who leads an evangelical church outside of Hosaena. A former Muslim, Salamo believes Orthodox Christians need conversion as much as he did before he was introduced to evangelicalism as a young man.
Adisalum Wenderad, who left Orthodoxy for evangelicalism, agreed. Nonetheless, there are things Adisalum misses about the church in which she was raised.
"When I was a girl, I can remember being afraid of God—all of the people in my church were afraid of God," said Adisalum, who left at age 16.
During an interview, she told Christianity Today that some of her fellow evangelicals, who sometimes treat God as a good buddy instead of their Lord and Savior, would benefit from the sense of awe that permeates Orthodox worship.
Adisalum has seen a positive change in the way her Orthodox family worships, with more Bible studies, more gospel, more preaching, and more connection to priests as mentors.
Lee said Orthodox Christians can now find the more dynamic worship and serious Bible study that were lacking just a decade ago—and even animated, gospel-style choirs.
Over the next century, Lee said, evangelicals and Orthodox alike will face many external challenges. For instance, experts project that 84 million people will be added to Ethiopia's population over the next four decades.
If the population does reach 174 million people as forecasted by 2050, Ethiopia may become the largest majority-Christian nation in all of Africa.
Matthew D. LaPlante is an assistant professor of journalism at Utah State University.
Related Elsewhere:
Christianity Today's earlier reporting from Ethiopia includes:
Ethiopia's River of Death | A handful of tribal Christians are fighting child sacrifice. (Aug. 17, 2011)
The Foot-Washers of Ethiopia | A mysterious disease, misdiagnosed for decades, finds healing in Christian hands. (May 31, 2011)
Culture Allies | Ethiopian government donates land for hundreds of congregations. (May 17, 2005)
'I Never Thought I'd See Anything Like that Again' | A famine worse than that of 1984 threatens Ethiopia (May 2003)
Have something to add about this? See something we missed? Share your feedback here.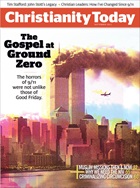 This article is from the September 2011 issue.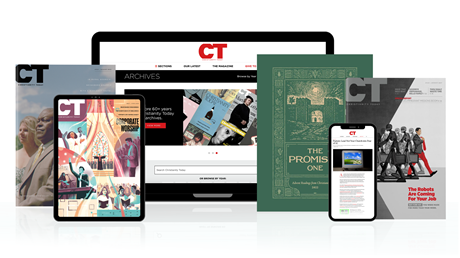 Annual & Monthly subscriptions available.
Print & Digital Issues of CT magazine
Complete access to every article on ChristianityToday.com
Unlimited access to 65+ years of CT's online archives
Member-only special issues
Subscribe
Read These Next
Trending

American Christians Should Stand with Israel under Attack

While we pray for peace, we need moral clarity about this war.

From the Magazine

The Unusual Epistle that Helps Me Counsel on Sexuality

Jude has strong words for immorality in the church. Yet he advocates for mercy for those who doubt.

Editor's Pick

Don't Miss These African Christmas Hits

Jam out this season to highlife, Afrobeats, jazz, a cappella, R & B, rap, dance, and hip-hop artists from Nigeria, South Africa, and more.
Growing in the Word
Growing in the Word