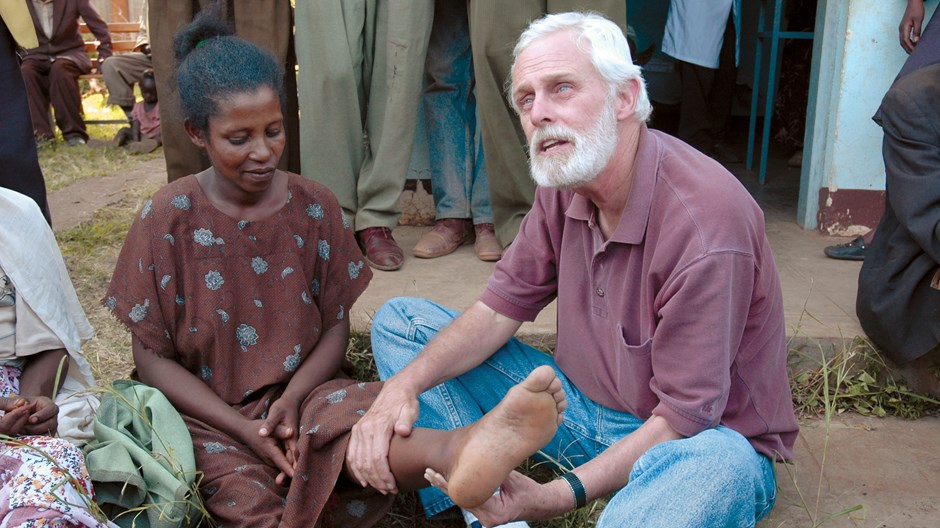 Image: Photos Courtesy of Larry Thomas
Physician Larry Thomas remembers a luncheon two years ago in Addis Ababa, Ethiopia, where many folks interested in a dreadful, newly discovered disease called podoconiosis—"podo" for short—met for the first time.
"As we were about to eat, I asked, on an impulse, if anyone would mind if we thanked God for the food. The response was startling," says Thomas, also the founder of Tropical Health Alliance Foundation. "Not only did everyone want to pray, they began to share about their faith. We soon realized that we were all fully vested Christians."
Not everybody interested in podo is a Christian. But a thread of Christian faith and mission runs through everything that's being done to fight the disease. A remarkable diversity of believers are involved in the fight—the man who first discovered the disease, the octogenarian doctor who developed treatment for it, and the leaders of today's scientific research. Add the activism of Catholic sisters and a highly successful young entrepreneur with a line of hip shoes, and the unfamiliar disease is at last gaining the world's attention.
Podo is grotesque. In severe cases, the victim's feet appear to be turning into cauliflower—horrible, rotting cauliflower—or something that grows under a rock in 20 feet of water. These are nightmare feet, seeming to bubble and melt, producing unbearable odors.
An estimated one million Ethiopians suffer from podo, as do perhaps three million more, mostly Africans. In affected areas—typically mountains with red volcanic soil—1 out of every 20 people have it. A village of 2,000 will have 100 victims, permanently disabled. In certain areas of Ethiopia, the podo infection rate surpasses that of HIV/AIDS.
Though prevalent and severe, the disease was not identified until 35 years ago. Doctors had been diagnosing the symptoms as infectious elephantiasis until a Christian doctor named Ewart Price realized that the diagnosis didn't fit.
Using geological maps, Price connected the symptoms to Ethiopia's volcanic soil. Then, examining tissue samples, he found tiny silica crystals embedded in victims' lymphatic tissue. He guessed that the silica found its way through the skin of feet and ended up scarring or blocking lymphatic channels, causing swelling and deformity. (Filarial worms create this problem in infectious elephantiasis.) Price's deductions still remain the best explanation for the cause of the non-communicable disease. Exposure to soil is surely crucial, but other factors, such as genetic predisposition, likely play a part.
For a long time, Price's discoveries prompted little reaction. The first organized responses to podo began 14 years ago, and then in only a few remote parts of Ethiopia. The disease made the World Health Organization's list of neglected tropical diseases in February.
Why so long? By and large, those who cannot afford shoes are most susceptible. Podo is almost unknown in urban areas and rarely if ever infects soldiers or tourists. Gail Davey, the leading researcher on podo, puts it succinctly: "It is clearly a disease of the most voiceless." Because of the stigma, many victims hide. So the disease remained invisible until some people determined to see it. This is their story.
Bleach, Wash, Dry, Repeat
In 1997, at age 84, physician Nathan Barlow returned to Ethiopia. Two decades earlier, he had fled the country upon the government's decision to nationalize all hospitals. For those 20 years, Barlow worked in the Central African Republic and Congo. As early as the 1950s, he had encountered Ethiopians with podo, but there was no effective medical treatment for it.
Upon returning to Ethiopia, Barlow sought effective treatments, and more victims came out of hiding for help. Barlow founded the Mossy Foot Project, which is headquartered in Soddo, in southern Ethiopia.
The project operates 15 weekly clinics using space provided by government health centers. Ethiopians recovering from podo provide much of the patient care. They teach others how to avoid the disease and how to treat it, and make house calls when patients go missing. Mossy Foot begins each clinic with Bible reading and prayer.
In 2001, Davey and her husband left England to teach at Addis Ababa University. In their first year, the British embassy asked her to evaluate a funding proposal from Mossy Foot Project. Davey visited the project in Soddo and "was immediately struck by the patient-led nature of the work." She also realized she had found a researcher's dream. Here was a disease severely affecting millions about which almost nothing was known. Reports of it sprang up from many regions, but nobody had mapped it scientifically. How exactly the disease worked was mysterious as well.
However, it was clear that research could direct immediate, effective action, in both treatment and prevention. "It's terrific that there really is something to do," Davey says. "I like to see that there is a clear end result."
Davey realized her students in public health could help conduct research as part of their coursework. Using the excellent records kept by Mossy Foot at Soddo medical clinics, students working under Davey began to chip away at the research problems. The team received research grants from Britain's Wellcome Trust.
Davey became an advocate for patients. "I haven't been able to leave it at research," she says. "Morally, you can't sit back and fiddle with a test tube.
"We were led by God to Ethiopia," Davey says. "We didn't know our roles there when we arrived. I strongly believe God led me into the work of podo. Christians are somehow drawn to this work, serving the poorest people and the most voiceless."
Meanwhile, the Daughters of Charity Catholic order had established medical clinics in remote areas. Cora Bruin, a Dutch medical anthropologist, visited one clinic while on vacation, and was fascinated that conditions such as goiters were common.
Later, Bruin turned her attention to elephantiasis. Using medicine to treat filarial worms accomplished nothing. Bruin dug deep into medical literature and discovered Price's work. That led her and the sisters to the Mossy Foot Project. Now, using techniques borrowed from Mossy Foot, the Daughters of Charity are beginning the slow process of stopping the spread of podo and, through education, training, and Christian discipleship, enabling people who are healed to return to normal life.
Thomas recalls visiting the sisters in Dembi Dollo, in western Ethiopia. "I went around with them as they washed the feet of those with podo. I knew I couldn't do it with the joy that they do."
One of their patients is Dembi Fedasan. Twenty years ago, when she was 15, her feet began to itch and swell and ballooned to an enormous size. Soon she couldn't go to school because of how painful it was to walk.
She knew what she had. Many people in her community had it too.
As Fedasan's feet became infected, a horrible stench followed her. She stopped going to the market and socializing. Nobody would marry her or her siblings. The stigma from her disease had infected her whole family tree. In a society that depends on every available hand to work the fields, Fedasan could contribute almost nothing to community life. She stayed at home, isolated and ashamed.
Three years ago, Fedasan learned that treatment was available at Dembi Dollo. She lives 120 miles from the nearest clinic, too far for her family to afford bus fare, so she moved into town and works as a maid. Already the simple treatments—foot baths, bleach sterilization, lotions, pressure bandages—have made a difference. Fedasan dreams of someday keeping animals and hoeing crops.
10,000 Shoes a Month
Missionary doctor Barlow died in 2004 at age 91, but Mossy Foot continues under Ethiopian leadership with support from Barlow's daughter Sharon and her husband, Jim Daly.
Besides its focus on care and prevention, Mossy Foot gives away shoes specially made in its workshop. (Many people with podo cannot wear standard shoes.) It distributes supplies like soap and bleach, shoes for children of podo victims, and also offers job training and microenterprise loans for patients to support themselves.
The next chapter of the story introduces Blake Mycoskie, a young entrepreneur from Texas who started a number of successful small companies and, with his sister, competed on the reality television show The Amazing Race.
In 2006, Mycoskie vacationed in Argentina. While admiring a local style of footwear he thought could be adapted to American tastes, he noticed poor children running around barefoot. As a Christian businessman, his compassion kicked in, and a business model emerged.
TOMS Shoes was launched with the promise that for every pair of shoes sold, another pair will be given to an impoverished child. The idea was an immediate hit.
Nowhere is the model more appealing than in Ethiopia, where a pair of shoes can change a life. After visiting Dembi Dollo, Mycoskie called Thomas. "I thought, if we all worked collaboratively, we could make a big difference," says Thomas. "There's so much yet to be done. How many times in this era do you have a chance to be a pioneer?"
TOMS targets its shoe distribution to the children of podo patients, who are five times more likely than the general population to get podo. Through Mossy Foot alone, TOMS distributes 10,000 pairs of shoes a month.
Some podo activists express some nervousness about TOMS. They give TOMS high marks for its willingness to flex and learn, but can't forget that TOMS is a for-profit company. TOMS brings resources that outstrip what small foundations, churches, and individual contributors can do. Some, like Thomas, are nervous that the charitable impulse might give way to the profit motive down the road.
'Christians are somehow drawn into this work, serving the poorest people and the most voiceless.'—Gail Davey, researcher, Addis Ababa University, Ethiopia
A Heart for Ethiopians
A disease like podo has minimal impact on the world's economy. It does not make a single Westerner vulnerable to infection. It remains invisible until someone is outraged enough to do something.
That brings together a surprising mix of people (businessmen, physicians, missionaries) with eyes to see, something that Thomas noticed in the initial lunch in Addis Ababa. He first experienced Ethiopia when he sponsored medical specialists for an internship at a Seventh-day Adventist hospital in Gimbi. Some of the sponsored doctors met the Daughters of Charity in that town and formed a partnership. Inspired by their effective collaboration, Thomas began raising money at his home in Loma Linda, California, through an unusual partnership between Adventist and Catholic churches.
Thomas first encountered Dembi Fedasan on the streets of Dembi Dollo. She had just begun treatment, and her feet were still enormous. A photographer, Thomas couldn't help himself. "I got down on my hands and knees to take pictures of her feet. I felt when I left that I hadn't handled that very well," Thomas says. "I thought, this lady has a lot of dignity to allow me to do this."
Evelyn, a Daughter of Charity, sent Thomas an updated photo of Fedasan's feet. He hardly recognized them. They had shrunk dramatically due to treatment.
Since then, Thomas cannot stop working through his foundation to support podo patient care. He is still a full-time physician in Southern California, but his heart is in Ethiopia, where the invisible are becoming visible, and lives like Fedasan's are being changed.
Tim Stafford is a senior writer for Christianity Today. To learn more about podo and the organizations fighting it, visit MossyFoot.com and www.thaf.org.
Related Elsewhere:
Previous articles related to missions & ministry include:
Christian Microfinance Stays on a Mission | While scandals rock the microfinance industry, Christian nonprofits diversify their efforts to help the poor.
Migrating Ministry | One refugee pastor is key to the resettlement of Bhutanese in Texas. (May 11, 2011)
The Son and the Crescent | Bible translations that avoid the phrase "Son of God" are bearing dramatic fruit among Muslims. But that translation has some missionaries and scholars dismayed. (February 4, 2011)
Have something to add about this? See something we missed? Share your feedback here.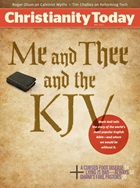 This article is from the May 2011 issue.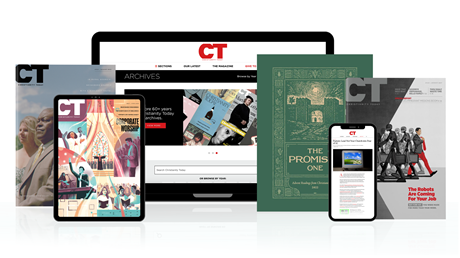 Annual & Monthly subscriptions available.
Print & Digital Issues of CT magazine
Complete access to every article on ChristianityToday.com
Unlimited access to 65+ years of CT's online archives
Member-only special issues
Subscribe
The Foot-Washers of Ethiopia
The Foot-Washers of Ethiopia