A Jamaican evangelical pastor who helped defuse a situation said to have claimed over 70 lives in the capital city of Kingston, has now been charged by police for his own actions in the conflict.
Some call Al Miller, pastor of Kingston's prominent Fellowship Tabernacle, a crime-fighting hero. Others are saying he went outside the law. And Jamaican authorities have accused him of standing in the way of justice.
When police arrested alleged Kingston drug lord Christopher "Dudus" Coke June 22, Miller was with him in the car—driving, according to one report from the Jamaica Observer. Coke wanted Miller's help getting to the U.S. embassy in Kingston, where he would "feel more comfortable" turning himself over to authorities, Miller told the Jamaica Gleaner. According to the Observer, Miller has been charged with "harbouring a fugitive and perverting the course of justice" after two days of questioning by Jamaican authorities.
The megachurch pastor has been a key mediator in a conflict between Coke and the authorities, which has gone on since mid-May. On May 17, after months of pressure from Washington, Jamaican Prime Minster Bruce Golding signed an arrest order for Coke. The U.S. wants Coke and his "Shower Posse" to stand trial for funneling large amounts of cocaine into the United States. The Shower Posse has been rumored to be behind thousands of deaths; some have said Coke was the most powerful man in Jamaica, with links deep inside national politics. Even the Prime Minister has had to deny any connection with the alleged drug lord.
When Coke resisted arrest, Kingston, Jamaica's capital city, had to declare a state of emergency. A four-day gun battle in Coke's home neighborhood of Tivoli Gardens resulted in over 70 deaths; Coke remained at large for nearly a month. (The Gleaner headline when Coke finally entered custody carried echoes of Saddam Hussein's 2003 capture: "We've Got Him!")
Miller, a "very highly respected" evangelical leader, was one of a number of ministers who stepped forward to defuse tensions, according to Gerry Seale, general secretary of the Evangelical Association of the Caribbean.
"Al was involved in bringing Dudus Coke's brother and then his sister in to the police," Seale, speaking from Barbados, told CT. "The police issued a list of 20 [or] 30 people who were persons of interest that they wanted to interview. … I think there were some concerns that the police may shoot first and ask questions later, so some of the pastors went with them."
Miller told the press (and reportedly the police) that Coke feared for his safety with Jamaican authorities and wanted to turn himself in to the United States directly.
"Dudus Coke's father was in police custody some years ago and died in police custody," Seale said. "So Al assisted the brother and the sister in reporting to the police station, and Dudus requested assistance in getting to the U.S. embassy, and Al was trying to help him do that."
The question is whether Miller was circumventing local authorities by taking Coke directly to the embassy.
"The U.S. embassy could not have taken [Coke] out of the country like that," Peter Garth, vice president of the Jamaican Association of Evangelicals told CT. "They have to get a court order."
Jamaican authorities apprehended Coke at a roadblock late Tuesday evening, according to the BBC. Miller was allowed to leave the scene, but later presented himself for questioning upon the police's request.
Before the news of the charges broke, Seale and Garth expressed their thoughts on his actions. Seale, who knows Miller personally but emphasized that he had not spoken to him about the incident, said he believes the pastor was trying to do the right thing.
"I would be surprised if eventually the police authorities decided to charge Al," Seale said. "I would be genuinely surprised, because I think he was genuinely acting in what he felt was the best interest of the country, and seeking to facilitate Dudus Coke being in custody. He was seeking to put him in U.S. custody rather than Jamaican custody, but as I say, there is a history that goes with the Dudus family."
"He himself has not denied that how he went about it was not according to the normal procedure," said Garth, who is also senior pastor of Hope Gospel Assembly in Kingston. "But I am hoping that he will not be charged."
Garth agreed that Miller had good intentions.
"The security forces have been trying to capture Coke, and if Coke had confidence in him, then for him to have done something like that, there is some merit in that," Garth said. "Something good was done, but in the midst of that, the law was breached."
Others are not so forgiving. The Observerreports that the Opposition People's National Party has called for Miller's removal as director of the Prime Minister's National Transformation Program.. The OPNP says he is "neither fit nor proper to lead Jamaica's campaign to restore morality and order."
Miller will appear before the a court next Friday. Coke, meanwhile, waived his right to fight the extradition and will appear in U.S. federal court today. Before he left, Coke released a two-page statement through his lawyer (it appeared in the Jamaican Observer):
"Pray for me and God bless Jamaica," he wrote. "I leave Jamaica and my family … with a heavy heart, but fully confident that in due course I will be vindicated and returned to them."
Related Elsewhere:
Earlier Christianity Today articles have looked at Jamaica and other drug war issues:
Mass Arrest: Christianity and the Deadly Mexico Drug War | Police raid on service shows that churches are no longer neutral observers. (Oct. 21, 2009)
On the Border of Misery and Hope | In a season of heightened violence and reduced financial support, Tijuana Christian Mission keeps up the good fight. (Oct. 28, 2009)
Faith on the Frontera | Drug violence halts church trips to short-term missions mecca. (Apr. 16, 2009)
Peru's Churches Want Inquiry into Why Missionary Plane Was Shot Down | Christian leaders lament absurd, excessive use of force that killed Roni Bowers and her infant daughter. (April 2001)
Colombia's Bleeding Church | Despite the murders of 120 church leaders, Christians are fighting for peace in one of the world's most violent nations. (May 18, 1998)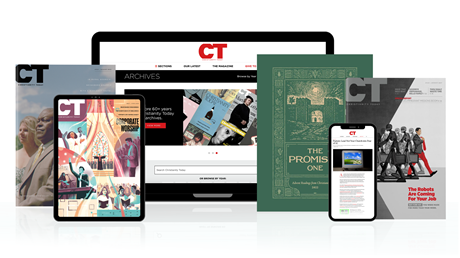 Annual & Monthly subscriptions available.
Print & Digital Issues of CT magazine
Complete access to every article on ChristianityToday.com
Unlimited access to 65+ years of CT's online archives
Member-only special issues
Subscribe
Pastor at Center of Jamaica Crime Controversy Charged
Pastor at Center of Jamaica Crime Controversy Charged