Sara Gomez Lopez has lived in Tijuana nearly all the 43 years of her life, and has the scars to show it. A domestic abuse survivor and the single mother of three daughters, she opened a shelter in 2003 for women fleeing violent homes. Sara is part of her city's network of culture-shapers fighting some grim statistics: 843 murders in 2008, a 300 percent increase in petty crime in 2007, and 75 percent of women at risk for domestic abuse, to cite a few.
But in the face of battle, Sara believes the best place to be is the center of God's will: "He put me here, and I'm going to be here until he doesn't want me here anymore."
Part of Sara's fight means getting past the numbers and into the lives of hurting people. Meeting recently with local leaders at a conference on dating violence, Sara painted vivid images of some of the women at her shelter: one with her ear chewed off by a boyfriend; another with her jaw and legs broken; another with her uterus punctured.
"It's up to you to have a family without violence," she said, making a personal appeal to the audience of young professionals. "It's up to you to have a family the way God wants it to be."
On the front lines day after day, it took Sara traveling 1,600 miles north to a supporting church in Alberta, Canada, to finally break down. Billed as the inspirational speaker at the church's 2008 fundraiser, Sara locked herself in the bathroom, wondering aloud why she fought so hard for so few results.
"I'm done, God. I don't want to do this anymore," she cried out. "Tell me how you feel about my work. Is what I do pleasing to you?"
Later that evening, Sara gave her speech. But during worship, a pastor spoke a prophetic word to her—something the formerly cessationist Baptist believes sums up her life's calling:
"The Lion of Judah is roaring over your city. His heart is for justice for your city; he roars it over the city. You have not done everything you're supposed to. But he knows your heart and that you try and do whatever you can."
"Every time I get overwhelmed, I just envision a lion," says Sara. "But he needs people to claim that justice. I want to be one who listens to the lion and doesn't get overwhelmed with injustice."
Like her pastor-grandfather, who preached the gospel every night to Mexican ranchers, and her mother, Martha Lopez, who 45 years ago opened an orphanage for the children of abandoned mothers, Sara is one who listens to the lion.
Daycare for the Desperate
I recently traveled with a short-term mission team from southwest Ohio to understand the ministry challenges that Sara, Martha, and their family face in one of the fastest-growing cities in Mexico. I quickly discovered that Tia Juana ("Aunt Jane"), which apocryphal sources trace to a local Indian woman known for her hospitality, is anything but hospitable.
Our first night in the city, while our group was dining at a taqueria, a "parking attendant" helped someone break into our van. My laptop, purse, and passport were stolen. A police report was filed; credit cards were canceled. Nothing else could be done, and I wondered why I had come to this "sad swell of humanity," as acclaimed novelist Luis Alberto Urrea once described his hometown.
I was still wondering as I awoke the next morning to roosters crowing, dishes clanging, and a voice leading a 6 A.M. Bible study with 15 teenagers in the dining hall where I was trying to sleep. Their closing prayer led into a breakfast of tortillas and frijoles. Then it was off to classes at a high school southwest of Soler, a middle-class neighborhood a block from the U.S.-Mexico border. The teens are residents of Ciudad de Refugio ("City of Refuge") orphanage. Their regimen of daily devotionals, twice-weekly church services, and chores trains them to be strong believers in a broken culture.
The teens' Bible teacher, I find out, is Martha Lopez, co-founder and director of the Tijuana Christian Mission (TCM), a ministry she and her husband began in 1964. With a graying bob and a frame no taller than 5 feet, Martha has expanded a back-porch outreach to the children of prostitutes to two bustling orphanages. Working alongside three of her children—Sara, Susy, and Seth—and their families, Martha has drawn in hundreds of Tijuana's unwanted children over the years. She has housed and fed nearly 100 of them in 2009—a grueling year for the city's Christians trying to effect change.
As the world's busiest border crossing, Tijuana is home to thousands of broken families. Dwight Simpson, missions director of the San Diego Southern Baptist Association (sdsba), knows the unique strain put on families in border towns. "The most significant impact is the arrival of substantial numbers of people who are expecting to cross into the U.S. and who are not able to do so. They get stuck because they have no resources," the former pastor explains.
"They flood the market of people looking for work, and the local economy is not able to generate enough jobs to service them, so they create an extra culture of poverty." Illegal but lucrative work, especially trafficking drugs and workers across the U.S. border, becomes a strong lure. San Diego and Los Angeles are major metro areas within easy reach of illegal activities.
After breakfast, I ride next to Martha out to TCM'S second orphanage in Rosarito, a tourist spot crippled by the economic downturn. "Someday I want to build a Christian university there," she says, pointing to a verdant lookout to our left. She hasn't lost sight of the vision she and her husband, Sergio, had coming to TJ in 1964.
When the newlyweds graduated from International Bible College in San Antonio, a couple from a Disciples of Christ church in California encouraged them to evangelize in Tijuana. After two years at a Guadalajara church, they settled near Zona Norte, TJ's red-light district, where drugs, sex trafficking, and weapons sales converge in a web of misery. With a low legal drinking age, cheap prescription pills, and the clubs along Avenida Revolución, Zona Norte has helped establish TJ as a Sin City south of the border.
It is also home to prostitutes (known locally as lasparaditas, "the little ones who stand") who cannot meet their children's needs. Within a few years, Martha and Sergio found themselves housing and feeding 15 kids, only two of them their own. In 1973, they began using a newly built church/seminary in Soler for housing children whose mothers could not provide for them, and TCM was born.
"Some people start orphanages and bring in children. We brought children and then thought, We should really start an orphanage," says Seth, 37, the baby and jokester of his family. Seth oversees TCM's finances and will become director when Martha retires. (She and Sergio are separated.) "In a way TCM is a seminary, because the kids who come here attend so many Bible classes. That's how a lot of them become Christians and pastors."
Martha pulls into the rutted driveway of the second orphanage, home to over 50 children in elementary and middle school. Hacienda Victoria ("House of Victory") opened in 2006 after Eastside Christian Church in Orange County donated 7 acres of land atop Rosarito's hills. As we get out of the van, three preschoolers flock to Martha for hugs, which she returns liberally. The girls—left by their mom for drugs—pile into our van like it's their Rosarito holiday. We're headed to Wal-Mart to buy them shoes.
On the way, we pass several Red Cross workers making public appeals; Martha says TJ's hospitals are overcrowded with victims of gun violence. She explains how children end up at TCM.
"The worst kind of orphan we see is one whose parents don't want him," she says. "The parents are living but they don't care, or they are into drugs or having an affair." Many are escaping abusive homes. Officials with the National System for Integral Family Development (akin to Child Protective Services) discover such homes and drop the children off at a city orphanage, only three of which get government support.
Still others come from single-parent families in which (usually) the mother's income is not enough; at her rope's end, she drops her children off at an orphanage on Mondays, but picks them up for the weekends.
"It's like a desperate, long-term daycare system," says Yolanda Wong, a pediatrician based in San Diego. Since spring 2008, Wong has taken groups from her church, Harbor Presbyterian (PCA), to Hacienda, another Tijuana orphanage run by a Catholic nun. "Oftentimes a family will take the children back once they are of age to work and earn money for the family. Education is disrupted, and the cycle of poverty continues."
The root of orphan—from the Greek orphos, simply meaning "deprived"—sums up the children's plight. And a theme running through the Old and New Testaments (Ex. 22:22; Deut. 24:17; John 14:18; James 1:27)—one showing the Father's particular watch over los huérfanos—motivates Martha and her family to reach out.
A Horrendous Year
But having the motivation is not the same as having the means. In the first half of 2009, tcm saw a steep decline in the number of American churches and groups coming on mission trips, its main income source. Then, with fewer visitors forming emotional bonds with the orphans, fewer children were sponsored through tcm's $50-a-month sponsorship program, which covers all the children's material needs.
While the financial crisis left no ministry untouched, TCM faced a compounding factor: In early 2009, Mexico's largest border towns—Tijuana and Ciudad Juárez, across from El Paso—saw dramatic spikes in violence between leaders of competing drug cartels and police. By mid-February 2009, Mexican authorities were reporting 1,000 deaths from drug-related violence, a projected 40 percent increase from 2008. Some 40,000 soldiers were deployed in March to stem the turf wars. American media began daily covering kidnappings, beheadings, and other drug-related brutalities. Heeding the State Department's travel warning, many U.S. churches and parachurch groups decided to focus efforts locally.
As TCM'S mission trip coordinator—the one church leaders call to cancel their short-term visits—Sara believes a spirit of fear has gripped many North American Christians. "Six different teams have canceled [for spring break], which is our bread and butter," she says. In a spring donor letter titled "Our Thoughts on the Violence in Our City," Sara wrote, "Most of the violence has been localized in other parts of the city … and so far, none of it has targeted Americans."
Simpson of the SDSBA verifies that the violence is insular: "I travel in and out of the city about our business, and do not do so with fear and trembling, even in the present environment. There have been very few innocents that have been killed along the border."
"Know that if God has called you to come and work with us, surely his protection will go with you," Sara reminded donors. "At this time, we can say with confidence, 'Come on down and stay with us!'"
Such appeals have helped. When I arrived, a team from Oregon was building a home at the second orphanage for a maintenance man. A college group from Christ United Methodist Church in Ohio was building a house for a 14-member family living in TJ's landfill. And a group of teens from the same church was coming to finish the landfill house. Though the groups worked beyond TCM'S walls, their lodging and meal fees would cover the orphans' needs for weeks.
"In the last 10 years, our goal has been just to feed the kids," Seth says over a quick breakfast before heading to Hacienda Victoria. "We're still doing everything spiritual, but if the buildings were built and the money raised, our work would start, which is the kids. Our dream is to get them good psychologists, mentoring programs, and good follow-ups on their lives."
Friday Night Light
Our last night in TJ, I stand next to Chris Jimenez for closing prayer at Grupo Unidad, a boxing arena turned 8,000-member church, Tijuana's largest. Chris, an outgoing 28-year-old with missions experience in Burma and Brazil, has volunteered at the nondenominational church for five years, designing its promotional material and working with the youth group. She connected with the Gomez Lopez siblings when they began attending several years ago, and helped Sara open the women's shelter in 2003.
Chris and I exit the ring at 9:30 p.m. to find the youth group, which is preparing for its standard Friday activity: looking for teens roaming Zona Norte. Once outside in the cool air, we pile into an suv where Pastor Horacio Ortega, a trained psychologist who works with abused children, tells our driver where to turn. We're looking for a 15-year-old whom Horacio met at a local homeless shelter; the boy has started prostituting himself as a transvestite. Horacio wants to make sure he attends a workshop that the youth group will be leading at the shelter.
After two hours of driving in circles around hourly-rate motels, strip clubs, and pungent food stands, we finally spot the boy. He and Horacio chat for about five minutes. He seems open to attending the workshop. But it seems like a small thing in this context: Seeing all the paraditas—some of them age 14, others, 75—I start to grasp the weight of the injustice that Martha and her family have carried for four decades, and that nearly broke Sara last year.
It is a small thing, it turns out, as small as a mustard seed. Dropping me off at TCM'S main orphanage, Chris beams. "We love our city so much," she says. Her claim sounds odd and even unwarranted—this is the woman who prayed for the person who stole my bag—until her second comment reminds me of its source:
"God is doing something amazing here in Tijuana."
Katelyn Beaty is CT associate editor.
Related Elsewhere:
Previous Christianity Today articles on Mexico include:
Mass Arrest: Christianity and the Deadly Mexico Drug War | Police raid on service shows that churches are no longer neutral observers. (October 21, 2009)
Faith on the Frontera | Drug violence halts church trips to short-term missions mecca. (April 16, 2009)
It Takes a Schoolhouse | How one Mexican pastor is transforming his community. (December 15, 2005)
Have something to add about this? See something we missed? Share your feedback here.
Our digital archives are a work in progress. Let us know if corrections need to be made.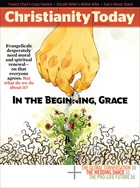 This article is from the October 2009 issue.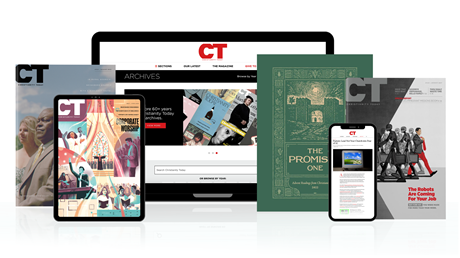 Annual & Monthly subscriptions available.
Print & Digital Issues of CT magazine
Complete access to every article on ChristianityToday.com
Unlimited access to 65+ years of CT's online archives
Member-only special issues
Subscribe
On the Border of Misery and Hope
On the Border of Misery and Hope