Since the publication of Robert Coles's The Spiritual Life of Children in 1990, academic interest in how children view God has burgeoned. Secular and Christian researchers alike have found that children have spiritual lives independent from the influence of their families and other social factors. Donald Ratcliff, the Price-LeBar Professor of Christian Education at Wheaton College, has studied the topic for three decades. He has written and edited a number of books, including Children's Spirituality: Christian Perspectives, Research, and Applications, and most recently, ChildFaith: Experiencing God and Spiritual Growth with Your Children (Wipf and Stock, 2010). Ratcliff spoke with CT associate editor Katelyn Beaty about how parents can guide their child's spiritual growth while acknowledging his or her choice.
In the introduction to ChildFaith, you write, "Don't consider this book a prescription for successful spiritual nurture." Why the disclaimer?
Personal experience. My wife and I have three wonderful kids, and we tried many different things to influence them spiritually. But they each made choices and continue to make choices. There is influence, but there is no cause and effect.
We celebrated the Old Testament holidays in our home. My wife and I thought, This is great. Our kids are going to dive right into the Scriptures. And it worked well, for a couple of years. Then our oldest son said, "Dad, we're not Jewish. Why should we do this Jewish stuff?" I realized that, while we had done our best to make it connect, it didn't. So after talking with our other kids, we felt we could back off of the holidays.
We have to be sensitive to where kids are, and adapt to where they are to the extent that we can.
Wouldn't some say that approach is too child-centric? Don't parents have the final say in what their kids are taught?
Yes. But God doesn't do it that way. God works with us individually. Some of us go to more exuberant services, and some to churches that are more traditional. I think God allows and to some extent encourages that diversity, because there are lots of ways to praise him; there are many ways to honor him and serve him.
Every now and then, I would talk to my kids individually. "What do you think about our bedtime practices with Scripture?" My kids were almost always upfront, saying, "I just don't get into that" or, "I really like that."
Was I abdicating my authority? I don't think so. I think I was encouraging honesty. And we really need honesty in order to keep from encouraging kids to put on masks of spirituality.
What role does the local church play in helping parents raise children?
Churches need to realize that kids are not the church of the future; they are the church of the present. The church is not merely to reach the adults, but to reach the entire body of Christ. That doesn't mean that you have to meet together all the time. I think there is a time for people to separate by ages. Still, I do like multigenerational services.
Churches need to realize that kids are not the church of the future; they are the church of the present. The church is not merely to reach the adults, but to reach the entire body of Christ.
Churches also need to recognize that children are capable of ministry. In my book, I talk about some 4-year-olds I have worked with. There are four or five tasks that are customarily done in church, and I thought they could learn how to do those with one another. So we encouraged them to take the offering, to preach a short sermon, and so on. When it came time for one little 4-year-old to preach, she said, "Girls don't preach." I didn't know how to respond. So I said, "Well, imagine that girls can preach." And she went up and did a wonderful job.
It's really interesting how kids have the potential for doing more ministry than we could ever dream. They can also pray for people. We always think of children as someone we pray for, but children can pray incredible prayers and do it at moments when it's most needed.
What advice do you give to Christian parents who are wondering if their child is saved?
How do you know if anyone is saved? You ask them. "Do you really love Jesus with all of your heart?" If they say yes, take it at face value.
We have so programmed ourselves to have this moment of salvation, turning from the dark to the light—and I believe that with all of my heart. But when you are talking about a 5-year-old, it's not about years of sin and darkness and then seeing the light. They make incremental decisions that are barely close to their awareness.
What else is there in salvation? An admission of sin. Did they realize their sin? Well, maybe not at that moment, but maybe they will a little later.
How do you counsel parents whose children have walked away from the faith?
That it's not just you. There are many influences, and children have a free will. To feel guilty about what we might have done does not accomplish anything.
I would also say, do not give up. Connect with that child.
Let's say your child has become a Buddhist. Then study Buddhism. What in their Buddhism might connect with our faith?
My brother-in-law is a Buddhist. He grew up in a Christian family, but he walked away from the faith. I find it really stimulating to talk with him about his faith; I try to convey respect for what he believes, as well as affirm where we agree and disagree.
If you never had dialogue with your child, and they rebelled against you, that's going to be hard to do. But they are worth it. There's still room to try to connect.
We have all blown it as parents. As soon as you realize it, you go to your kid and say, "I'm sorry. I didn't do that right." That should be our immediate response. But what if we just couldn't do that, and now they are older and have walked away from the faith? It's not too late. It takes an awful lot of humility. If you are talking to an agnostic child, you can still say, "I'm sorry I blew it. I'm sorry I pushed you into legalism and pressured you so much [if that is needed]." I don't think it's ever too late to ask for forgiveness.
But realize that sometimes it's not needed. It's just their choice. We sometimes expect our kids to be puppets—if we push the right buttons, they are going to come out the right way. God isn't that way. God gives us free will. What a horrible world it would be if you could push certain buttons and have absolutely predictable results.
Even wayward children are still human beings, and they are still made in the image of God; let's not give up on them.
Related Elsewhere:
This article was posted with "The Myth of the Perfect parent" as part of Christianity Today's January cover package. CT also posted Caryn Rivadeneira's top 5 books for shaping parents.
CT's previous articles on family and parenting include:
White Flag in the Mommy Wars | The theology that many parents are missing. (September 28, 2009)
The Fatherless Child | It is a unique cultural moment for the church to act like a family. (October 9, 2007)
Wild Child: How Bad Is Child Care for Kids? | Is daycare preparing toddlers to become bullies? (June 11, 2001)
Parents and Prodigals | As my daughter leaves for college, packing up her belongings, she is still a stranger to me. (June 23, 1978)
Have something to add about this? See something we missed? Share your feedback here.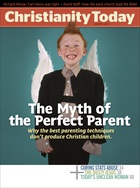 This article is from the January 2010 issue.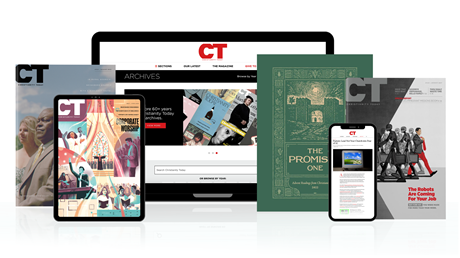 Annual & Monthly subscriptions available.
Print & Digital Issues of CT magazine
Complete access to every article on ChristianityToday.com
Unlimited access to 65+ years of CT's online archives
Member-only special issues
Subscribe
Spiritual Lives All Their Own
Spiritual Lives All Their Own