Russ Stendal, held hostage by terrorists for 142 days in the 1980s, is now taking the Bible to places where angels fear to tread: deep into Colombia's Texas-sized jungle regions, where terrorists, soldiers, and paramilitaries have been fighting since 1964.
Stendal belongs to a group of missions leaders and indigenous pastors who serve in remote areas of Colombia, one of the world's most violent mission fields. Over the past three years, more than 200 churches have been forcibly closed and 35 pastors assassinated in the South American country, reports religious-freedom advocacy group Christian Solidarity Worldwide.
One of the most recent assassinations occurred in the northern village of Marañonal in September 2009, when three masked gunmen broke into the home of Foursquare Church pastor Rafael Velasquez and killed him in front of his wife and six church members. Other pastors, missions leaders, and churchgoers have received anonymous threats of death, rape, and kidnapping for attending religious services, speaking out for peace, and criticizing terrorists or paramilitaries. Nationwide, the number of killings linked to the conflict has declined significantly each year since 2002. But in 2009, more than 13,000 died in the ongoing violence.
A Catholic-majority country, Colombia has seen persistent growth among Protestant groups, especially since its parliament disestablished the Catholic Church in the 1990s. Numbered at about 6.75 million, Protestants compose 15 percent of the country's population of 45 million.
2010 is a transition year for Colombia. In late February, a constitutional court blocked President Álvaro Uribe's attempt to extend his time in office to an unprecedented third term. During Uribe's tenure, the government continued its successful offensive against two main revolutionary Marxist groups, FARC (Revolutionary Armed Forces of Colombia) and ELN (National Liberation Army). Guerrillas and paramilitaries, such as the notorious Águilas Negras (Black Eagles), sustain themselves with profits from the $5-billion-per-year illicit cocaine trade.
Many of Colombia's Protestants believe the answer to the insurgency lies in relational outreach. In June 2009 Protestant leaders in Bogota, the capital, issued a 110-page report, "A Prophetic Call," which provides 13 steps for resolving the conflict. Their key proposals include the following:
• include official Protestant church representatives in peace talks once a final ceasefire is in place for all armed groups;
'In some areas of the country, we are dealing with Marxist-Leninist factions that appear every bit as extreme as those in North Korea in that they do not tolerate dissent.'∼Russ Stendal
• add reconciliation to the process of demobilizing paramilitaries;
• increase respect for freedom of religion and worship sites; and
• adopt a national process for truth-telling, justice, and reparations.
The report also chronicles the great suffering of Protestant church members. In 2008, the most recent reporting period, Protestants suffered 240 episodes of political violence with 2,285 victims.
Stendal, who makes frequent trips into Colombia's hazardous interior, invited Christianity Today to witness the steady progress he and other church leaders are making. Some of them are making the ultimate sacrifice: martyrdom.
"In some areas of the country, we are dealing with Marxist-Leninist factions that appear every bit as extreme as those in North Korea in that they do not tolerate dissent," Stendal told CT recently. "As things heat up, opportunities for the gospel skyrocket, and we are scrambling to keep up with all the open doors that God has placed before us."
One expert in counterterrorism (a former Colombian military officer who worked undercover) told CT that he believes Stendal's methods are helping Colombia turn the corner. "Russ is putting the concept of God in Marxist heads. I believe FARC is weakening because they are now thinking about God."
Fear and Hope at 13,000 Feet
Colombia's forested areas are home to 50,000 species, the world's largest crop of coca (the main resource for cocaine), and one of the longest wars in South American history.
Fifty miles south of Bogota, at an elevation of 13,000 feet, lies the mountainous rural area of Sumapaz, which embodies many of the country's current complexities. Formerly held by FARC guerrillas, it now has a potent resident military force. President Uribe's strategy of retaking guerrilla-held areas means campesinos (peasant farmers) in Sumapaz experience less violence. But fear is still a powerful factor for residents. Soldiers, guerrillas, and paramilitaries pressure locals for intelligence and support. Some who do not cooperate face threats and death.
It takes two hours to travel in Stendal's red pickup from Bogota to Sumapaz, located above the timber line. Stendal, 54, told CT that he is persuaded the gospel can succeed in bringing lasting peace to Colombia, where nothing else has worked to resolve the conflict. "Politics as usual won't do it," he says.
Stendal believes Colombia's violent quagmire will persist until the hearts of its people are changed through genuine encounters with God.
To that end, Stendal's organization, Colombia Para Cristo, aims to reach all parties. Throughout Colombia's many conflict zones, he and indigenous ministry leaders hand out tens of thousands of Bibles, Christian books, and solar-powered radios tuned to his radio stations: one that plays secular and Christian music, the other teaching and preaching, much of it from Stendal himself. Local Christians have distributed more than 100,000 fixed-band radios provided by Galcom International, a communications ministry.
To deliver the message into hostile areas, Stendal often attaches Christian care packages called "truth packs" to small parachutes sewn by Baptists in Oklahoma. He drops the packages onto guerrilla camps, coca fields, and soccer fields from one of his two airplanes—a 600-pound ultralight, and a pink 1953 Cessna with the Pink Panther painted on its tail. This distinguishes the aircraft from those used by the military and drug dealers. When resources are available, Stendal can distribute via parachute more than 10,000 truth packs each month.
Stendal's pickup eventually stops outside a small house on a hillside. A woman sits anxiously on the porch with two children. Stendal tells CT that he visited this home three months ago and found guerrillas hiding inside. He gave all of them Bibles and Christian literature.
Stendal hands the woman a new Bible. She opens to the middle and starts reading. "What am I going to do if the Army comes and finds this?" she asks, remembering that the guerrillas were happy to receive free Bibles. The chances that soldiers would disapprove of her receiving the same gift stirred her anxiety. But Stendal keeps talking with her, reassuring her that having a Bible should not alone put her under a cloud of suspicion.
Later that day, Stendal's truck travels along an Army-patrolled road. A government soldier in orthodontic braces, gripping a Bible that Stendal had given him, motions for Stendal to stop.
The soldier leans against the open window. "I've decided to get out of the military, get baptized, and follow the Lord." Raised in a Christian home, the soldier tells Stendal that he had served in the Army for seven years. But now, after rereading the Bible, he has found new purpose in life.
Different armed groups view Stendal as a rare but genuinely neutral party. There is respect for his frank message. "We build a case that God exists and that everybody will have to come into account," Stendal says. "The guerrillas need to make one change: They need to put God in his rightful place. We're not asking them to surrender to the other side. We're asking them to surrender to God."
Reinaldo Castellanos, a retired commander of the entire Colombian Army and an evangelical, endorses Stendal's risky methods. "FARC has been around for a long time without being defeated," Castellanos told CT. "Stendal must be very careful. He must be prudent. But the work must go forward."
Willing to Do Whatever
Stendal's five decades of experience in Colombia make him a rich resource for the country's indigenous church.
In 1964, Stendal's father relocated the family from Minnesota to take part in translating the Bible into Kogi, the mother tongue of an important pre-Columbian tribe. His father was a pilot and taught him to fly. Stendal was troubled by the difficult lives of the campesinos. He offered to purchase locally caught fish and fly them to urban markets to fetch a better price.
But on August 14, 1983, one of his well-intentioned trips to meet with local fishermen turned sour. FARC rebels kidnapped him and demanded a ransom.
Stendal lived alongside FARC guerrillas for five months of captivity, much of the time with a rope tied in a slipknot around his neck. He had time to reflect on why the poor were drawn to the unfulfilled promises of FARC ideology. When campesinos join the armed guerrillas, the leaders control them with fear. Dissent is not tolerated. The disobedient and would-be deserters are executed.
Yet Stendal shared the gospel with his captors and wrote out by hand in Spanish his life story. He was amazed when FARC commanders permitted his writing to circulate throughout the camp. His story was later translated into English and published in the mid-1980s under the title Rescue the Captors.
Guerrillas and their leaders began approaching Stendal with questions about life and faith. Some started expressing doubts about the violent, godless ideology they were devoted to.
So moved was Stendal by his experience that one day, he says, "I told God that I was willing to do whatever he saw fit, that he could do anything he wanted with me, and that I would trust him completely."
Stendal believes his prayer was answered when an anonymous donor paid his $55,000 ransom. After release, he left with his wife and daughter for the U.S., but later returned to Colombia, ignoring warnings from the American embassy never to return. He began to pursue a new calling: bringing the love of Christ into the center of the conflict.
New Horizons
Stendal has his eye on expanding outreach into Colombia's border areas and across the border into neighboring Venezuela and Ecuador.
Late in 2009, local leaders in Curillo, a town in southwest Colombia about 100 miles from the Ecuador border, invited Stendal to help lead a convention where evangelism, reconciliation, and peacemaking were on the agenda.
Curillo is a remote area where armed groups forced out Western missionaries more than two decades ago. Campesinos from miles away came to take part in the convention. Organizers had the police, the Army, and the mayor's full cooperation. The guerrillas were open and curious; they eagerly took books, Bibles, and Galcom radios.
Stendal said Colombians have an intense hunger for spiritual things and are looking for a new course. "A large number of people are becoming on fire for God. This is happening in seemingly strange and unlikely places like prisons, guerrilla camps, and in remote, dangerous areas," Stendal told CT. "Only God can start a real movement. We are led by the Spirit and place the Bibles, literature, radio broadcasts, and events according to the will of God. All these things can really fan the flames."
The following developments provide firm evidence that Colombia's Protestants are expanding their influence:
• Guambiano and Paez Indian Christians in Popayan have the government's permission to create a regional association as a vehicle for aid and support for education and health care. The old association discriminated against Protestants.
• Christian engineers, responding to a personal request from President Uribe, have installed a powerful radio antenna on an ancient volcano in the center of the nation for government use. It will also be used for gospel-proclaiming broadcasts.
• A pastor support program has launched to address the needs of leaders in high-risk areas.
As for himself, Stendal has his eyes fixed on a new cross-border ministry goal: one million Bibles for Venezuela to match the one million new assault rifles coming into the nation. He committed this vision to prayer after Hugo Chavez, Venezuela's terrorist-supporting president, revealed that his government was contracting with Russia for one million assault rifles for a million-man volunteer army.
Protestant leaders, including retired military officers, have stepped forward to work with Stendal on outreach and Bible distribution. Canadian supporters have donated another airplane for the new effort.
As he headed to meetings in Nashville, where he hoped to capture the imagination of American evangelicals for his new ventures, Stendal told CT, "Together with the team of over 100 coworkers that the Lord has placed around me, we feel that the words of Hudson Taylor still apply to us and to our situation: When God's work is done God's way, it will never lack divine providence."
Deann Alford, based in Austin, Texas, is an advisory editor for Christianity Today.
Related Elsewhere:
Previous stories on Colombia include
Corporate-Sponsored Terror | Wives of slain missionaries sue Chiquita for complicity in the murders. (May 13, 2008)
Death-Defying Ministry | Protestant leaders practice grassroots justice--and keep a low profile. (February 5, 2007)
Forgotten casualties of an uncivil war | Three million Colombians are displaced, with few prospects. (February 1, 2004)
Previous stories on missions & ministry include:
Do You Hear What I Hear?
The deaf are virtually an 'unreached people group,' but an Illinois ministry is remedying that one video at a time. (April 8, 2010)
Born Again … Again | In my ministry of racial reconciliation, I had to move from a culture of effort to a culture of grace. (March 26, 2010)
Jesus Ball in Slovakia | GoodSports reaches a culture suspicious of Christians by teaching kids how to hit an inside pitch. (March 10, 2010)
Have something to add about this? See something we missed? Share your feedback here.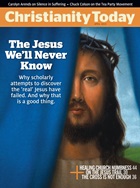 This article is from the April 2010 issue.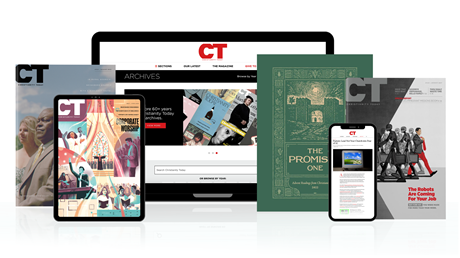 Annual & Monthly subscriptions available.
Print & Digital Issues of CT magazine
Complete access to every article on ChristianityToday.com
Unlimited access to 65+ years of CT's online archives
Member-only special issues
Subscribe
Ministry at the Center of Violence
Ministry at the Center of Violence