A number of years ago, as leaders at GoodSports International Camp finished off the last of the pizza and headed for a church service in the small Slovak town of Devinska Nova Ves, one camper tucked himself in among them. The other kids had left for the day, but not Roman Mozsi. Yet when the service started, Roman lit out like a shot, disappearing into the dusk.
"I didn't think much of it at the time," says camp director Tom Johnson. "I just assumed it was all a bit too much for him, because he wasn't used to it."
As it turns out, Roman preferred hanging out with the crowd of contented Christians over returning to the chaos at home. His father frequently wandered away from the family for weeks at a time, only to come home drunk and looking for a fight.
Back at the church, as camp leaders were in the midst of prayer, Johnson looked up and was surprised to see that Roman had returned. He stood solemnly in a clean white shirt, which replaced the baseball T-shirt he had worn all day.
"He had run home to change," says Johnson, shaking his head at the memory. "He told us he didn't think what he had on before was good enough to be in a church where people were praying."
Roman's parents had grown up under Communist rule, which had little tolerance for religious practice, public or private. So when Roman's mother began bringing him to GoodSports, she wasn't looking for salvation for her son, only a port in the storm. But Roman found much more than that.
Continuing An Old Missions Tradition
Sports ministries have blossomed in the past century. Today, there are hundreds of international sports ministries, ranging from niche ministries (Motor Racing Outreach, Christian Bowhunters of America) to those with a broader vision (England's World Sports Ministries and Singapore's School of Sports Ministry). One leading international sports ministry is Athletes in Action (AIA), a Campus Crusade ministry formed in 1966. With a presence in 85 countries, AIA's goal is to "build on society's great love of sports and utilize the platform given to the athletes to reach the world for Jesus Christ."
GoodSports finds its sports niche in Slovakia, and works with about 120 kids annually. It is housed on an unremarkable side street in an unremarkable town. Remarkable are the ruins of Devin Castle a few miles up the road where, in A.D. 862, saints Cyril and Methodius embarked on their legendary missionary work, which spread Christianity throughout Central Europe. In the post-Communist era, Slovakia's constitution guarantees freedom of religion. Sixty-nine percent of Slovakians identify as Roman Catholic, 4 percent as Eastern Orthodox, and 10 percent as Protestant. According to Greater Europe Mission, of Slovakia's almost 3,000 towns and villages, only 153 have an evangelical church, and only about half of the Slovak population sees the church as trustworthy. The country of 5.4 million is still a large mission field nearly 1,200 years after Cyril and Methodius's missions.
The Johnsons are carrying forward the mission, using the language of sports to spread God's love and lead children to Christ. They have come far from their Minnesota home, far from their old lives, where Johnson was a relief pitcher for the Twins in the 1970s. After five years in the majors, an injury left him out of the game and with few places to turn.
"This was at a time when athletes didn't make big money," says Johnson. "It was a low point in my life, because I had three small kids and no future." He opted for divinity school and the pastorate, leading the Church of the Open Door in St. Paul.
Johnson and his wife, Debbie, came to Slovakia for the first time in 1994 to visit GoodSports, which was then run by a Canadian named Terry Slobodian, a "hockey guy" who turned to the Johnsons to help him teach baseball. The Johnsons took over leadership in 2005 after sensing God's leading, but not without some doubts.
"Anyone who travels knows you have to put up with bad beds, strange food, diarrhea, jetlag, communication problems, and [local] ways of doing things that just don't make any sense," says Johnson. "And the question early on is: Why am I here? But the reason is relationships. The true value of what you do is about the people you meet and the lives you touch."
It is a tall order to build relationships in a country so long oppressed. Religion is a sensitive subject among most Slovaks; many are resistant to any kind of proselytism.
"Our parents have sad memories of fascism and Communism," says Dusan Jaura, a theologian in Slovakia. "People in our part of the world are still deeply suspicious toward any ideology."
While evangelism is gaining a foothold in the former Eastern bloc, the hard-line behaviors of the past are a challenge. The leadership landscape is dotted with mini-dictators, not mentors, but Johnson is trying to change that through his example at GoodSports.
"Kids in Slovakia are bombarded with negative reinforcement," he says. "We let them know we support them, and we encourage them to support each other."
Johnson remembers early on the look of horror that would appear on a kid's face after making a mistake, whether on the field or off. "But then I'd come over and pat them on the back and tell them to try again. They'd never, ever heard that before."
A Lifesaver
On a cloudless summer day, about 20 kids are gathered in a hot and noisy classroom, a temporary GoodSports home while the main facility—a house provided rent-free by a local Catholic church—is restored. It is the week after the GoodSports sleep-away baseball camp, and the room is still abuzz with chatter.
The heat is no match for the kids, who are mostly busy playing Ping-Pong, basketball, and a guitar game on a donated Wii.
A well-built young man enters the room to a chorus of "Ahoy!"—Slovak for "Hi." It's Roman Mozsi, now 26—and a long way from the 11-year-old who stood in the archway of the church with a clean white shirt.
"GoodSports saved my life," says Mozsi as he situates himself on a child's chair. "I grew up without a good family. I didn't have any supervision, and I was always looking for a fight."
But when he observed some kids playing baseball at GoodSports, he wanted to be a part of it—though he doubted he would fit in. "I love sports," he says, "but those kids looked like they were from normal families. I thought it would be hard to get with that group."
It wasn't. As a result of signing up for GoodSports, Mozsi would be changed forever—though he's still working through some anger and his troubled past.
"I joined because of baseball, but I stayed for the stories," he says, referring to the Christian teaching and testimonies. But the staff's unconditional love made the biggest impression.
"It all got me thinking about God," Mozsi says. "At the time, I liked to fight. But then it shifted. I no longer felt good after I beat someone up. Instead, I'd worry about them. It was then that I thought, There must be a better way."
Mozsi, now a coach with GoodSports, represents the first generation of Slovaks since World War II to be allowed to practice Christianity without fear of reprisal. But like his country, he is a work in progress, struggling to turn a turbulent and oppressive past into a life of promise.
"I'm having to mentor him again as an adult," says Johnson. "But we've helped Roman stay on a good path. He's not a finished product, yet in many ways, he is a poster boy for the program."
Use Words When Necessary
Johnson's mantra is pulled from the famous but apocryphal saying of Francis of Assisi: "Preach the gospel at all times, and when necessary, use words."
Parents see the difference. They often comment to him, "What did you do to my kid? He's kinder, sweeter. She behaves better."
Johnson says all he has done is use sports for spiritual purposes.
"The beauty of sports," Johnson says, "is that in a concentrated period of time you can teach kids so many things, and you can get into their lives in a concentrated way."
He sees baseball as a metaphor for life.
"It's not always fair," Johnson says. "And we as coaches have a responsibility to the children to model for them that you don't quit when you think things are unfair. This is Christianity in practice—to lead by example."
Johnson knows only a few words in Slovak, and most of the kids know even less English. He relies on his assistant, as well as a few of the older kids, for translation. But more than that, he relies on hugs and smiles and high fives, all still strictly rationed in Slovak culture.
On one warm afternoon, a dozen or so kids spill out onto the diamond for practice, most of them clad in oversized T-shirts and sweatpants with the drawstring pulled tight—except for Ivan, who has donned his baseball uniform. He is at bat. He taps his cleat on home plate.
Johnson is pitching. He yells something to Ivan in English, then demonstrates a stance. He's showing Ivan that he needs to move forward. Ivan does, hitting a line-drive double.
After a few innings, the kids come off the field, crowding each other, arms thrown around one another. Johnson reaches out to tousle one of their heads. "Good job!" he says. They understand "good job!" now, because they hear it a lot. But they understand better the tousled hair. It means: I'm here. I've got your back. I support you.
Later, Ivan stands with one hand on the chainlink fence and the other holding a bat. He slowly, carefully forms the words in his mind before speaking them in English. "Tom," he says, "is like a father."
Then he smiles broadly.
Jaura, the theologian, has observed Johnson's work at GoodSports, and is impressed.
"I've seen many missionaries in Slovakia during the past 20 years," he says. "If they came with a prepared message without listening carefully, they didn't succeed. Most of them are already back home.
"But Tom has helped kids understand that God is not locked in the church buildings—that he can even be present elsewhere, even on the playing field."
Patti McCracken is an independent journalist based near Vienna, Austria.
Related Elsewhere:
Previous Christianity Today articles on sports include:
An Olympic Chaplain | The head Christian chaplain at the Vancouver Olympics draws on years of playing professional hockey in U.S. and Sweden. (February 15, 2010)
Sports Fanatics | How Christians have succumbed to the sports culture—and what might be done about it. (January 29, 2010)
Why We Love Football | Grace and idolatry run crossing patterns in the new American pastime. (September 7, 2009)
Have something to add about this? See something we missed? Share your feedback here.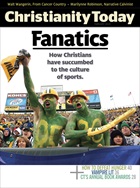 This article is from the February 2010 issue.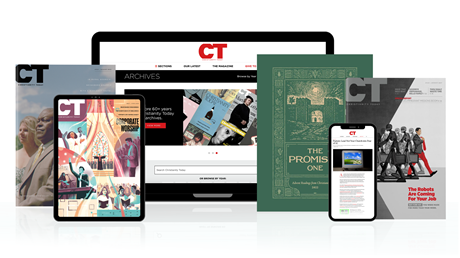 Annual & Monthly subscriptions available.
Print & Digital Issues of CT magazine
Complete access to every article on ChristianityToday.com
Unlimited access to 65+ years of CT's online archives
Member-only special issues
Subscribe
Jesus Ball in Slovakia
Jesus Ball in Slovakia