true
Dear Terrell,
What I'm about to write may shock both of us: I like your show. 
Don't get me wrong, I know that on a cognitive/aesthetic level, your show probably stinks. But it stinks in a fascinating way. Let me give one example. Never before have I seen someone drop $137,000 in one shot, on a pair of earrings, like you did while shopping with Mo and Kita (and Pablo) in Los Angeles. Your show is interesting because it is the stuff of a man's dreams—vast riches, a perfect body, girls galore, professional sports, a Bentley, etc.
I also know, in some small way, what it's like to be hated and misunderstood. If you don't believe me, just read the comments section on any of my old columns (especially this one). With "brothers" like this, who needs enemies, right? But you talk about faith on your show, and it's my job to talk about athletes who talk about their faith. But when you talk about God, it's a God who seems to want to help you into the end zone in Buffalo (or into the hot tub with the realtor), and otherwise turns a convenient blind eye to your attitudes, actions, and heart.
I watched 20 minutes or so of one episode of The T.O. Show recently (stark, surprising admission: and then I watched a whole one online). It was an episode in which you flew to Los Angeles, with two beautiful women of indiscriminate age and indiscriminate job responsibilities, for the purpose of "regaining your focus." I understand that focus, and regaining it if it's gone, is important to professional athletes. All the more curious then was your decision to go to Los Angeles (when your team is in Buffalo), settle into a new mansion, ostensibly become physically involved with a number of women (the realtor, maybe the girl at the party), and then try each morning—either as a result of genuine remorse (guilt?) or just a feeling of obligation—to regain the elusive lost focus.
I'm not enough of a television neophyte to think that those situations weren't engineered to play to both your strengths and weaknesses. But to put it bluntly, they're making you look like a clown—like the typical athlete who has too much money, too much down time, and can't control his adolescent impulses.
I'd like to believe you're not a clown and, perhaps more importantly, I don't want to know if you are. I prefer to watch you catching post-corners and fade routes. I've even enjoyed a few of your end zone celebrations over the years (see: popcorn, Sharpie). I didn't know the personal lives of Jerry Rice, Fred Biletnikoff, Lynn Swann, and Art Monk, but I do remember them for catching the football and being mostly classy guys. And if they weren't classy guys, there wasn't a television show reminding me of it.
A Canadian pastor (it wasn't Goethe, though William Miller's mom in Almost Famous thought so) once said, "Be bold, and mighty forces will come to your aid." Being bold for you, T.O., may mean quietly serving your employer this season—especially if your employer starts 2-4 and Trent Edwards can't get you into the end zone. It may mean walking away from an opportunity to sleep with a beautiful woman. It may mean repenting on the show for past sins. 
My hope and prayer for you is that God would become more than just a part of your entourage—another character toasting to the good life with Mo, Kita, and Pablo. In a television world where shock value is king, a quiet, humble, repentant T.O. may truly shock the world.
 
Your Reluctant Fan,
Ted Kluck
"An Open Letter To … " is a sports commentary at CT online. Ted Kluck's work has appeared in ESPN the Magazine, and he's a winner of a 2009 CT Book Award for Why We're Not Emergent (By Two Guys Who Should Be). Ted lives in Grand Ledge, Michigan, with his wife Kristin and son Tristan.
Related Elsewhere:
Previous sports columns by Ted Kluck include:
An Open Letter to ESPN the Magazine | Regarding your plans to one-up Sports Illustrated with a "no-clothes" issue … (July 28, 2009)
An Open Letter to Donte Stallworth | Concerning the overall public indignation about Michael Vick's possible NFL reinstatement. (July 2, 2000)
An Open Letter to Brett Favre | There's a season for everything, and for the great QB, now's the time to stay retired. (July 14, 2009)
Christianity Today also has archives of "Play Ball," an occasional department covering sports.
Play Ball
From 2005 to 2007, "Play Ball" examined the relationship of sports and faith: sports is important precisely because it is a form of play, that is, a manifestation of the Sabbath. Contributors included Mark Galli, Collin Hansen, Mark Moring, and others.
Previous Play Ball Columns: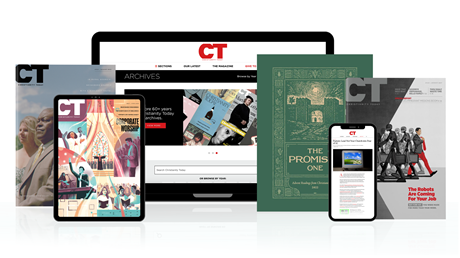 Annual & Monthly subscriptions available.
Print & Digital Issues of CT magazine
Complete access to every article on ChristianityToday.com
Unlimited access to 65+ years of CT's online archives
Member-only special issues
Subscribe
An Open Letter to Terrell Owens
An Open Letter to Terrell Owens