Dear Mr. Stallworth,
I'm wondering what you, a wide receiver for the Cleveland Browns, make of the Michael Vick situation. I'm perplexed that many fans still think Vick, the former Falcons quarterback, shouldn't be able to earn a living after serving nearly two years in prison for doing all manner of admittedly cruel things to canines while operating his underground dog fighting ring. Vick has done his time and should be able to resume employment—assuming NFL commissioner Roger Goodell gives him the green light. Whether teams will want an aging, rusty, one-dimensional quarterback with accuracy issues and a passion for dog fighting is another issue altogether. 
But what should we make of your situation? While driving under the influence of alcohol, you struck and killed a man in Miami, for which you will serve a whole 30 days in jail—the beneficiary of the sorts of "plea agreements" and "financial settlements" that are the territory of the very rich and (at least moderately) famous.
All accounts point to the fact that you were honorable and cooperative in the wake of your tragedy in ways that Vick wasn't, but my question is this: Why isn't the general public similarly cranked up about you? And why weren't they all that indignant about St. Louis Ram Leonard Little, whose 1998 case was similar to yours, when he drove drunk and killed a woman, netting a whole (more sarcasm) 90 days in jail and an eight-game suspension? Is that the going rate on human life? 
Little resumed his career without missing a beat and fans seemed, as a whole, pretty forgetful, if not forgiving, of the whole thing. But your mere 17 catches in 2008 will be a whole lot easier to replace than Little's double-digit sack seasons. That, more than anything, would worry me if my name were Donte Stallworth and I was waiting on the NFL to determine the actual length of its "indefinite" suspension. Guys who can catch 17 balls a season are a dime a dozen, and are pretty easy to make examples of. 
Still, perhaps we found it so easy to be indignant about Vick because he did something grisly that most of us would never do. There aren't a lot of run-of-the-mill insurance agents, pastors, and account executives electrocuting pit bulls in their spare time. But drinking, and then sometimes operating a vehicle, strikes to the heart of the American male—an American male whose kickoffs, race cars (ironically), and commercial breaks are, more often than not, sponsored in part by a few huge breweries. What's especially awkward about you and Little is that you could have been us. As the saying goes, "There but for the grace of God …"
And while we all thought of our dogs—and the welfare of canines everywhere—when the Vick story broke, perhaps we should reflect on the deaths of those who bear God's image, and for whom he died, and tailor our outrage accordingly. And my hope is that you'll reflect on the massive second chance you've been given as a civilian and (probably) as a football player, remembering that you were created in his image as well, and that his grace is sufficient, as in the words of Romans 5:17: "For if, by the trespass of the one man, death reigned through that one man, how much more will those who receive God's abundant provision of grace and of the gift of righteousness reign in life through the one man, Jesus Christ."
Guardedly hopeful,
Ted Kluck
"An Open Letter To …" is a sports commentary at CT online. Ted Kluck's work has appeared in ESPN the Magazine, and he's a winner of a 2009 CT Book Award for Why We're Not Emergent (By Two Guys Who Should Be). Ted lives in Grand Ledge, Michigan, with his wife Kristin and son Tristan.
Related Elsewhere:
Christianity Today also has archives of "Play Ball," an occasional department covering sports.
Play Ball
From 2005 to 2007, "Play Ball" examined the relationship of sports and faith: sports is important precisely because it is a form of play, that is, a manifestation of the Sabbath. Contributors included Mark Galli, Collin Hansen, Mark Moring, and others.
Previous Play Ball Columns: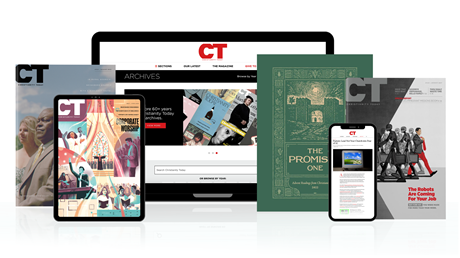 Annual & Monthly subscriptions available.
Print & Digital Issues of CT magazine
Complete access to every article on ChristianityToday.com
Unlimited access to 65+ years of CT's online archives
Member-only special issues
Subscribe
An Open Letter to Donte Stallworth
An Open Letter to Donte Stallworth