Dear Josh,
I'm writing to thank you for your reaction to the events of last week—namely your comments in the wake of those, er, compromising pictures of you that surfaced on Deadspin.com.
In the midst of a summer of stories about one NFL player shooting himself in the thigh, another taking a life while driving intoxicated, a former NFL star leaving the joint after serving two years for dog fighting, and many of your baseball colleagues going down amid steroid-related allegations, your indiscretion seems, by comparison, tame (though a breach of marital trust is still a big deal—more on that later). Your biggest mistake seems to have been Partying While Christian.
The fact that you have been outspoken about your faith drew the ire of the snark-slinging Deadspin.com fraternity. Let me say this—neither of us are even remotely cool enough to begin to comment on anything that happens on Deadspin.com, which has become something of a sarcastic haven for Too Cool for School sports fans. In their mind you're hopelessly hypocritical and I'm an even worse monster—a conservative, church-loving fundamentalist Christian; I'm Ned Flanders with a press pass. They're seeing blood in the water (you) and doing what they're paid to do, which is rip you to shreds.
Anyway. Back to Partying While Christian. What the Deadspin crowd fails to appreciate about your situation is that in its aftermath, you demonstrated Christian virtues of humility and repentance. Your willingness to atone publicly for your sins, acknowledging what you did wrong and a desire to change, sets a great example for sports fans everywhere—Christian or not. In an era when PR-department-generated "sports apologies" usually range from lying, at worst, to just sort of evasive and weak, at best, your apology is a bright light. And the way you've turned your life around—overcoming your addictions to drugs and alcohol while giving your life to Christ—is still an inspiration to millions.
A word to the evangelicals who feel somehow let down or ripped off by your mistake: Don't. To put it simply, there is a speck in your eye and a plank in mine. It's just that your speck ended up all over the Internet because of what you do for a living. As a young(ish) husband and father myself, I'm sad about what you did and the pain it caused your family, and my prayer is that God would honor your desire to remain clean and move forward. But far be it from me to cast the first stone. Our lives are more complicated than any glossy, 800-word Christian Athletes Are Great! puff piece could even begin to capture. I know because I've written some of those puff pieces. Your recent indiscretion is a reminder that even our best role models will sometimes stumble, but can remain role models nonetheless.
So keep hitting baseballs, cognizant of the fact that by the time this story runs there will be somebody else's blood in the Internet water. Some other bar fight, coke bust, failed class, or DUI. This isn't great but it's the world we live in.  And know that there are Christians who are proud of you—proud of the courage it took to own up, and proud of your desire to live a holy life and grow in sanctification. 
Appreciatively,
Ted Kluck
"An Open Letter To … " is a sports commentary at CT online. Ted Kluck's work has appeared in ESPN the Magazine, and he's a winner of a 2009 CT Book Award for Why We're Not Emergent (By Two Guys Who Should Be). Ted lives in Grand Ledge, Michigan, with his wife Kristin and son Tristan.
Related Elsewhere:
Previous sports columns by Ted Kluck include:
An Open Letter to Terrell Owens | Your VH1 reality show is intriguing, but dude, your ego is outta control. (August 11, 2009)
An Open Letter to ESPN the Magazine | Regarding your plans to one-up Sports Illustrated with a "no-clothes" issue … (July 28, 2009)
An Open Letter to Donte Stallworth | Concerning the overall public indignation about Michael Vick's possible NFL reinstatement. (July 2, 2000)
An Open Letter to Brett Favre | There's a season for everything, and for the great QB, now's the time to stay retired. (July 14, 2009)
Christianity Today also has archives of "Play Ball," an occasional department covering sports.
Play Ball
From 2005 to 2007, "Play Ball" examined the relationship of sports and faith: sports is important precisely because it is a form of play, that is, a manifestation of the Sabbath. Contributors included Mark Galli, Collin Hansen, Mark Moring, and others.
Previous Play Ball Columns: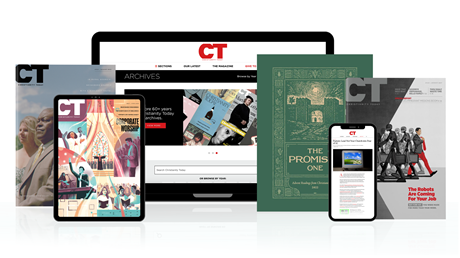 Annual & Monthly subscriptions available.
Print & Digital Issues of CT magazine
Complete access to every article on ChristianityToday.com
Unlimited access to 65+ years of CT's online archives
Member-only special issues
Subscribe
An Open Letter to Josh Hamilton
An Open Letter to Josh Hamilton